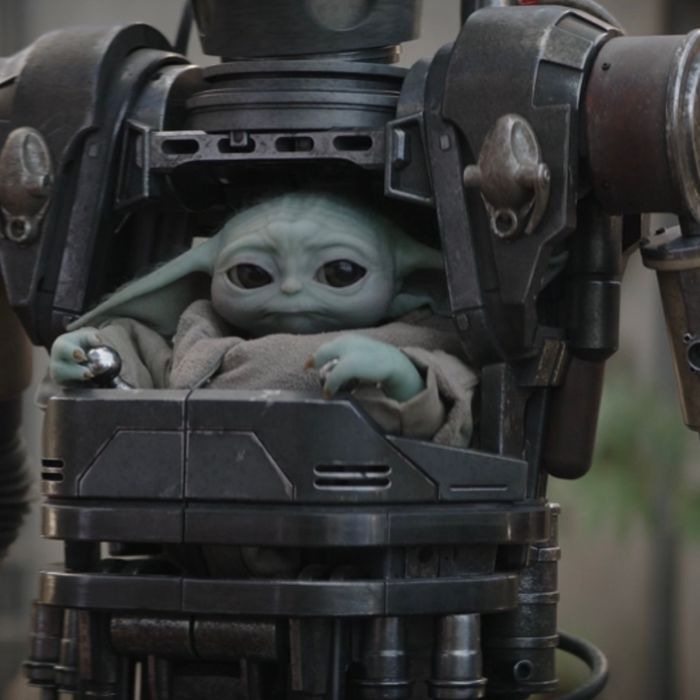 What a strange journey it has been for IG-11's body. First it was, naturally, home to IG-11's droid consciousness. Then it became a public memorial to IG-11's sacrifice. It was, briefly, home to a murderous zombie IG-11. And now? It's a mecha suit for Grogu. On one hand, this seems disrespectful. On the other, we already know IG-11 was the self-sacrificing sort who would approve of any use of his body that helps his friends. Besides, as Greef Karga notes, IG-11's memory circuit is resting comfortably elsewhere. It's possible we haven't seen the last of him yet.
Grogu's new battle armor is an early highlight of "Chapter 23: The Spies," the penultimate episode of The Mandalorian's third season. It's also one of many. If much of the third season has felt like a long setup, we now know exactly what it has been setting up: an intense battle between the reunited (if still unsure of one another) Mandalorian factions and Moff Gideon's new beskar-coated Imperial forces.
The action mainly takes place on Mandalore, but the episode makes a few stops on the way — a visit to the Blade Runner section of Coruscant first among them. It's in a shadowy alley that Elia meets with a probe droid to talk to a hologram projection of Moff Gideon. It's no shock he's still alive. That has been foreshadowed all season. But what is kind of shocking is how quickly he's rallied. Not only is Gideon back on his feet, he's driving the battle plans of the Shadow Council. That's right, all of these Imperial enemies aren't just "a group of unorganized remnant warlords" but a united, if fractious, operation debating whether it's too soon to reveal themselves to the galaxy's Imperial loyalists with a show of strength or continue to hang out in the darkness weakening the New Republic a little bit at a time.
Their ultimate plan may depend on the emergence of Grand Admiral Thrawn, who, as Gideon notes, remains absent from the Shadow Council's meetings. Maybe we'll see him in the season finale. Thrawn (a villainous key player first in Star Wars novels, then in Rebels series) is set to appear in the forthcoming Ahsoka series. Whether he'll first make his live-action debut in The Mandalorian remains to be seen.
In the meantime, Gideon's done waiting around. He suggests that some new leadership might be a good idea, and the implication that he would be the right Imperial warlord for the job is hard to miss. He has some supporters, but another councilmember (Brendol Hux) has his doubts, referencing something called Project Necromancer, asking what's up with Dr. Pershing, and suggesting that Gideon might have gone rogue on Nevarro by conducting his own experiments. In the end, Gideon asks for (and receives) a bunch of Imperial weaponry and three Praetorian guards. The reason? The Mandalorians are coming for Mandalore, and nobody in what remains of the Empire wants that.
Nobody with Imperial sympathies, that is. On Nevarro, Karga welcomes the Mandalorians and their stolen fleet. A tense meeting of tribes follows. Bo-Katan's forces regard the Mandalorians of Din Djarin's tribe as fundamentalist primitives. They, in turn, regard members of Bo-Katan's faction as apostates. They have a common cause that compels them to put aside their differences, but the tension remains and even petty disputes threaten to bubble to the surface. Later, on Mandalore, a fight breaks out between Axe Woves and Paz Vizsla (over the rules of a board game) that's only broken up when Grogu intervenes.
Grogu's able to do this from the cockpit of IG-12 — IG-11's repurposed body. Din has some doubts about this new toy. Grogu does not. He immediately takes to IG-12 like a second skin. And why not? Not only does it make him more independent, it helps him steal food and say two words in a robotic monotone: yes and no. The episode spins a lot of solid comedy out of this (and, later, a little drama too). In IG-12, Grogu becomes a bratty, towering toddler who can express his desires. This may be the best addition to The Mandalorian since, well, Grogu.
As funny as Grogu/IG-12 is, "The Spies" has a lot of serious business to get through. Over a campfire (while roasting some kind of huge animal), Bo-Katan lays down the battle plan: an elite recon unit will sweep in first and see what's up, then signal for everyone else to come down. This unit includes Din and Grogu (of course) but also major players from both tribes — including Axe Woves, the Armorer, Paz Vizsla, and Koska Reeves.
On Mandalore, they find a wasteland but not an entirely empty one. From the shores of a nasty-looking lake, they spy a ship filled with hungry, bedraggled Nite Owls who've been patiently awaiting Bo-Katan's return. They're thrilled to see her, but Bo-Katan feels she has to come clean about the past. Before the Purge of Mandalore, she'd struck a deal with Moff Gideon that, she hoped, would spare the planet — even giving up the Darksaber as part of the deal. Perhaps unsurprisingly, this did not go well. Hence the current state of Mandalore.
Bo-Katan doesn't take all the blame herself, however. She follows this revelation with a speech about how a united Mandalore could have never been defeated. It's hard to miss the suggestion: This new tribal alliance has to last if Mandalore is to be rebuilt. Bo-Katan still has doubts, but a later pep talk from Din, who even calls her "Lady Kryze," helps put some of those doubts to rest.
After a perilous journey that includes a ship-destroying encounter with a sea monster, the Mandalorian recon detail has a better sense of the job ahead. It's a big one. The Great Forge lies in ruins, and the surviving Nite Owls tell their new companions that no one has survived a trip below the surface. That's ominous, but soon they'll discover that they have more pressing concerns.
Specifically, they find themselves in a pitched battle with a bunch of evil (but, admittedly, extremely cool-looking) Imperial troopers wearing their own version of the Mandalorians' beskar armor. The Mandalorians are able to provide cover for Axe Woves as he takes to the sky to secure reinforcements and, for a moment, it seems like this will be a breeze. That moment doesn't last. The Mandalorians force their enemies to retreat, but their pursuit reveals just how much trouble they're in. In the bowels of Mandalore, Moff Gideon has constructed an Imperial base filled with fighters and heavy weaponry. He's on hand, wearing his own beskar armor — an outfit seemingly designed to mock the Mandalorians' armor. (Again, it's extremely cool-looking.) He even twists the knife by saying, "Mandalore will live on through me."
All this, it turns out, has been a trap, and part of Gideon's plan to "create an army that will bring order to the galaxy." For Gideon, this is simply an act of mopping up — the final act of the Purge of Mandalore. Bo-Katan isn't having it, refusing an "invitation" to return the Darksaber to Gideon and declare Mandalore his. As Bo-Katan uses the Darksaber to carve out an escape, a pitched battle breaks out. Paz Vizsla offers to provide cover and, as might be expected from the gesture, dies heroically in the process. But it's not the ordinary dark troopers who take him out. It takes three Praetorian guards. (RIP, big guy.)
It's clear that the Mandalorians have their work cut out for them. What's not clear is if they'll get out of their home world alive.
Bounty Pucks
• The appearance of Brendol Hux is notable for a couple of reasons. Like Thrawn, he has been part of various Star Wars projects for awhile, but this is his live-action debut. He's played here by Brian Gleeson, brother of Domhnall Gleeson. Domhnall played Armitage Hux, Brendol's son, in the sequel trilogy.
• That reference to Project Necromancer is intriguing. Its name suggests that it might refer to the successful attempt to resurrect the Emperor, as seen in The Rise of Skywalker.
• We see Gideon walk past some armor but what also appear to be pods containing bodies. Maybe leftover Dr. Pershing projects? Hmmm.
• When Gideon speaks of building an army, does he mean on behalf of the Empire? Or do his plans veer from the Shadow Council's?