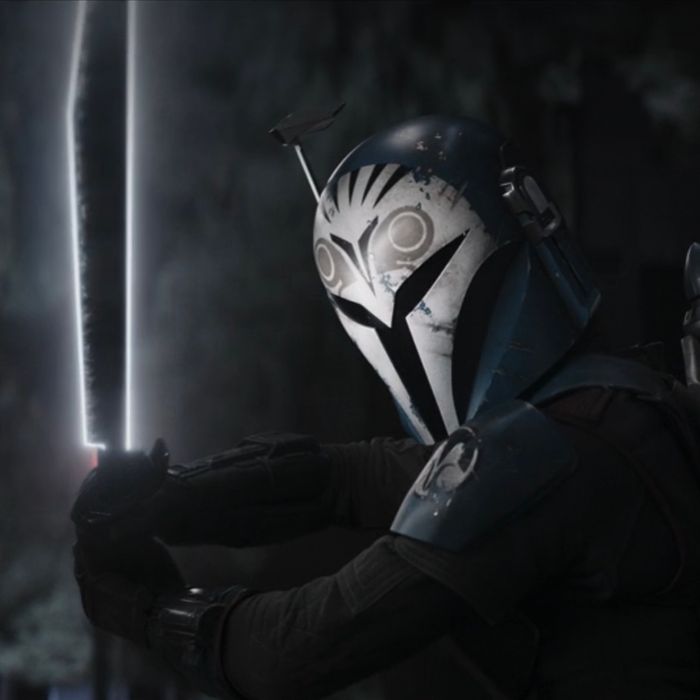 After the previous episode, it was pretty obvious that the season finale would be action-packed, but did anyone expect it to be this action-packed? "Chapter 24: The Return" begins at full speed and doesn't really slow its pace until the denouement. The episode opens with Bo-Katan barking orders to Axe Woves and coming up with a plan of attack on the fly as she runs down a corridor, and it only builds from there. We don't even have to wait long to see Grogu in action in his IG-12 combat suit. He's got moves too. After rescuing Din Djarin from a couple troopers wearing beskar armor (accompanied by a string of mechanical "Nos"), Grogu gets his own orders from a grateful Din: It's time to take out Moff Gideon once and for all.
This will prove tricky. As Bo-Katan leads her troops to safety, and Gideon's TIE fighters and bombers take to the sky, Gideon — looking more like a Darth Vader wannabe than ever in his gleaming black armor — declares that he'll take out his opponents. Gideon's enemies have the same idea, but first they'll have to find him, which means calling the timid-but-committed R5-D4 to action to determine Gideon's location and otherwise assist in their pursuit (a task that will require him to fend off some pesky mouse droids). It's a big episode for R5, who rises to the occasion. We always knew he had it in him!
Meanwhile, a battle rages in the skies over Mandalore, but it's not quite the battle Gideon believes it to be. The fighters throw themselves at the Mandalorians' commandeered Imperial cruiser, but most of the Mandalorians have already started to make their way down to the planet. That leaves Axe to fly the ship and fight off Gideon's forces on his own, which he does until he's forced to bring the cruiser down in a blaze of glory. (Fortunately, he makes his own heroic escape before it crashes to the surface, doing incalculable damage to Gideon's base in the process.)
But before the cruiser reaches its fiery fate, Din and Grogu figure out what, exactly, Gideon's been up to. The bodies in those chambers? They're not just clones, they're clones of Gideon. And, as Gideon later explains, his plan is even more sinister than that. He wanted Grogu in order to splice the Force abilities onto the clones. Fortunately, Din and Grogu take them out before they can be much of a threat. But they still have to reckon with Moff Gideon (original flavor). This, unsurprisingly, isn't easy. As Din fights Gideon one on one, the trio of Praetorian Guards shows up and take him down. They were ready for Din. But they weren't ready for Grogu, who proves to be a formidable foe even after he's stripped of his IG-12 suit. (It was fun while it lasted.)
While that's going on, Bo-Katan gets an introduction to a side of Mandalore she's never seen, one that might point to its future. In a shelter inhabited by the Nite Owls left on the planet, she sees an underground garden planted by the survivors, an indication that not only could the great domed cities be brought back to life but the whole planet. It's a brief, quiet moment before the combat resumes via an all-out assault on Gideon's forces that pits rocket-pack-wearing Mandalorians against rocket-pack-wearing troopers. It's pretty thrilling stuff. "The Return" takes the task of sending the season off with a bang seriously, and these are some of the best action scenes we've seen on The Mandalorian.
As Din finishes off the Praetorian Guards and rescues Grogu, Bo-Katan takes over Moff Gideon–fighting duties, Darksaber in hand. For a while at least: When he can't reclaim the Darksaber, Gideon destroys it, leaving Bo-Katan without the symbol of her leadership. But by now, she undoubtedly realizes that she doesn't need it to be a leader to her people. "Mandalorians are stronger together," she tells Gideon shortly before Din and Grogu arrive to help finish Gideon off. (Presumably. He has proven resilient before.) With Grogu's protection, they emerge triumphant from the flame that engulfs their foes.
After that, it's all over but for the victory ceremony. After the Armorer promotes a young Mandalorian into the ranks using the Living Waters of Mandalore for the first time in years, she's given another apprentice who wants the same: Grogu. Unfortunately, only those with parents can become Mandalorians if they can't speak to take the Creed themselves. Fortunately, Grogu now has one: Din Djarin, who formalizes the bond others have talked about all season. Grogu is now officially his adopted son, Din Grogu. Beneath the Living Waters, the Mythosaur opens its eyes in apparent approval — like some kind of benevolent Cthulhu waiting for its moment to return.
The season ends with a setup of what's to come. Lighting the Great Forge, Bo-Katan formalizes her leadership. Visiting the New Republic bar where Captain Teva hangs out, Din offers his services (off the books, of course). Then, on Nevarro, Din takes up Greef Karga's offer of land but not the job of marshal. That job belongs to IG-11, who's now fully restored to his old self and eager to help. With the happy image of Din Djarin and Din Grogu at rest (made even happier by Grogu's decision not to eat the frog he's levitating), we're done for the season.
We already know that The Mandalorian will be back for a fourth season, because creator Jon Favreau said he has already written it. Beyond that, Din Djarin and Grogu are now part of a plan set to culminate in a feature film that will bring together all the disparate strands of the TV universe Favreau and Dave Filoni have been building since The Mandalorian premiered in 2019. But the end of this third season could easily work as a series finale. Questions introduced in the earliest episodes — Who is Moff Gideon and what's his ultimate plan? Will Din Djarin ever settle down and give that little creature he clearly loves a nice home? — have been answered. The final scenes establish a new status quo that's essentially the old status quo, but now Din Djarin's using his skills as a bounty hunter exclusively to serve the good guys. It's not the last we'll see of these characters, but it plays like a happy ending for our heroes — at least for now.
Bounty Pucks
• Of course, the episode still left plenty of unfinished business to pick up when The Mandalorian returns (unless Ahsoka or some other related series gets to it first). Chief among them: the plans of the Shadow Council and the presence of spies like Elia Kane in the New Republic midst.
• Can we assume Gideon't really, truly dead? Probably not. Any character who loves clones as much as he did could return unexpectedly (and maybe even in multiple bodies).
• Will Grogu be wearing Mandalorian armor next time we see him? That seems unlikely, if only because the series wouldn't be the same without his cute little face. (Although putting the little guy in beskar armor could be pretty cute.)