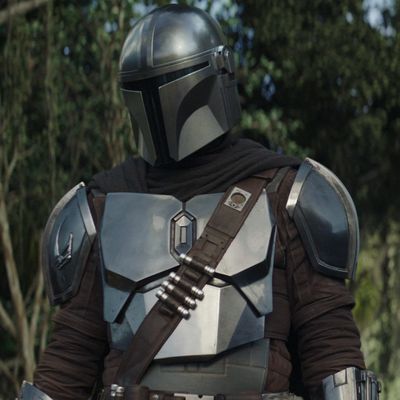 Mando, with Boba Fett, before the unveiling.
Photo: Disney+
Obviously, this piece contains spoilers about this week's episode of The Mandalorian, "The Believer." Don't say we didn't warn you.
The first rule of being a Mandalorian is that you say "This is the way" constantly.
No, wait. Sorry. The first rule of being a Mandalorian is: Never take off your armor. As we've heard repeatedly throughout the course of the Mandalorian series, that armor is sacred and should never be removed under any circumstances.
But in chapter 15, "The Believer," Din Djarin, known to his friends (and us) as Mando, breaks that rule twice, first by donning the uniform of an Imperial cargo transporter and second by lifting off his helmet to show us the rugged face of one Pedro Pascal, the voice of Mando and the face of Mando, if not always the physical manifestation of Mando.
For the record, this is not the first time we've seen Mando in the flesh. In the season-one finale, a reprogrammed IG-11 removed his helmet in order to treat his wounds. But this is the first time that Mando has voluntarily removed his helmet himself, and that says something about his commitment to getting Grogu back. The moment when he removes that helmet to get the facial-recognition scan declares that the welfare of our beloved Baby Yoda is more valuable to Mando than his own lifelong moral code, something echoed in his message to Moff Gideon at the end of the episode. ("He means more to me," says hologram Mando of Grogu, "than you will ever know.")
The question now is whether we'll see the face of Mr. Pascal more frequently in the future. On the one hand, the promise of more Pedro Pascal sightings might add another level of enticement to this series, which, let's face it, is going to need to find ways to distinguish itself once the 8,887 forthcoming Star Wars shows drop on Disney+. (The Mandalorian: Come for the Baby Yoda cuteness, stay for the Mando hotness.)
But for narrative purposes, Mando should remove his helmet very sparingly since it's something he would only do if he felt he had no other option. Both of the circumstances in which that helmet has come off so far have marked moments of vulnerability for this character. When IG-11 took off his helmet, Mando was physically hurt and also too physically spent to object. But given his mistrust of droids in general, his acceptance of IG-11's aid spoke to Mando's ability to trust others. The fact that IG-11 also later self-detonated in order to assist Mando's rescue of Grogu was an example of putting the Child's welfare ahead of one's own.
When Mando removes his helmet in "The Believer," he is echoing that act of selflessness. As we prepare for next week's finale of season two, we can look back at what IG-11 did in last season's finale for what it was: a little bit of foreshadowing.