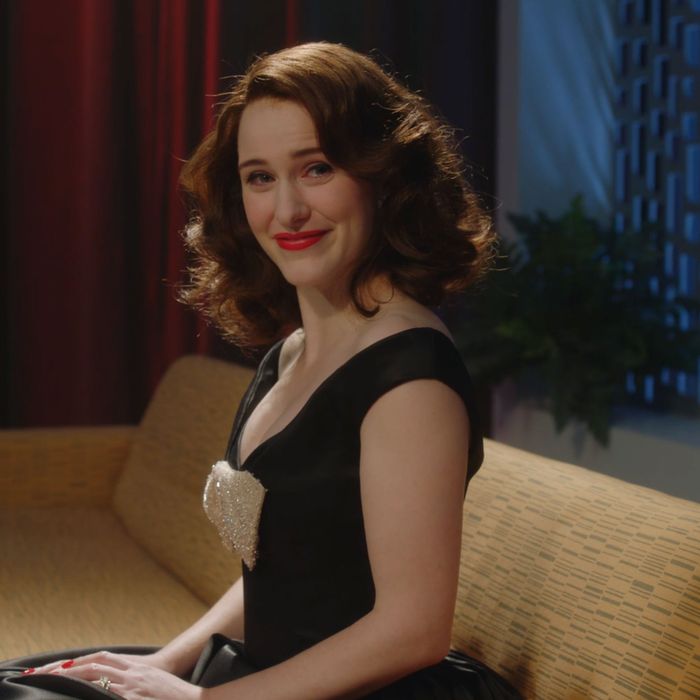 Let's start with the good news: The series finale of The Marvelous Mrs. Maisel is way better than the conclusion of Gilmore Girls: A Year in the Life. There are no shockers, we get a reasonably happy ending, and we're not asking too many questions as the screen fades to black over Midge's and Susie's infectious belly laughs. To her credit, because she peppered the fifth season with flash-forwards, "Four Minutes" writer-director Amy Sherman-Palladino didn't have to spend the finale wrapping up multiple storylines. By the time Midge hijacked her Gordon Ford Show spot and launched her career into the stratosphere, we already knew what happened to most of the main characters.
Midge: legendary comedy star. Susie: legendary talent manager. Joel: prison. Rose: died of cancer. Ethan: kibbutznik. Esther: genius. Abe: feminist. Moishe and Shirley: Boca Raton retirees.
The bad news? The finale is both overlong and bogged down with tedious scenes showing off Sherman-Palladino's tracking-shot skills. I could've done without the Rose-and-Abe-searching-for-a-taxi sequence, the multiple walk-and-talks, and the everyone-trying-to-call-Rose bit (sorry, Zelda).
For the rest of this recap, however, I'll be putting aside my jaded point of view. I've covered The Marvelous Mrs. Maisel for its entire five-season run, and I've had the honor of recapping it for Vulture since season two. So I'm more than ready to savor the final moments of this wonderful series. Please, join me, won't you?
We open on the one detail the show has been avoiding for five seasons: Lenny Bruce's downfall. Short of turning Mrs. Maisel into an alternate-history timeline, Sherman-Palladino had no choice but to face the hard truth about the rakish comedian, and my God, does Luke Kirby deliver.
In 1965 San Francisco, Lenny is a broken shell of his former self. The man who once commanded Carnegie Hall has been reduced to playing Gaslight-esque rooms where his "act" is just complaining about his latest legal troubles. Instead of laughs, he's getting crickets interspersed with a few groans. When Susie comes to see Lenny after his trainwreck of a show, even she's aghast: He's strung out beyond belief, and I'm pretty sure he was wearing pajamas onstage.
Susie, who now boasts clients like Dick Gregory, Phyllis Diller, and Eartha Kitt, has arrived to offer Lenny her services. But he's a lost cause, unable to even stand up on his own. Lenny asks Susie if Midge is with her. He looks so unbelievably sad when she says no, proceeding to destroy me with a feeble repeat of this familiar shrug.
But of course Midge is there — hiding in an alley and too distraught to see her old friend. Would Lenny have accepted Susie's help if he knew Midge was just outside the door?
We'll never know because Lenny Bruce will die in August 1966 of a drug overdose, making their brief airport reunion the last time he and Midge ever see each other.
Back in 1961, Midge's cliffhanger phone call ends up being from Susie: She was arrested after getting into a physical altercation with two cops who found her napping in Central Park. Luckily, Susie plays poker with the police chief (and is white), so she's free to go.
Midge takes her manager for some girl talk at a gorgeous set recreation of a Horn and Hardart Automat. Why was a depressed Susie sleeping and brawling in the park? Because her top client bulldozed her into begging her lost love for a spot on the Gordon Ford Show. After much prompting, Susie finally spills about Hedy Ford: Hedy was the rich girl, Susie was the scholarship girl, and they had an unbridled passion for each other. Until Hedy was taken to Paris by her image-conscious mother and came back engaged to a man, and a dejected Susie dropped out of college. Although Midge feels like garbage for pushing for that favor, even Susie agrees that this was the right move.
But Gordon, the most insecure man on television, is not going to make things easy. Upon her return to work, Midge is begrudgingly given the news that she's on the show that evening. Then, while Midge preps in the green room, Gordon shows up to greet his "real" guest, astronaut Alan Shepard, before lowering the boom. Oh, Midge isn't doing her act; she's doing a quick Q&A as a Gordon Ford Show writer.
If there hadn't been a pitch-perfect Carol Burnett impersonator (Leslie Rodriguez Kritzer) at this very moment, the next few grafs would've been me just reacting to Gordon's spiteful sabotage with a bunch of expletives. Fortunately, we're treated to a fabulous version of "Shy" from Burnett's star-making turn as Princess Winnifred in Once Upon a Mattress.
I love that Midge ends up on the same show as Carol Burnett. Even though the iconic actress wasn't a stand-up, she, like Midge, broke tons of glass ceilings for female performers, most notably with her own variety show.
Aaand the insults keep coming: Midge doesn't even get to sit on the couch during her appearance — she has to sit on a friggin' stool! The "interview" itself is lame, awful fluff, and the second Midge gets a laugh from the audience, Gordon, with his super-fragile ego, prematurely cuts to commercial.
Now The Gordon Ford Show is left with four minutes of empty airtime, and Gordon's brilliant plan is to "vamp." Groan. But Midge has a better idea. Just as she's done from the second she stepped onto that stage at the Gaslight, she's going to grab her chance because no one else is going to give it to her. She warns Susie she's about to do something that could destroy both their careers, and Susie is all in: "Look, you started your career by getting up on a stage that no one told you to get up on. Saying a bunch of shit that no one wanted you to say. So, tits up." 
Tits up, indeed.
Right before the show returns from commercial, Midge whispers to Gordon that she's "never been great at following rules." Translation: Buckle up, Gordo. Midge seamlessly launches into her act, immediately winning over the audience and making it impossible for Gordon to kick her offstage.
It's a typical Mrs. Maisel routine with Midge telling her origin story. But we also get those sweet, genuine moments, like when she remarks that her daughter will be "tougher, more independent" than she ever was. Though anyone who has lived through the past 60 years knows that's due more to necessity than good fortune.
The rest of Midge's act is basically the thesis statement of The Marvelous Mrs. Maisel: Fame and success are only possible for (white) women if you make it happen yourself. This series also asks, "What happens when you get everything you dreamed of? Was it worth it?" We're left to decide those answers for ourselves.
Do I need to say that Midge killed it? That she got a standing ovation and everyone, even Gordon Ford himself, loved her? Midge is invited to sit on the couch — 25 years before Ellen DeGeneres became the first female comedian given that honor by Johnny Carson — where Gordon proceeds to eat some major crow. He then introduces her, for the first time, as "the marvelous Mrs. Maisel" before whispering (with a wink and a smile), "You're fired."
Midge Maisel has never been more thrilled to hear those words. She knows her life is about to change forever.
But first, we need a proper farewell to Lenny Bruce because we can't have that 1965 junkie version be our lasting memory of this beloved Maisel character. We flashback to "six months earlier," the night of Midge and Lenny's blue-room tryst. They're having a late-night feast in Chinatown, where Lenny is teaching Midge how to do famous-person things, like sign an illegible autograph and ignore people who recognize her. The scene doesn't do much to drive the narrative, but who cares? It's adorable. Plus, this is where Midge got that mysterious fortune she stuffed into her dress before her Gordon Ford appearance. Even though the fortune only had lucky numbers printed on it, Lenny pretended to read a prophetic "fortune" about Midge's eventual success. This scene is a beautiful reminder of how Lenny Bruce — like Susie — was always Midge's biggest fan.
Finally, we arrive in the year 2005. Midge is 73 years old and ostensibly living in the luxurious Dakota building (there's a reference to her neighbor, "Yoko"). Even though she's officially at retirement age, she still balks at any open dates, demanding her six-staffer team keeps her booked nonstop. Aww, her millennial assistant tries to teach her how to text with a flip phone. So precious.
It seems to me that an elderly Midge can't give up the grind because then she'll have to acknowledge that she's "All Alone." We already know about the deal with the devil that Susie made for her success. Midge's sacrifice wasn't that much different: She got the "big life" she always dreamed of, but she must live it by herself.
We're then taken through Midge's palatial apartment, with Barbra Streisand's "I Stayed Too Long at the Fair" soundtracking our tour. There's a dining table set for 20 people, but Midge eats alone in her kitchen. She also keeps a framed photo of her and Joel at their wedding on her desk in her bedroom — a testament to the only man she ever loved, but also proof that they never reconciled (I'm not upset about this!). Midge has everything but no one to share it with: Her parents are dead, she doesn't have a husband/partner, and she's estranged from her children.
But Midge does have someone, even though she's on the other side of the world. Yep, after she extended that olive branch 15 years earlier, Midge has made up with Susie, giving us The Marvelous Mrs. Maisel happy ending we deserve. While Midge cozies up in her little den, she dials Susie on her landline speakerphone, where we learn Susie made good on her "Testi-Roastial" comment about wanting to live in Hawaii someday.
People, retired Susie Myerson has a GIANT BIRDCAGE IN THE MIDDLE OF HER LIVING ROOM WITH MULTIPLE PARROTS.
It doesn't matter that these two live six time zones away from each other or that they're now crotchety old ladies who get their jollies by watching VHS-taped episodes of Jeopardy! over the phone. Their love story is as strong as ever, busting each other's balls, having ridiculous conversations about reincarnation, and, most importantly, laughing their asses off together.
Midge once said she wanted someone who made her laugh. It turns out it was Susie.
It's always been Susie.
More Maisel Musings!
• I once played Princess Winnifred in my college production of Once Upon a Mattress. For that reason alone, thank you, Amy Sherman-Palladino, for giving me another reason to cry during this finale.
• I'm placing old Susie, and her gorgeous mane of grey hair, at around 78, if Hedy's "Class of '48" story is to be believed.
• The prosthetics on Rachel Brosnahan and Alex Borstein in those final scenes are works of art.
• Tegan and Sara's cover of Elvis Costello's "Girls Talk"? Chef's kiss.