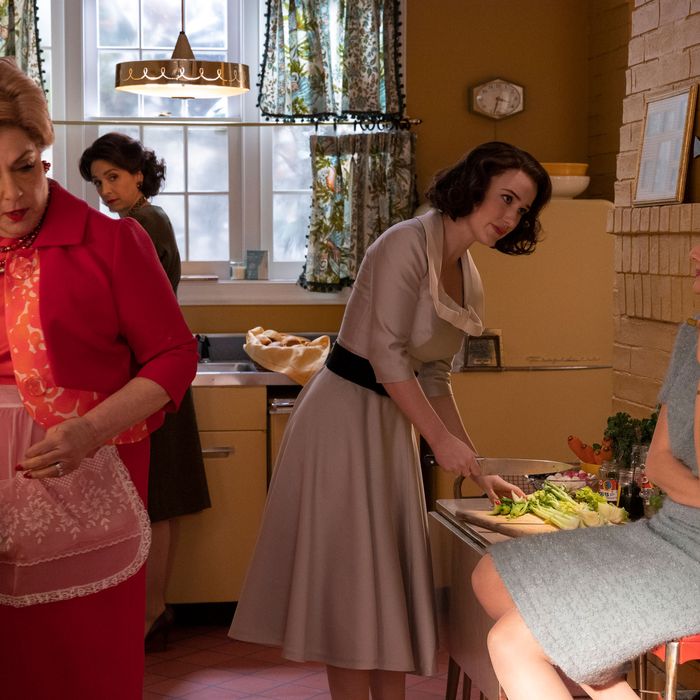 Photo: Philippe Antonello/Prime Video/Philippe Antonello/Prime Video
For the past four seasons, The Marvelous Mrs. Maisel has followed a linear trajectory documenting the triumphs and massive fails of stand-up comedienne Miriam "Midge" Maisel between Yom Kippur 1958 and November 1960. That all changes with the debut of the series's fifth and final season, and it's a wise decision by creator Amy Sherman-Palladino. In shades of a move out of Succession's book, the audience doesn't have to wait until the series finale to learn what happens to Midge; her long-suffering manager, Susie Myerson; and the kooky cast of characters who have been riding the Mrs. Maisel Success Express since the beginning.
Through the series's inaugural flash-forward, Sherman-Palladino, who wrote and directed "Go Forward," sets up two major themes for the final season. I've been waiting for the Maisel showrunner to tackle the first theme since Midge started questioning her motherhood choices in season one. The second theme is addressed more in-depth in the next episode, but this opening scene is a huge tease regarding Midge's career.
We open in Cambridge, Massachusetts, in 1981. Esther Maisel, Midge's oft-overlooked daughter, is now a neurotic, Ramones-T-shirt-wearing Ph.D. student at MIT. Esther is technically in a therapy session, but between complaints about her mother, she also demonstrates that she's A FRIGGIN' GENIUS: Esther scribbles down something about using DNA mutations to control diseases, her psychiatrist calls this a "monumental achievement," and, by the way, NASA is trying to recruit her. Sadly, this extraordinary level of STEM prowess has done nothing to alleviate decades of maternal neglect or Esther's need for Klonopin. See, Esther's mother is never around because she's always on the road, which is our first hint that Midge's career did take off.
But we need to back up and return to where The Marvelous Mrs. Maisel left off at the end of season four, which is the "current" storyline.
It's the morning after Lenny Bruce's Carnegie Hall concert, his huge fight with Midge, and her blizzard epiphany. A panicked Abe and Rose call Susie because even they know Midge's BFF will take care of their hypothermia-stricken daughter better than they can. Susie swiftly takes control of the situation and gets Midge talking about what happened at Carnegie Hall. This entire scene is a fantastic reminder that these two are the show's love story. Midge doesn't need Zelda's "special Polish fish-head soup" or Rose's crystals and pills. She needs a devoted manager who can break her in six months.
It's worth noting here that as this is happening, Ethan and Esther are silently watching TV while being ignored by both their mother and detached grandparents.
Anyway, a bout of "frostcrotch" and a verbal reaming from Lenny has Midge finally eating a slice of humble pie. Tearing up, she promises to open for as many people as it takes until she's a star. And then she says this to Susie: "I will never stop trusting the most important person in my life ever again." Excuse me while I sob into my pillow because suddenly, I'm not ready for this show to end yet.
While it's good to see Midge chastened, Susie knows — from her lessons with Harry Drake — that this level of despair means she needs to work quickly. So she's off to see Mike Carr, the talent booker on The Gordon Ford Show. Getting Midge on this Tonight Show stand-in is now Susie's season-long goal.
Susie marches downtown to the 30 Rockefeller Plaza set where Gordon Ford (Reid Scott, now part of the main cast) is doing his monologue. We get a cute exchange between Susie and Mike involving nothing but hand gestures; the show is taping, so they can't actually speak. Mike has Susie thrown out, and she's standing at the elevators when she hears a familiar voice and name. All the blood drains from her face. We see an elegantly dressed blond woman from the back. Susie follows her. Hmm … what's all this about, Susie????
We don't get any time to ponder that question because it's Thanksgiving, and the entire Weissman-Maisel clan is celebrating at Shirley and Moishe's Queens home. Here comes the comedy and chaos! Rose announces she won a trip from her bank to Palm Beach! Joel announces his girlfriend, Mei, is pregnant and they're getting married! Shirley and Moishe are getting a divorce! Wait, what?
As entertaining as the Thanksgiving scene is, it's completely negated by what's awaiting Joel — and us — back at his apartment. Look, we all worship at the altar of Stephanie Hsu (and if you don't, go away). But Mei could not remain in Joel's life once she got pregnant last season, and it's not like she was terribly keen on being Ethan and Esther's stepmother, either. The bottom line is it was impossible for Mei to become a doctor while pregnant in 1960. If she had given up her dream to have Joel's baby, then her character would've been reduced to a life of bitterness and resentment, and we would've spent the rest of the season screaming at our TV screens.
In her sole, farewell Maisel scene, we already know what's happened before Mei makes a sound, because, yeah, Hsu is that good: She is doing her residency in Chicago, and there's no baby. Hsu doesn't shed a tear, but she's one trigger word away from doing so. Though she never says "abortion," her eyes telegraph the complicated truth: She has no regrets, but her decision was still traumatic — especially considering this is the pre-Roe era. Because abortion is all those things — it's the right choice and it's devastating.
What's also interesting about this story line is, as we'll see this season, at least Mei was able to take charge of her career at the outset and avoid hurting anyone in the long term. (Sure, Joel is heartbroken and goes on a bender later in the episode, but he'll get over it.) On the other hand, Midge's career ambitions permanently damaged her relationship with her kids.
For the record, I am not saying Midge shouldn't have pursued stand-up. What I am saying is that it's outrageously unfair that these choices come at such a personal cost.
Sherman-Palladino knows exactly what her audience needs after such a heavy scene, which is why she staged a lavish sequence at New York's glamorous Idlewild Airport (in reality, the TWA Hotel, a refurbished 1960s-era TWA terminal). Getting Midge to the airport is a prosaic conceit (Susie needs her to escort a reluctant Alfie to a headlining Las Vegas gig), but it's necessary for wrapping up two more season four storylines. First, Midge bumps into her parents, who are baffled about why their flight reservations to Palm Beach have mysteriously gone missing. Rose and Abe then remark about their recent "string of bad luck" — Abe's shirts came back from the dry cleaners with huge iron burns, the Thanksgiving flowers Rose ordered arrived dead, and Abe had two flat tires in the span of a week. Rose looks sick as she puts everything together. We cut to her on the phone asking if two women, fitting the descriptions of matchmaking doyennes Benedetta and Molly, had been behind her canceled flight. The war for Manhattan's singles is underway.
Then we get to the real reason for the splashy airport sequence. As Midge walks through that famous TWA walkway where Tom Hanks and Leonardo DiCaprio had their climactic exchange in Catch Me If You Can, she notices a distinctive figure in the distance. It's Lenny Bruce, and this is the first time they've seen each other since he tore her a new one on the Carnegie Hall stage. The reunion is awkward, but the electricity between these two is still as potent as ever, which is why this scene is so shattering. There are a lot of A Star Is Born vibes here because Lenny's career is now officially on a downward spiral. The former Mr. Schneider is heading to Los Angeles since he's running out of places where he can hide from his legal troubles, as evidenced by his briefcase full of documents from his rabbis' lawyers. Rachel Brosnahan and Luke Kirby look ready to cry because we could be watching the last interaction between Midge and Lenny here. Especially when Midge promises him that she's "not going to blow it," and he looks straight into her eyes, also promising, "I'm going to hold you to that." God, I'm going to miss these two together.
Speaking of not blowing it, it's time for Midge to take the next step in her career and getting back onstage at the reinstated Wolford strip club. (Okay, the next step before the next step.) While she's riffing on her kids, Thanksgiving, and the Soviets, Gordon Ford himself is in the audience. And Susie notices the late-night king laughing at Midge's jokes. The second Midge finishes her set, Susie goes to work, pitching the shit out of her client to Gordon. But it won't be an easy sell: Even though Gordon thinks Midge is funny, he calls her "too downtown" for his "cornfield" audience.
That's when Susie pulls out an ingenious idea that becomes the crux of this season's narrative: Earlier in the episode, while she was stalking Mike during his family trip to a Christmas tree farm, she learned The Gordon Ford Show employs a total of ZERO females on its writing staff. (And it's not like things will change much over the next 60 years; as recently as 2014, The Tonight Show counted a total of six female writers in its entire history.) So, Susie suggests Gordon hire Midge as his first woman writer, and he agrees!
Midge, however, is hesitant and doesn't quite understand Susie's strategy here. That is until Susie explains this is Midge's opportunity to make Gordon Ford laugh on the regular. Then, "He will see you for what you are, a goddamn star!"
And we presume, going off Susie's A Star Is Born energy, he'll give Midge a spot on his show.
It's a great plan … in theory.
More Maisel Musings!
• Susie marks the date of Midge's periods on her calendar with a skull and bones. Now that's good management.
• Who is the big bald guy creeping around Midge's apartment?
• Did you notice 3-year-old Esther greeted Joel's neighbor in Chinese?