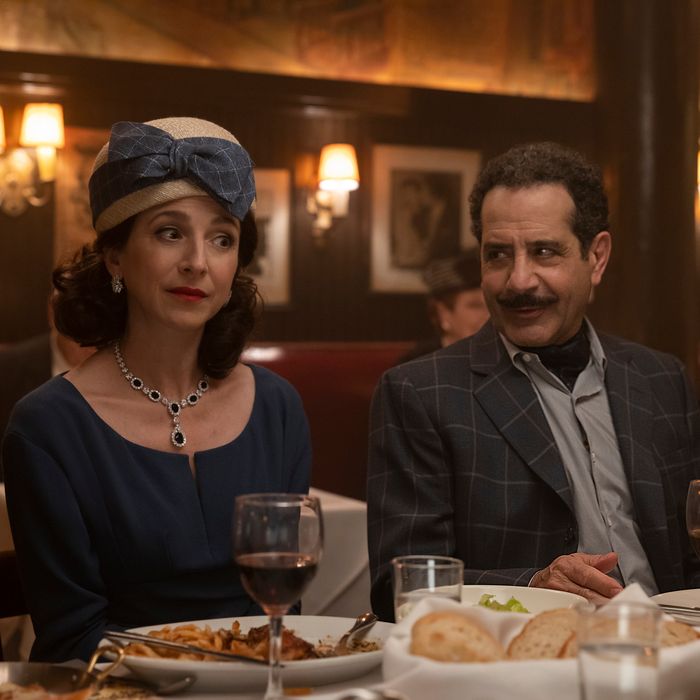 Photo: Philippe Antonello/Prime Video/Philippe Antonello/Prime Video
If space weren't an issue, I would've named this episode "Susie Myerson and the Terrible, Horrible, No Good, Very Bad Day."
I get that the show is called The Marvelous Mrs. Maisel, but the aptly named "Susan" is a welcome reminder that the story is as much about Susie as it is about Midge. Susie's success, like Midge's, also came at a huge cost.
In a single afternoon, Susie is confronted with three alarming revelations: (1) The diabolical agreement she made with Frank and Nicky last season is unbreakable. (2) Midge will never be a guest on The Gordon Ford Show, thanks to an iron-clad rule barring staff from appearing on camera. (3) The love of Susie's life, Hedy (a.k.a. Mrs. Gordon Ford), has reappeared after a 15-year absence.
This isn't the first episode where Alex Borstein gets to show off Susie's vulnerable side — her performance eulogizing Jackie last season remains one of the series' best — but I always appreciate it when she's given that opportunity. Because sometimes it's easy to forget that, unlike Midge, Susie doesn't come from privilege: The only way she was ever going to get a leg up in her management business was to fall in with the mob. Now her bill with Frank and Nicky has come due, and paying up will be infinitely harder thanks to the arbitrary Gordon Ford Show mandate.
We open on the floor of the "Building New York Expo," where Frank and Nicky have called a meeting with Susie to "ask a favor" — which, of course, is mob-speak for payback. Frank and Nicky have their own show opening at the expo, but their leading player is missing (read: on the run), and they want Midge to take over. Still not grasping their definition of "favor," Susie tries to demure, explaining that Midge isn't a song-and-dance girl, but they don't care that Midge is the wrong fit for this gig. Susie is then reminded of how many "favors" Frank and Nicky have done for her since season two, as in providing her with a rent-free office/apartment and, you know, not killing her. The rules of payback start to sink in as Susie promises to talk to Midge. For some weird reason, though, Susie is naively under the impression that if Midge does this one gig, she'll be square with Frank and Nicky. I'm just as sheltered as Midge, and even I know that's not true.
Meanwhile, the morning after the big ice-skating party, everyone is hungover at the Gordon Ford offices. They're so hungover that the writers' room dudes are singing "The Caisson Song" at half-speed today. There's a cute little scene between Midge and Gordon where they amicably agree to move on from his kiss transgression until Gordon charges ahead in a full-on pursuit. But it doesn't matter to Midge that he's in an open marriage (important for later), his real name is "Fordberg" (no, it's not), or that he's got enough charisma to light up 30 Rock — she's still not going out with him.
They're interrupted by a phone call from Susie about Frank and Nicky's cough "favor" cough. Midge is understandably reluctant, so Susie comes to with her hat in hand and admits that she was right all along about how strings are attached to her thug buddies' generosity. What I loved about this phone call is how instead of yelling at Susie, Midge shows genuine concern with a mere "Susie." Unfortunately, since Susie still thinks all Midge needs to do to get them off the hook with the mob is to perform at the industrial expo, that's how she pitches the gig to her client …
This phone conversation also brings us closer to Susie's connection with Hedy Ford. By the time Hedy and "Susan" reconnect in the final scene, we already know that Hedy did a number on Susie sometime in the past. Susie's voice quivers when Midge asks if she knows anything about Gordon's wife. She gets defensive and starts spewing nonsense about how wives shouldn't exist. Yep, sounds like a broken heart to me, all right.
Anyway, Midge agrees to do the show; everything about it is a disaster. Following in the time-honored mob-family tradition, Midge stars in a three-act production dedicated to the Private Demolition and Waste Management Association. Dressed in ill-fitting vomit-green coveralls (and matching hat!) Midge takes the audience on a musical journey through trash underworlds and squeaky-clean city streets populated by Broadway-caliber tap dancers/Stomp percussionists. It's seven minutes of our lives we'll never get back, folks. What's worse is Midge must do a second performance the next day.
The following morning, Gordon is having a Terrible, Horrible, No Good, Very Bad Day himself, as evidenced by his in-office meltdown (last-minute comedian cancellations are a bitch) done in a phenomenal one-take sequence that shows off not just Reid Scott's comedy skills but his willingness to Sherman-Palladino's dialogue. Everything about this single-take scene is fantastic, but my favorite is this breathless riff between Scott and Annie Golden:
Gordon: "Marge, was I just an asshole to you?"
Marge: "Yes."
Gordon: "I'm sorry; buy yourself some flowers."
After Gordon marches into the writers' room and demands any comedian with a tight six minutes and a pulse, Midge offers herself up. Private Demolition and Waste Management Association (and Susie's limbs) be damned. That's when Gordon gently explains she can't ever be a guest on his show. Because no staffer — not even her writers' room colleagues, all of whom are stand-ups too — is allowed that honor: "No exceptions."
So, Midge is in a terrible mood when she arrives at the expo that afternoon. She informs Susie about Gordon's nonsensical rule and now they're both in terrible moods. And, oh, yay, Joel, Ethan, and Esther are there too.
Furious over, well, everything, Midge goes rogue during the show. She upstages everyone else with either snide commentary about the terrible script or visible boredom. Frank and Nicky are displeased, and they berate Susie for Midge's onstage "temper tantrum," saying she'd better get her girl in line for "next time." Susie is all, "Huh? What 'next time'?" I hate to be on Frank's side here, but Susie should've known that the second she agreed to that office, like Frank says, "there is no making us square." The mob owns her and, by extension, Midge. I feel for Susie here because she's frightened and ready to crumble. Though I find it hard to be scared by two guys who use the line "Don't you ever fuck with a musical production of ours again" as an intimidation tactic.
Joel, however, overheard every one of Frank and Nicky's threats. Susie tearfully resists his offer to help, but there is no way Joel will let this go. Especially considering that Midge is still under the impression that the waste-management gig released Susie from her mob debt.
Since Susie can't fix her Frank and Nicky problem, she decides to tackle her Gordon Ford Show problem instead. She barges into 30 Rock to yell at Mike Carr about the no-staffers-on-the-show rule, but he's unsympathetic. It turns out the Susie-Mike tiff was just a setup for Susie's run-in with Hedy Ford. Hedy is thrilled to see Susie, or as she calls her, "Susan," but the feeling isn't mutual. Long story short: Back when Hedy was 22, she had a relationship with Susie, and Susie fell hard for the then-redheaded coed. But this was 1946 America, and Hedy felt societal pressure, so she married a man. Since things aren't any better for the LGBTQ+ community in 1961 — and Hedy is now a public figure — she really needs to keep her sexuality hidden. (We all saw what happened to Shy Baldwin last season.) It's understandable that Susie resents Hedy for her unwillingness to push back on homophobia, but at the same time, the social climate 60 years ago just wasn't forgiving toward LGBTQ+ women. Hedy did what she had to do for her own security.
I don't blame Susie for walking off before hashing things out with Hedy, though. This unexpected reunion was the last thing she needed after the day she had.
More Maisel Musings!
• "I Hate Myself for Loving You" by Joan Jett and the Blackhearts was the perfect song choice to close out this episode.
• Only Amy Sherman-Palladino — who wrote and directed "Susan" — can turn a New York industrial convention into a whimsical fairyland with frothy musical numbers.
• Zelda and Janusz are engaged!
• Abe's silent rose-petal reconciliation with Rose was so cute. #CoupleGoals
• For you non-New Yorkers: Susie muttering "Good luck with that" at the Second Avenue subway booth was hilarious because phase 1 didn't open until 2017, and there are still plans for a phase two.
• The Sophie Lennon cameo was a nice reminder that Midge eventually eclipses Sophie's star power. The "Put That on Your Plate!" lady has been reduced to a fun talk-show guest, and it's unlikely she will ever be the subject of a 60 Minutes profile.
• I'm loving the season-one throwbacks, like when Midge mentions that she once "saw a Pyrex show that changed my life" when she attended an industrial expo in school.
• Midge's prescient comments about how her daughter is a "genius" and how she'll have to prevent her kids from seeing her stand-up shows "if they're screwed up and I need them for material" hit harder now that we know what becomes of Ethan and Esther.