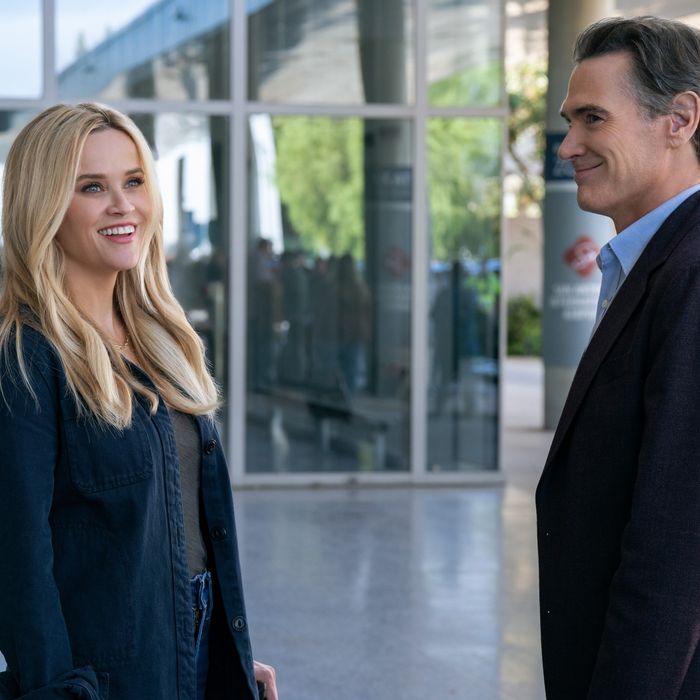 They did it. The crazy sons of bitches did it. They put Bradley Jackson in space. If you had told me back in 2019 when The Morning Show premiered (yes, it has been that long) that this series supposedly about morning news anchors would include a scene with Reese Witherspoon, Billy Crudup, and Jon Hamm floating in zero gravity on a space shuttle, I would've said … you know what? Honestly, yes, this show is batshit, I believe you. And here we are! It is both baffling and somehow totally tracks. It's why we keep coming back to this series even though it makes us wait two years in between seasons and, on average, makes little to zero sense. Either that, or we're gluttons for punishment. I don't know, it's a weird time!
"I don't know, it's a weird time!" also seems to be the underlying theme of the third season premiere, in which there is less hand-holding to help the audience reorient itself in a two-year time jump and more of a push-off a cliff where the audience is left to figure it out. You have to do a lot of connecting the dots on your own, which I guess has been The Morning Show's deal all along? It's always been messy, and it always will be; bless its heart, it remains very committed to its cause.
When last we left our cute lil' journalists and their buddies, Alex Levy was broadcasting live from her apartment to show the world what having COVID was like. She was also about to be canceled for sleeping with/visiting/defending predator Mitch Kessler, who, you'll recall, drove off the side of a cliff in Italy and died (what! a! time!). Meanwhile, Bradley Jackson was on the hunt for her missing brother Hal, who had left the rehab she put him in, and she eventually found him in the middle of a very crowded hospital full of COVID patients. He was mostly fine. Bradley was also fielding both an offer to ride out the pandemic with her new girlfriend, Laura Peterson, in Montana and a declaration of love from Cory Ellison. Cory may have been feeling extra-bold since the UBA+ streaming service he was staking his career and the entire company on seemed to be on the precipice of failure, and he had nothing to lose. And yet, when we rejoin the gang in season three, so much has changed (also, so much doesn't seem to matter?). It's now 2022. Alex was not canceled and is back hosting TMS. Bradley is anchoring the evening news and sleeping with random women whom she only feeds Advil in her new, swanky apartment. She is incredibly awkward with Laura — now a co-host of YDA — and Cory. UBA+ was apparently a big success (launching a streaming service at the beginning of a global lockdown will do that, it turns out), and yet two years later, UBA is bleeding so much money trying to support the streaming service, Cory's had to make a bunch of very unpopular budget cuts.
Those are the logistics of where we find everyone at the get-go, but how about mental space? Oh, baby, I'm so glad I asked. Alex Levy wants more — specifically, more power at UBA — and she's happy to raise hell until she gets it. She's back on TMS a few days a week — Yanko and an Olympic gold medalist played by Nicole Beharie, whose name is Christina, but I don't think they ever say it once in this episode because that's a great way to introduce a new character, are her co-anchors — and she has at least one, but supposedly more shows on UBA+. She remains the biggest star at the network. She survived a near-cancellation because, apparently, people found her baring it all on her COVID show "relatable." From where I sat, it seemed more like the rantings of a mad woman, but sure. Alex demands to double her development slate, profit participation, and perhaps most improbable, a seat on the board. Cory is clearly placating her, but she tells him flat out that if he fucks with her, she'll walk.
What Alex doesn't know is that Cory's making some informal inquiries into a deal that could change everything — he's been talking to tech billionaire Paul Marks (Jon Hamm!) about having him buy UBA. And by "talking," I mean hanging out in bathhouses together with weird camera shots that no one asked for. Cory hasn't told anyone, not even the board, about this little plan he's hatching. He's still waiting for a much better offer from Paul, who believes UBA is wildly overpriced. He's probably seen this show and knows that UBA is, in fact, one of the nine circles of hell. I'm not one to root for a billionaire, but good for him! While the boys hash out the details of their secret almost-deal, Cory is trying to show Paul why UBA is worth the investment: Paul's company, Hyperion, is launching its first private space shuttle up into space, just above Earth's atmosphere, and Cory convinces him that the best way to do it — and for Hyperion's space mission and pending contract with NASA to gain traction — is to have the 13-minute flight broadcast live on TMS and have Alex Levy join Paul on board, where she can report the news live from space. Sometimes this show forces me to write sentences I simply cannot believe! Anyway, Cory decides he's joining them up there, too, because the man cannot help himself.
There's a lot riding on this Hyperion One mission for both sides, so when Paul lets slip about the deal to Alex, and Alex becomes enraged with Cory for keeping her out of the loop on this (my question is, why would she ever be in the loop?), it throws the entire plan into question.
Alex isn't the only person Cory's pissed off. There is something brewing between Cory and Bradley. Obviously, something major went down between them in the past two years, but the show is playing coy. That tension plays into several of their interactions in this episode. Bradley's been working with a woman named Luna, who is crossing the Mexican border once a month to get abortion pills for women in Texas who are unable to obtain them. Bradley wants to do a big story on medical abortions. Stella pulls the plug. She says she wants to keep Bradley neutral for when the 2024 election kicks up, but mostly, it's because advertisers will surely drop out once Bradley again stirs things up with the abortion issue. It's bullshit, and Bradley knows it — she also knows there's no way this decision didn't pass through Cory's desk.
She sees Cory at the big reception for her American Alliance of Journalists First Amendment Award — our little Bradley Jackson was in the Capitol during the January 6 insurrection and covered the whole thing with just her cellphone, in case you were wondering why she is getting this award or how she landed the evening news gig — and is already half in the bag thanks to the news of the cut piece and a terrible interaction with Laura. Cory tries to cut her off at the bar, and she calls him out for not supporting her with the abortion piece and then wonders aloud if it would be different if she were dating him. Ouch! Her speech has a similar tone. It seems like a pretty terrible way to act, especially in a room full of journalists, but you know Bradley — always the disruptor.
Later, she gets word that Luna's been arrested, and she hightails it down to the border. On the way, she texts Alex for some help procuring a camera operator since Alex is already down in Texas for the space launch (!!). Alex sees this as an opportunity to stick it to Cory (and also shed some much-needed light on abortion rights, although that really seems secondary to Ms. Levy). She decides she doesn't want to be his little space puppet anymore! She is showing him who's the boss, contracts be damned. Alex is going to skip the Hyperion One launch, and instead, she and Chip head off to meet Bradley. Unfortunately for Bradley, Cory has his goon Earl keeping tabs on her, and Cory decides to fix two problems at once by meeting Bradley at the airport, forbidding her from going to Luna's aid (he tells her UBA's legal team is helping Luna out), and blackmailing her with something that he "helped her through" to force her into replacing Alex in the space shuttle. We get a weird cut to something upsetting happening in a bathroom as a clue as to what Cory is referencing here, but that's about it.
And that's how Bradley Jackson ends up being launched into space! Paul Marks is not pleased about losing UBA star Alex Levy and takes it as a sign that Cory can't deliver on his promises, so that's not great for Cory's hopes of selling UBA. Regardless, the end of the episode really takes the whole space thing very seriously. Did we need shots of Cory pondering the unknowable universe or Bradley crying when she looks down upon Earth? It's supposed to be moving, but friends, I laughed and laughed. What are we even doing here?!
The episode ends with Bradley's transmission live to TMS suddenly cutting out and people panicking. What does this mean? It's a less dramatic cliffhanger than the show wants it to be. We've seen the trailer for the season, so we know Bradley and Cory aren't going to die in some horrific space accident. Although, how absolutely Morning Show would it be to have Bradley "I'm exhausted!" Jackson go out on such an absurd note. If space hijinks are where the season starts, what other insanity does it have in store for us? Friends, we should all brace for impact.
In Other News!
• In an interview with a psychologist during Alex Levy Unfiltered, Alex becomes speechless when the guest asks why she only feels alive when working instead of trying to find that feeling with another human being. Paul Marks keeps wondering what the big deal about Alex is. These two are definitely hooking up this season. Maybe in a space shuttle?! My fingers remain crossed.
• Tig Notaro plays Paul's assistant, and already I think I'd rather watch a show about those two working together at Hyperion. Am I crazy? Notaro and Hamm are fun together.
• Speaking of good two-hander chemistry, I still think Jennifer Aniston and Mark Duplass are great together. Their scenes and their back-and-forth always feel the most natural and authentic. No one has yet to bring up how Chip willingly put himself in harm's way to save Alex at the end of last season, even after she was awful to him, but maybe we'll get some more details on what their deal has been over the past two years later on. Or maybe not! You never know with this show.
• They play "Fly Me to the Moon" over the end credits!! That choice is high art right there!!