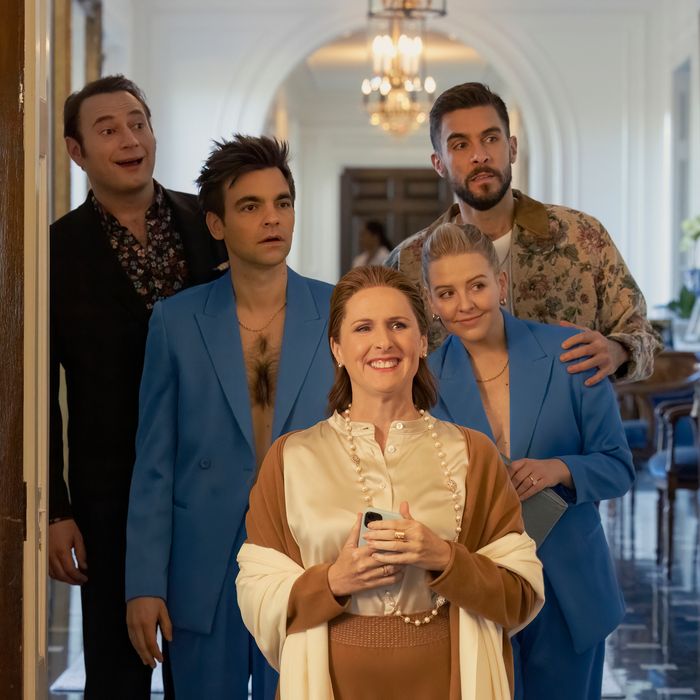 The Other Two
Cary Watches People Watch His Movie/Brooke Drives an Armpit Across America
Season 3
Episodes 1 and 2
The Other Two has always been a show about striving for fame in the face of someone close to you achieving all of their dreams. Or, in this case, ChaseDreams. After the first two episodes of season three, it seems like it's turned into a show about just how awful it is when everyone achieves a certain level of success, at least in "the industry." No, the cast isn't constantly talking about an HBO show about unscrupulous London bankers blowing one another in lavatories (that would be Industry); they're talking about the rotting decay of showbiz. This show is now about the familiar dark side of the rainbow.
Oh, also shirtlessness. Did anyone wear a shirt for the duration of an episode? It starts with Cary about to go to the premiere of his debut performance, Night Nurse, in just his pants; his latest Grindr trick is in the background in his undies. It's not that Cary doesn't have a shirt; it's that his 27-minute (with introductions) boyfriend wiped both C and P on it. Normalize a little bit of P in gay sex. As I like to say, if you keep going down the rabbit hole, eventually, you have to shake hands with the rabbit.
But it's not just Cary, who apparently spent his whole pandemic doing indoor workouts. We also get multiple shots of Brooke's hunky and sweet boyfriend, Lance, without anything above the belt, and, well, the body is just as impressive as the heart inside. Streeter is also looking shockingly fit, posing on a bed where they are about to take an $8 million pic of Chase's armpit. Naturally, he has the world's tackiest tattoo around his belly button. I'm sorry, but I have a rule for tattoos on boys, and that is nothing between the nipples and the kneecaps. I loved seeing all of this man flesh for an hour, but a note to the writers: This shit is on HBOMax. You could have shown some wiener.
The first episode, "Cary Watches People Watch His Movie," really gets all of the COVID jokes that we all stored up over the pandemic into one episode. We hear that Night Nurse had the most COVID delays of any movie, and then movie theaters do so badly that Cary's premiere is canceled because the theater is sold to become a Starbucks.
That leaves Cary dying to watch other people watch his movie. When fumbling with his Hulu password causes all his friends to flake, he resorts to using his remote to force a neighbor (who would rather watch twinks fuck in nurse costumes than the movies) to view it. Eventually, he gets his wish when his mom, Pat, on the threshold of being a billionaire, flies everyone out to her new compound by helicopter for a little viewing party in the screening room she can't find on her mansion's guacamole floor. Pat even gets the CEO of Sony Pictures to watch the flick, since he's her neighbor, and Cary goes to sleep drunk on his own success.
Meanwhile, Brooke doesn't even get pissed when she and Cary show up in the same electric-blue suit for the premiere, but she is pissed that Lance is getting more attention than her because he became a nurse. Yes, during the pandemic, Lance was a good human and went to nursing school, while Brooke was just like the rest of us, watching all of Grey's Anatomy, The Circle, and Survivor. I love that Survivor gets multiple shout-outs over these two episodes. Curtis has all of his gays over for a viewing party because, as I can personally attest, gays are obsessed with Survivor. What says Fire Island more than a bunch of hot shirtless guys getting together to exclude someone who isn't as strong, pretty, or successful as they are? Curtis is also obsessed with Australian Survivor. Oh, girl. Haven't you heard? It's just like American Survivor, except the guys are bigger and the swimsuits are smaller. Do I need to introduce you to Shawn or Jordie or Josh or Simon or Lockie? I think I need to. I don't know who Curtis thinks has the most giant nipples (in a good way), but I will do a complete rewatch to solve the mystery.
Brooke thinks that "banging on pots for two weeks" was enough for all the nurses, and she feels bad that everyone turned their lives around while she was watching Jeff Probst say "balls" an inordinate number of times with a complete lack of irony. She even runs into Pitzi Pyle, Kate Berlant's hysterically awful agent from season one, who has become a sign-language interpreter at a hospital. To prove she isn't that bad, Brooke invites her friend Jo, who is a vaccine denier and insurrectionist, to the movie premiere. We all know one, don't we, gang? Oh, you don't? Then it must be you.
Streeter also had a hard pandemic, signing a number of TikTok stars who haven't quite worked out, including a dancing family that is moved onto the half of the guacamole floor in Pat's mansion that is not reserved for guacamole and screening rooms. Chase is afraid that Streeter is going to drop him because his second album, which came out January 6, totally tanked. But now, on the verge of 18, everyone gets vampire fangs for Chase so that they can sexually exploit him. Well, except for Streeter and Shuli, who both get those vampire fangs for all of the money they're still going to extract from this cash cow.
That leads us right into the second episode, "Brooke Drives an Armpit Across America." Streeter and Shuli got $8 million from Rolling Stone to show the first picture of Chase's armpit now that he's 18. Apparently, showing off a kiddie pop star from "tip to taint" is what shows he's a real man now. Just ask Brooke who came so hard to the first pic of Justin Timberlake's underarm. (I couldn't find it, but I did end up on a feet and pits Tumblr looking for it, so all was not lost.) Because GQ also wants the picture, Brooke and Streeter must drive it across the country in a fake Fresh Direct van where it is suspended in the back like something Tom Cruise would dangle from the ceiling in a Mission: Impossible movie.
Brooke takes the assignment because she's trying to get away from Lance, who is now so nice that he's harshing her mellow. Wait, didn't she make this mistake already in season one? After the two thwart multiple attempts by GQ to steal the photo, including impersonating police officers, they get to Los Angeles to discover that they didn't even carry the thumb drive with the real picture. They were just one of the decoys.
Cary is trying to make his good reviews in Night Nurse into a big career step and posts about it as much as a former Bachelor contestant posts about Flat Tummy Tea. He tries to get a publicist to help him, but the one Shuli sets him up for sends him to the office of TheBrooklynBurrito.com where he has to rate ten burritos for some press attention. (No bottoming for the next three months for poor Cary.) When he arrives at the last stop on the F (something most people only do when they pass out on the way home to Brooklyn), he discovers that it's a mental-health facility for people who need too much press attention.
Instead of checking himself in, he gets a scam PR agent who makes him take lots of pictures in his undies (never enough) and blackmails him. He gets Pat to give him $100,000 to pay off the ransomware PR attack, but yeah, these guys really missed the mark. They shelled out for all of those photo shoots and then only asked the son of a near billionaire for $100K? It's giving Dr. Evil freshly unfrozen. But Pat only gives him the money on the condition he never posts about Night Nurse again.
On the way home from Pat's, Cary meets a wonderfully mop-topped guy for the second time in a row. "Nicholas" takes him to a carnival, then to the aforementioned swimming pool, then they run all the way home carrying sparklers. But Nicholas is not real. He's actually a gay actor named Lukas Lambert Moy who is in a Love, Simon spinoff and stays in character the whole time.
When Cary goes to get the money from Pat, we learn that she has been trying to take a spontaneous walk in Central Park for three days. She only has to stop by her cable channel for seven minutes to approve shows like Maria Menounos Hating Drapes. Really? The lady who we usually only see before the movie trailers? But she's now so famous she can't go anywhere in public without a whole clutch of security around her.
The episode ends with Brooke quitting her job because she realizes she spent a week of her "one life" driving a fake armpit-porn picture across the country. Cary is living in the moment but realizes "Nicholas" is just "working," and Cary himself needs to find a new role soon. (Just wait for his role in Windweaver, the fantasy show he filmed in Croatia for eight months, really take off in about four episodes and for him to be excited but also pissed he's now famous for being an elf with no lines.) And poor Pat, well, she finally took her stroll in the backyard, circling the pool with the face of an angry wife on a mall walk after finding out the Willam Sonoma just closed. They all got what they wanted, and they're miserable. Well, except Chase. He and his pit seem to be doing fine.