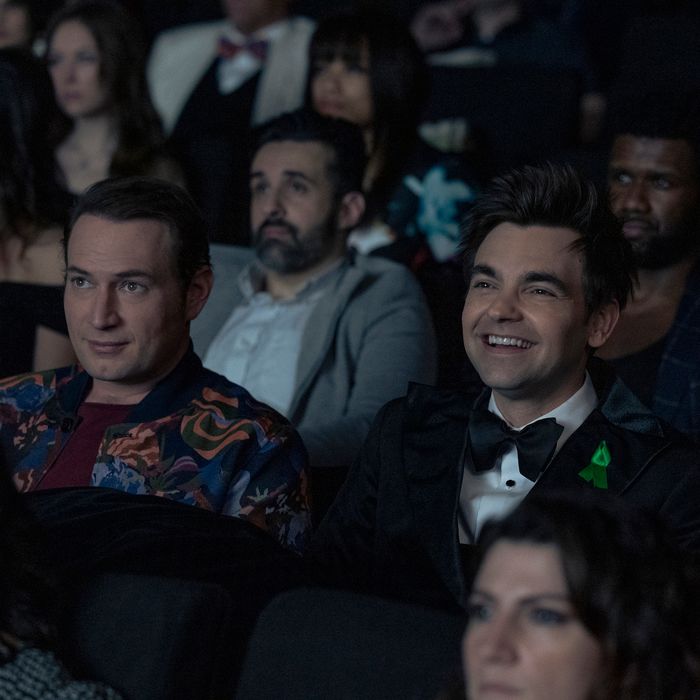 The Other Two
Cary and Brooke Go to an AIDS Play, Brooke/We Are Not Joking, Goes to Space
Season 3
Episodes 5 and 6
Girl, The Inheritance just called, and she is pissed. I'm assuming the 18-part play 8 Gay Men With AIDS: A Poem in Many Hours at the center of the first episode, is based on this Broadway baby that brought its overly long two-parter to New York in 2019, just before the pandemic hit. They for sure can't be talking about Angels in America, the only immortal piece of theater written by a living playwright. And it can't be about The Normal Heart, which shoehorns all of its emotional manipulation into a swift two acts. Yeah, The Inheritance is pissed, but I don't know; maybe it deserves the skewering it's getting here. It was really long, and every gay in New York did feel an obligation to sit through it despite tepid reviews and a run time greater than all the Marvel movies stacked back to back, with Titanic thrown in for good measure.
This was a great setup for two episodes about the good that art can do in the world, the limits of that good, and how far we're willing to go to get there. 8GMWA is the perfect place to get the whole cast together, since Cary's boyfriend, who won't sleep with him, is in the show; Brooke is leaving her tree-planting job to go to it with Lance; and Chase is there with Shuli, showing off his new relationship with Kiernan Shipka, who looks both older and sexier than makes me entirely comfortable considering we knew her as a child. (Is this what Céline Dion's husband felt like?)
Cary is upset that Lucas is back to Method acting, this time as a gay man with a mysterious disease. Once again, he won't have sex. I feel Cary's pain: Most hot gay guys won't have sex with me, either, and make up elaborate excuses to avoid it. Just ask the mustachioed doctor from Ibiza I've been terrorizing on Grindr for the past week. Cary sees his opening (but not Lucas's, ZING!) when he finds out from Lucas's manager that he's up for a role as a gay porn star in an Adam McKay film. Cary goes so far as to steal the manager's phone and sign "Lucas" up for the role using some sort of stealth blackmail when the film's producer ends up at the same play a whole theater of people is trying to escape.
Turns out, the role doesn't go to Cary's Lucas but to Lukas Gage, the actor who got his ass eaten on White Lotus and who married the world's hottest hairdresser. (Sorry to Kyle Krieger and his Only Fans.) Cary then has to terrorize Lukas with a K to give up the role to Lucas with a C so he can put his D in Lucas's B, but considering he's playing a top in the movie, it's probably going to be the other way around. Cary has to leave in the middle of the play's fourth day of performances to get to the porn set to have sex with his boyfriend. While he's lying in his boxer briefs, looking like an entire snack with no one to eat it, the assistant director asks what his plan is and why he wants to be with or even have sex with someone he doesn't truly know.
Meanwhile, Brooke is at the premiere in her gross work clothes, and Chase shows up with Kiernan, wearing a blazer that is also a cape. (Did we land on blape or cazer when Brooke wore the same thing to Ellen's party that Ellen couldn't attend?) Shuli set this relationship up so Chase can start moving on while he's an adult. The only problem is he meets a Muggle named Pam Snot with a bag full of gummy worms. They do the full Romeo + Juliet meeting through an aquarium, but instead, they meet through a popcorn-maker in the theater lobby. (It's the Beacon Theatre in New York, so no actual plays were harmed in the making of this show.)
Brooke keeps skipping out on the play to get involved in the Chase drama and suggests Pam should pose as a contest winner who loves Dannon yogurt, then leads a discussion about whether you would want to poop out of your mouth or eat with your butt. (The only correct answer is to eat with your butt, and I will not be discussing it or eating spaghetti ever again.) Eventually, the audience is so trapped by the play that they come there to sleep, including our lovely Lance, who is shirtless in his boxers in the audience and catches Brooke with Chase and his team. Marry me, Lance, you sweet, sweet, wonderful man with the exact right amount of body hair.
The end of the episode has two riveting scenes. The first is a huge fight between Brooke and Lance, during which she breaks up with him so Lance and I can explore our love without any of his ex-girlfriends around the place. Actually, she feels he judges her because she wants to be a manager again, but Lance, always supportive, tells her she can. He's not judging her; she's projecting her judgment of herself onto him. He says if she has feelings or problems, she should talk to him about it, and she says, "Go fuck yourself."
Cary is also trying to split up with Lucas with a C, who breaks character for just a second to tell him to stop freaking out. Then Lucas is nominated for a Tony Award for the play and gets flowers from Debra Messing, which is what happens whenever a gay man is nominated for a Tony. I'm not sure how, but it's part of the Gay Agenda. We see Lucas give a squee little smile and then Cary stays with him because of the nomination. He and his sister are on parallel but opposite paths; she's breaking up with a man when she shouldn't because she's insecure, and he's staying with a man when he shouldn't because he's insecure.
The only one who is secure? Streeter. In "Brooke, and We Are Not Joking, Goes to Space," he's taking care of Brooke after moving into his own house, a Brooklyn brownstone, because Pat treated him well in their breakup. After Brooke does a tour of visiting all of her relatives, eating out of the same tray of stinky nachos, she eventually decides she wants to date someone in the business world who is as successful as she is. Shuli sets her up with a Jeff Bezos wannabe who's obsessed with his fitness, his giant lips, his high eyebrows, and constantly being higher than everyone. He's just a competitive mess, and when he finds out Pat is dating Simu Liu and is on the Marvel plane, he takes Brooke to space to prove he's better.
She goes on a date with a normal millionaire later, and he's giving this whole hunky Matt Modine vibe. They're totally getting into it when he finds out his app sold for a shit-ton of money and now he's a billionaire. Immediately, his lips plump up and he climbs to the top of the restaurant and becomes unbearable. I don't know, I think I might take some Lisa Rinna lips and a dick-shaped spaceship to be a billionaire. Just saying.
Cary is chasing after a man of his own, and it is Globby, the character in a Disney animated movie called Haunted Buddies 4. He's the first queer character in a Disney animated movie, and they really, really want to show just how gay he is by showing him in bed with another glob of green jelly. This is a parody, of course, to the "exclusively gay moment" that was supposedly in Beauty and the Beast, which was so fast not even Ezra Miller as the Flash could spot it.
By Disney logic, Globby is gay because he's in bed with another glob, but if he were straight, he'd be in bed with a human woman. Yeah, no one believes this stupid corporate logic. This is like when they came up with New Coke but greener with bulging eyes. Hey, that reminds me of how I looked the first time I tried, um, new coke (no capitals). Cary knows this is bullshit, but he's seduced because he gets to be the face of the entire launch. He goes over to Curtis's to play Celebrity and doesn't know any of the queer people of color — Marsha P. Johnson, André Leon Talley — whose names he pulls, but he says he's doing this all for the community.
That's the irony of Cary. He has often used his gayness for attention, whether as Chase's gay brother in season one or here with GlobbyGate, but he has no interest in the gay community. He treats Curtis like crap, using him for adulation and connections to other gay men but not actually trying to hang out with him other than to ruin a perfectly good game of Celebrity. A natural disappointment sets in when everyone finds out the Globby moment isn't nearly as queer as Cary and Disney have been hyping. Cary tells Curtis he wants to go home because he's tired, but he's secretly running away to do more press — not to sell the lie that he loves the gay community, but to sell the truth that he loves himself more.
Meanwhile, Brooke is in space for the second time with Earth's newest billionaire, and she castigates him for having all of this money and power (and lips) and not doing anything good with it. He points out that Brooke has access to a billion dollars through Chase and her mother and could use their money, power, and influence to do some good that isn't planting trees every day. She decides she's going to use the industry to do good.
The question of what happens next has already been answered, though. Just as they were on similar paths with their breakups, Cary and Brooke are on parallel tracks regarding altruism. Cary tried to use the entertainment industry to do some good (or at least use its good intentions for his own attention), but we saw the limits of what the industry can do. It doesn't really want to champion gay people or gay causes; it just wants to "pinkwash" the content or make it just gay enough that those under the LGBTQIA+ umbrella will buy the products but they won't piss off everyone in America. The good the industry tries to do has less to do with charity and more to do with capitalism. It looks like in the next two episodes, Brooke will learn a lesson Cary has just been taught.