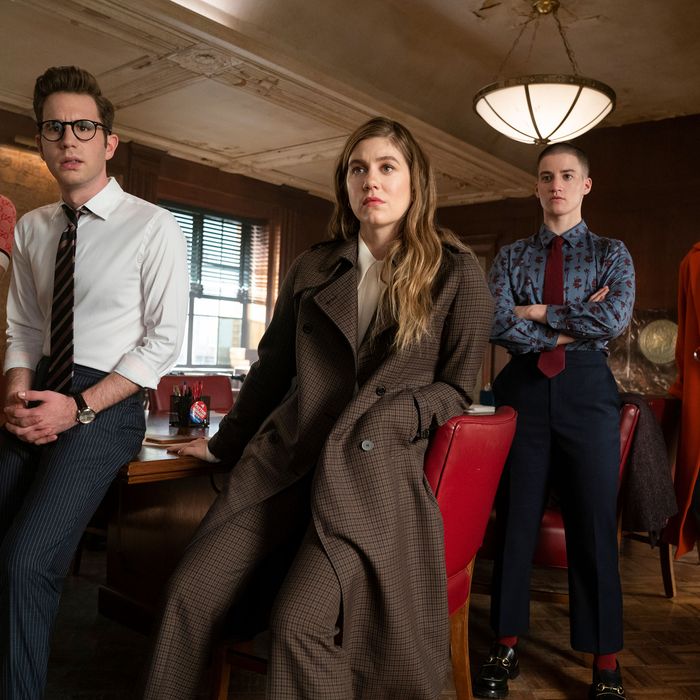 Photo: Courtesy of Netflix/Nicole Rivelli/Netflix
It might be time to abandon the idea that The Politician, a TV series ostensibly about a young man's search for the self he focus-grouped out of existence, lives and dies by character development. Reader, perhaps you gave up on that idea a while back. Maybe circa Assassins? Perhaps some among you, like this writer, have held on for dear life in hopes that this terrific cast would float the series until the characters began to gel, clinging to episodes like "Vienna" and "The Voter" as though they guarantee a moment in which The Politician suddenly becomes something whole. While there's much to admire about "Conscious Unthroupling" — that title, for one thing — it is startlingly disinterested in its characters.
That's most obvious in the person of William (Teddy Sears), whose status as a handsome plot device becomes all the more obvious as soon as The Politician decides it wants to treat Dede's personal life as anything other than a twist. Neither Sears nor the plot is helped by the fact that Brad Falchuk, Ryan Murphy, and Ian Brennan found a way to fold in another throuple, this one comprising three characters we know well with existing, complicated relationships. While not exactly a stellar storyline, the positioning of Astrid as a third in Payton and Alice's relationship underlines the flimsiness of the connection between Dede, Marcus, and William. Add in a lackluster C-plot about the apparently co-dependent McAfee, James, and Skye, and you've got an underwhelming episode that not even a great Lucy Boynton scene and some excellent Bette Midler one-liners can save.
The great Boynton scene is not her episode-opening clash with Midler, though there are some moments of greatness — who among us has not found themselves unexpectedly picking up the bill at a restaurant out of our price range? Their great interaction will come later. Instead, the opener exists to catch viewers up on the new status quo: Dede refused Payton's offer, Payton's preparing to leak what he knows to the New York Times, and Astrid's realized that she doesn't actually have any information to offer on her threesome with River and Payton, because she can't remember. Dede, therefore, begins to set plans in motion, telling Astrid to get Payton drunk and ask him to tell her about their encounter, while she crafts a plan through which William, Marcus, and Dede can stay together.
It's a plan that's necessary because (as heard through Andrew's extremely muffled recording) Dede finally told Hadassah that the trio has reconciled, a move that sends Hadassah out the door with a lengthy, very Midler-y speech. ("I could have married Peter Jennings in '84!") She heads from there right into the warm embrace of a Nancy Meyers marathon, a joke that begets a very satisfying and surprisingly long tribute to the filmography and kitchens of Meyers by various members of the Hobart campaign. It's deeply goofy and so, so welcome, if only because everyone seems to be having fun. That it culminates in another great line for Midler — "It's complicated, and something's gotta give" — makes it all the sweeter.
Just keep remembering that sequence, because there are tough times ahead. Not for Midler so much, who gets at least one great line of dialogue per scene, but because the episode gives Dede a coming-out story that's about her political savvy as well as her personal journey while lazily shoving William and Hadassah together with some classic rom-com tropes the episode can't even be bothered to execute well. Hadassah proposes that they make it look as though she and William have been secretly dating for years, a move intended to give Dede and company cover, but over the course of one all-night conversation, William decides his ten-year relationship isn't for him and that he should be with the intimate friend and colleague of one of his partners. It's not enough to just trout out fake romance/there's only one bed/my best friend's girl — as Nancy Meyers would tell you, you've got to back them up with something more.
Dede's announcement winds up a triumph since as she predicted, it prompted young voters and older women to see her in a new light. (The idea that it would be wise for a young progressive candidate to out their opponent's consensual sexual and romantic relationship was always one of the biggest problems with this storyline.) But it leads to a reversal, as Dede, Marcus, and William are forced to pretend as though they're in a throuple while Hadassah and William secretly date. It's like a French bedroom farce but one that skipped all the rotating beds and mistaken identities and slamming doors. You know, all the fun stuff.
The burgeoning Payton/Alice/Astrid relationship fares far better, if only because there's no real attempt to make it funny. Astrid sets out to uncover the details of that long-ago threesome, but instead, she and Payton end up mourning River together. When she unexpectedly kisses him, Alice — following along behind them, which is totally healthy — realizes along with Payton that Astrid must be a double agent, and concocts a plan in which they keep her in bounds by taking her to bed.
That these scenes work at all is largely to the credit of Lucy Boynton. Unlike nearly all the other characters in this episode, Astrid's choices and reactions emerge from who she is, what she wants, and the wounds she's yet to triage. Because the character's a mess, it gives Boynton some big contradictory moments to play, particularly the scene in which Astrid's attempt at coaxing lurid details out of Payton becomes a moment of connection. It's both things at once all the way through, but the slow shift in priorities proves genuinely affecting — perhaps Boynton's best scene in this series to date. And as Alice, Julia Schlaepfer also does solid work, subtly reminding the viewer that this is far from the first time Alice has shoved aside her own needs and wants in favor of what she thinks suits Payton politically.
There's certainly more to Astrid, Alice, and Payton's new dynamic than the McAfee/Skye/James storyline, a relatively empty sketch of a codependent friendship that besmirches the good name of Studs Terkel. In an episode about three "throuples," this one is the most neglected, the third wheel, the one who winds up crying.
Talking points
To be fair, watching a high schooler dressed as Tevye start singing The Music Man would be extremely funny.
So the idea is that Payton would leak the Dede/Marcus/William relationship to the New York Times? Directly? Himself? With no proof? At a brunch? And then issue a press release? What?
Dede's throuple ad is surreal and kind of wonderful but I was so worried she was going to spill red wine all over that jumpsuit.
Costume of the episode: I mean, they were all pretty great, but come on, that jumpsuit.