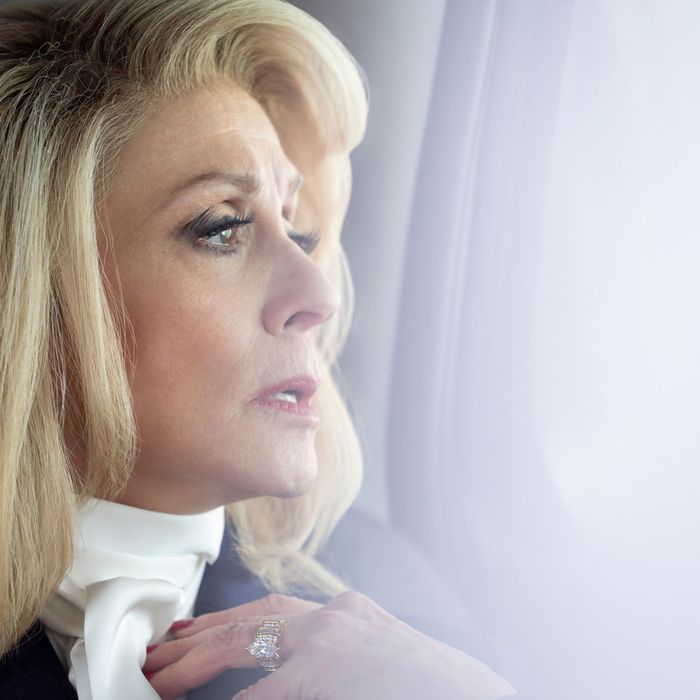 Photo: Courtesy of Netflix/NICOLE RIVELLI/NETFLIX
The high watermark for the first season of The Politician, give or take a performance of the Billy Joel classic "Vienna," was "The Voter," the fifth episode of the season. A short, savage little story, it captured election day at Saint Sebastian High School through the eyes of a single undecided voter: bored, uninterested, and ultimately aggravated by the process, with flickers of interest and engagement typically spoiled by the callous and overzealous actions of the students actually working on the campaigns. It's a vicious little gem. We've now arrived at the fifth episode of the second season, and what do you know: It's called "The Voters," and like its predecessor, it shows us the election from the citizen's perspective. "The Voter" was a bitter pill, but "The Voters" is something else entirely. It is both warning and praise, a call for action and optimism.
This time our subject is not an apathetic compulsive masturbator. We latch onto a mother and daughter, each passionately committed to one of our two candidates. And the lede's gotten a bit buried here: the mother, Andi Mueller, is played by the great Robin Weigert, here described as "looking like an Upper West Side therapist who incorporates macrame in her practice." She's a longtime Dede Standish supporter who values pragmatism and experience. Her daughter, Jayne Mueller (Susannah Perkins, also excellent), is a Hobart campaign volunteer who's passionate about the climate crisis and blames her mother's generation for their ambivalence. They begin their morning with a spirited discussion that becomes a screaming match, all prompted by the New York Times article James set into motion in the last episode.
From there, the episode splits in two. Directed, as "The Voter" was, by series co-creator Ian Brennan, it follows Andi to the polling place where she spends the morning volunteering, and tags along with Janey as she puts in hours supporting the Hobart campaign. The camera mirrors the narrative in that it makes the candidates and their surrogates remote figures that wander in and out of frame, their flaws and strengths cast in a new light thanks to this shift in perspective. Janey witnesses shouting matches between the campaign staff, gets a full dose of Andrew, listens to McAfee talk about "zero waste bullshit" and her tendency to broadly generalize everyone she meets in the context of whether or not they're a gettable vote. Andi, on the other hand, begins her day rolling her eyes about the media and Payton and decides to try to warn Dede Standish about the increased turnout among young voters.
If "The Voters" were just a little bit more predictable, if it were cynical and cautionary in the way of its predecessor, both Muellers would be totally disillusioned. Maybe they wouldn't vote. Maybe they would, but would walk away dissatisfied. Maybe they'd both switch to the other candidate. But Andi and Jayne's stories aren't parallel. Yes, they each get a dose of disillusionment, but the two doses are fundamentally different. Jayne's is about the reality of politics. It's thanks to McAfee's snap judgments, but it's also Payton's frank admission that a position can be both sincere and politically expedient. In that conversation, Payton stops being an idealized figure and becomes a person — a person with flaws, a person who needs to be held accountable, and a person who does genuinely want to do some good in the world. Politicians aren't superheroes. That doesn't stop Jayne from cheering wholeheartedly.
Andi's reckoning is something else entirely. She's confronted by herself. That's the place from whence the optimism of "The Voters" springs. Both Jayne and Andi encounter elements of their fight from that morning, but Jayne finds a little confirmation of part of her mother's argument, while Andi sees herself, defensive and dismissive, refusing to acknowledge the role her generation has played in the destruction of our environment. Dede and Hadassah push back, touting achievements and experience, paying lip service to the big ideas while inadvertently making it clear that it's just not a priority.
So there's a twist ending: Andi votes for Payton. Not because he's perfect, not because practicality and experience aren't valuable, but because change is a precious thing. "It's your turn," she says. And no matter which candidate wins the election, in this one household, change does.
The Politician is a hell of a mixed bag in general. Its soapiness can be a lot of fun, even when — especially when — it's ridiculous. But sometimes a simple story can be a great way of exploring ideas or making an argument, and as a one-two punch, "The Voter" and "The Voters" are an incredibly accomplished pair. Brennan's thoughtful direction links them; they are differentiated by their shapes and, for lack of a better term, morals. Each acts as a sort of parable or morality play smack in the middle of all the madness, and in the middle of the middle is Payton Hobart, confronted by a voter and challenged unexpectedly. And for all Payton's considerable flaws, he responds honestly. He listens, and he doesn't lie. Sadly, that's perhaps the most optimistic thing, not just about "The Voters," but about The Politician in general. People speak, and every once in a while, Payton listens. And that, my fellow Americans, is better than nothing.
Talking Points
James gets fired in profane fashion. It won't stick.
Payton's decision to take a cold shower and recycle the water as a publicity stunt is a nice throwback and maybe even a sign of personal growth.
It's no surprise that Weigert is great here, but so is Perkins. They're great together and great separately, and this is going to sound silly, but Perkins is also a great phone actor. Lots of actors are surprisingly bad at pretending to talk on the phone.
Another great thing about both "The Voter" and "The Voters": their short run times. They are exactly as long as they need to be, not a moment longer.
At this point it's a safe bet that the third season will also include a "voters" episode. Maybe it'll be about voter suppression? An episode that takes place entirely in line at a polling place?
A question that somehow hadn't occurred to me until now: this is a primary election, yeah? The winner of this race will become the Democratic nominee for the state senate, and then presumably will win or run unopposed?
A nice little sliding doors moment to consider: How would this episode have changed if either Dede or Hadassah had in fact been in possession of Dede's walking shoes?
Costume of the episode: I haven't been giving enough love to McAfee's amazing suits. This one in particular gets a thumbs-up. Skye looked stylish as hell, too.