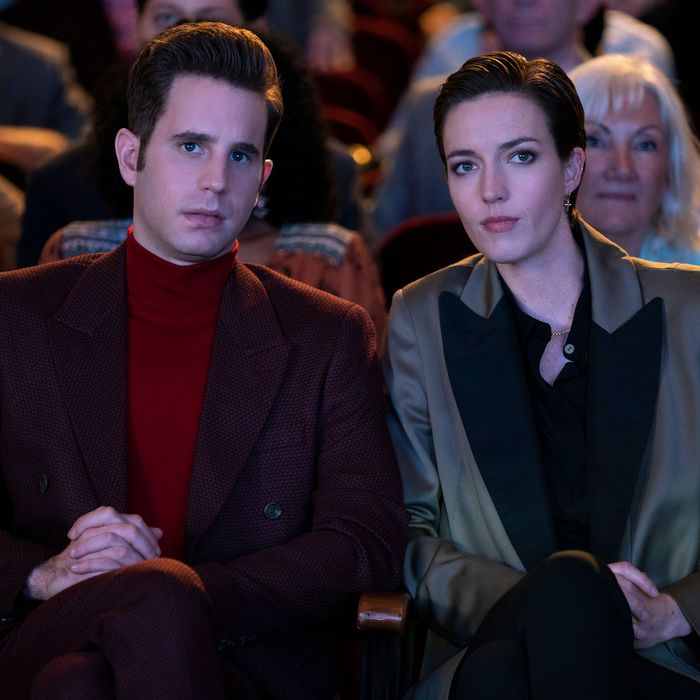 Photo: Courtesy of Netflix/NICOLE RIVELLI/NETFLIX
The first season of Netflix's The Politician ended with an episode that was more like the premiere of its second season than a finale. That hour, the promising "Vienna," jumped forward in time a few years to show us Payton Hobart (Ben Platt) adrift and drinking too much. But he was learning to have feelings, too. Growth! Yet here sits "New York State of Mind," an episode which makes clear that the progress of "Vienna" wasn't any kind of beginning. It was just an acceleration before the da capo mark in a piece of music, and that first campaign speech was the leap back to the start. Second verse, same as the first.
That's not entirely fair. There are some significant changes to note in this second season premiere, notably the continued presence of two formidable pros whose combination of charisma and skill bring The Politician closer to something like tonal balance. Want to make something utterly absurd yet still emotionally resonant? Hire Judith Light and Bette Midler, apparently. Not all of it works — not even Light can make a line like "Kiss me and melt me like butter" sing — but every few scenes, Light and Midler manage to bring all the contradictory pieces of The Politician together and something deeply weird and highly entertaining happens.
Despite that, it's difficult to see "New York State of Mind" as anything but a regression. "Is this really going to be my eternal question, who am I?" Payton asks the spirit of his dead friend/the voice in his head (David Corenswet) as he mindlessly browses a record shop, and Reader, I'd like the answer to that question, too. It's one thing for Payton to spend multiple seasons of a television show figuring out how to navigate the tension between who he pretends to be and who he is deep down. It's quite another for him to be making the same mistakes without a lick of self-awareness. And that, as it happens, is a quality that Payton and The Politician seem to share.
The season opens with a familiar meeting of the minds, albeit now in a new conference room (where are they, and from whence did they get the campaign cash for a space like that?) and with some additions to the lineup and tweaks to wardrobe (designer Claire Parkinson returns, and once again, they all look incredible). The Dede Standish campaign is 10 points ahead in the polls, news that's turned both Payton and James (Theo Germaine) into what you might call "real buttholes," endlessly arguing about if and when to drop the throuple bomb. James and McAfee (Laura Dreyfuss) are sniping at each other about polling language, Skye (Rahne Jones) mostly just wants to know if Payton's going to do anything about the watercooler he Hulk-Smashed across the room, and Astrid (Lucy Boynton), sick of being dismissed and ignored, hightails it out of that terrible meeting, only to discover that she's got someone tailing her through the streets of New York in fantastic shades.
That someone is Hadassah Gold (Midler), and her pursuit of Astrid is a highlight of the episode. Turns out that watching Bette Midler spy on someone atop a bike in spin class is most entertaining. When Astrid finally confronts her pursuer, Hadassah asks her to lunch, plays some mind games with her (flattery, daddy issues, intrigue), and ultimately invites her to join the Standish campaign as a mole.
Viewers see all that play out in a sort of mole montage. In one corner, Hadassah tries to recruit Astrid. In another, Andrew (Ryan Haddad) shows up at Hobart campaign HQ (seriously, where are they?) and says he's arrived to join the team, despite his hatred for Payton. Haddad's sardonic presence is welcome, but this storyline is particularly ludicrous and no one works all that hard to sell it: Andrew, having spent his college career studying number theory because he's "obsessed with Infinity," wants to join the Standish campaign as an intern in order to feed Payton and company dirt from the inside. In exchange, they'll fix him up with Infinity, who has made her lack of interest in him very plain. He also wants $5,000 and Payton's office. Sure, Andrew.
The resemblance to the pilot becomes more pronounced when Payton gets his ass handed to him by Dede (Light) at a campaign event, something about which Alice (Julia Schlaepfer) attempts to console him with ice cream, weed gummies, a margarita kit, provocative underwear, talk about their eventual engagement, and the news that she's been doing her own polling. First, is Payton no longer sober? Second, didn't she Runaway Bride herself like five minutes ago? Third, how has she been doing her own polling? All of these things bug, but none so much as the fact that after several great scenes in last year's finale, poor Julia Schlaepfer is back to playing a hyper-stylized Good Wife with little in the way of a personality.
Perhaps that's because writers Ryan Murphy, Ian Brennan, and Brad Falchuk (also this episode's director) took all the personality off the table in the writer's room and dropped it onto Georgina Hobart (Gwyneth Paltrow). Georgina's gardening-in-evening-wear vibe has now earned her an unexpected lead in her race for the governorship of California, a lead she lengthens when she tells bemused debate moderator Jake Tapper that she thinks California should secede from the union. (She generously proposes that Illinois and New York join in on the fun.) This proposal is rapturously received! Georgina is so charismatic that not even an anecdote about going commando with Henry Kissinger and Princess Margaret delivered whilst smoking a cigarette indoors in front of photographers can stop her political rise.
Payton, certain that his mother's juggernaut campaign is the reason he's losing (rather than, say, his lack of authenticity), asks her to drop out. Paltow and Platt are both pretty good in this scene, and Paltrow comes close to differentiating between this conversation about how Payton doesn't have a sense of self and their conversations about the same thing in season one. If nothing else, Paltrow laces Georgina's "Well then, you're going to need to shine brighter, not ask me to dim" with just a hint of welcome exasperation.
Maybe that exasperation is a projection on this writer's part, however, because that's exactly the emotion conjured by the dueling mole storylines. Astrid tells Hadassah that Payton knows about the throuple (a storyline that, just a year later, already feels very dated)! Andrew gets hired after threatening Jackie Hoffman with a lawsuit and an accusatory tweet and promptly manages to bug Hadassah's office and Dede's kitchen! Payton finds out that Dede wants to be VP! Hadassah splits the throuple up, and they reunite two whole scenes later with nary an albino lobster in sight! When Astrid and Andrew are casually playing spy games, this storyline manages the rare feat of being both bonkers and interminable at the same time; when Light and Midler are running the show, it's another matter entirely. Frankly, listening to Light reassuringly rattle off right-wing conspiracies and Midler growl "like a fucking Jewish Higlander" makes the rest of this baffling plotline worthwhile.
Payton, on the other hand, manages to take a moment of real authenticity on his part — his off-the-cuff speech about the climate crisis at an environmental event Infinity (Zoey Deutch) is hosting — and use it as a jumping-off point for the realization that his most "authentic self" is a person who wins elections. He sees this, to borrow a weird comparison that the show makes, as becoming Kiss in support of your inner Bob Dylan. After that record shop conversation with Not-River, he decides that the end result justifies pretty much any means, and decides to drop the throuple bomb. He tells Dede and Hadassah that if Dede drops out because her husband has a heart attack (Payton's got a doctor ready to falsify papers and everything) and endorses Payton, then he won't leak the throuple news and everyone wins. But just as Payton's limo is pulling away, Astrid pops up at Hadassah's shoulder and informs her covert boss that by the way, Payton has skeletons of his own.
It's all familiar territory, save a "Jewish Highlander" or two, and makes this premiere feel more like pilot than like the world we entered in last season's finale. Let's hope that as the season progresses, The Politician will do a better job of learning from past mistakes than Payton.
Talking Points
• Welcome back to The Politician! The opening credits are as Sufjan-y as ever, but there are some new items in Payton's inner Joseph Cornell box: two pregnancy tests, the fateful waving cat, a tickertape that says "#socialdistancing" on it, some other things. What did you spot?
• Wasn't Payton's big issue supposed to be the MTA?
• The cut from "insufferable little megalomaniac" to Payton standing near that bust? Divine.
• So, did they all just drop out of school? McAfee graduated early, Andrew said he just graduated, but Alice was definitely in school when she fled her wedding, and Payton and James sure seemed to be sharing a dorm room. How old are they? What is happening? Why do they all allow Alice to dress like that?
• Yes, Payton should probably do a lot of work on himself before running for public office, but isn't the fact that all of the stuff from season one happened a bigger issue? It was in Vanity Fair for crying out loud. Payton's high school career is his Ice Town, if Ben Wyatt had been a high school sociopath.
• Costume of the episode: Astrid and Hadassah's dueling outerwear sidewalk modeling. All of it.