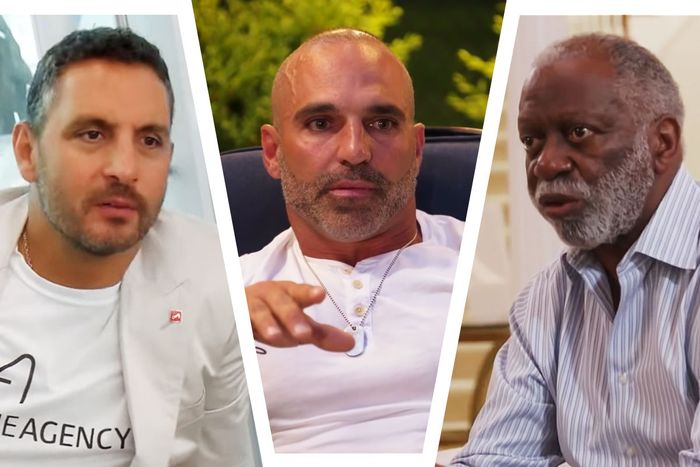 Photo-Illustration: Vulture. Photos: Bravo
Since the birth of Bravo's Real Housewives franchise in 2006 with Real Housewives of Orange County, viewers have religiously followed all the spinoffs, all the reunions, and all the renewals. But the ladies are not the only reason people are watching anymore. In the Bravo-verse, the men who surround them have their own special status. Some are in the family (Househusbands, brothers, and sons) while others are doing all they can to get into the family (the boyfriends, boy toys, and chaotic gay sidekicks), and a few are just straight up con men!
Few Housewives shows have given us more male chaos, camaraderie, and fragility than Real Housewives of New Jersey, where bulging biceps and drunken brawls are the norm. From Joe Gorga's endless feud with Joe Giudice to Dolores Catania's cheating ex turned bestie Frank Catania, from resident eye candy Evan Goldschneider to Teresa Giudice's scandal-prone new hubby Luis Ruelas, the boys know how to entertain in their own right.
On the heels of RHONJ's season-13 premiere, Vulture is diving deep into the history of the men of the Real Housewives. They might not be the main reason why we tune in, but they've taught us how to spot a midlife crisis, a "cheater brand," and even a good egg from a mile off. Here are the 11 types of men who have left their mark all over Real Housewives. That's right: It's not all about Tom. Far from it.
The Limelight Hogger
The best Housewives thrive in the spotlight and will invent practically any story line to stay there — Heather Gay's black eye, we're looking at you. And it hasn't taken long for some of the men to catch onto this strategy. These guys are never far from their wives' drama — and they're ready to insert themselves into it wherever possible when the cameras are rolling. The show might be called Real HouseWIVES, but make no mistake — some of these men are desperate to be the star.
The men:
RHONJ's Joe Gorga, husband of Melissa and brother of series OG Teresa Giudice, has found himself in the center of the drama every damn season since he first appeared in season three. The upcoming 13th season is set to focus on his relationship with his sister, which culminates in the Gorgas skipping her wedding to Luis Ruelas. On RHOBH, Paul "PK" Kemsley should have been given a diamond on season season after he was caught staring at Erika Jayne's "pretty little puss" — as his wife Dorit not so delicately put it. This ended up becoming the season-defining story line known as "panty-gate", which culminated in dramatic showdowns in the season finale and at the reunion. Elsewhere, wisecracking Orange County plastic surgeon Terry Dubrow was the polar opposite of camera-shy. He savvily used the show to launch his own spinoff, plastic-surgery show Botched. Let's not forget about RHONY alum (and serial limelight hogger) Simon Van Kempen. When he wasn't being quoted in "Page Six" and arguing with Jill Zarin, he was performing his song "I Am Real." And it's not just the husbands: Remember Aviva Drescher's quite possibly sex-addicted father, George? Someone get that man an apple!
The Hostage
For every husband who loves the cameras, there is the guy who has no interest in being near one. He looks physically pained every time he's filmed one-on-one with his wife and runs a mile from any whiff of drama. We can see him thinking, This was all a huge mistake, as the cameras roll.
The men:
This guy appears in most Housewives shows, such as RHOSLC's John Barlow (husband of self-described empath and Kit Kat enthusiast Lisa), RHOP's "Black Bill Gates" Ray Huger (husband of Karen, "The Grand Dame" herself), RHONY alum Reid Drescher (husband of Olympic prosthetic-leg-throwing champ Aviva), and RHOC's Eddie Judge (husband of "pint-size, baptized, highly prized" Tamra). Over the years, a few men have gone full missing in action: On RHONY, Scott Kluth met Tinsley Mortimer on-camera, but then fled the scene. On RHOC, Jim Edmonds spent half his time commentating on baseball and avoiding Bravo's cameras as Detective Meghan King sat at home investigating her enemies, while RHOBH's David Foster had a work schedule that conveniently stopped him from attending a reunion or participating very much at all. (Unrelated: These two men have now been married a combined nine times.)
The Housewife Chaser
Different from the Limelight Hogger, the Housewife Chaser is doing everything they can to just be on the show, period. They simply won't rest until they are dating a Real Housewife or standing next to her cutting a ribbon with a giant pair of scissors at a doomed product launch.
The men:
On RHONY, Tom D'Agostino infamously dated Ramona Singer and was "friends with benefits" with Sonja Morgan before his short-lived, scandal-prone marriage to (former) Countess Luann De Lesseps. And on RHONY, Tom's got big competition: Harry Dubin was once married to Aviva Drescher, but he's also been linked with Luann and Sonja, and was caught sucking face with Ramona. Elsewhere, RHOC's Slade Smiley dated Jo De La Rosa (who credits him with securing her spot on the show) before settling down with Gretchen Rossi, who is returning for the fourth Ultimate Girls Trip in Marrakech. Peter Thomas, who was married to RHOA's Cynthia Bailey, has been alleged to have dated RHOP's green-eyed bandit Gizelle Bryant, before even more rumors began to fly this season about Peter and her co-star Mia Thornton. But a Housewife Chaser isn't always looking for love. Sometimes it's money: RHONY's Peter Guimaraes was eager to partner up with various 'wives on dodgy-sounding business ventures, like the sports bar Ramona Singer briefly invested in or Sonja Morgan's Tipsy Girl Prosecco — Bravo's most famous "cheater brand."
The Chaotic Cameo
On Housewives, some men have been part of our lives for years. But others had a blink-and-you'll-miss-it chance to secure their place in Bravo history — and boy, did they deliver. They might have been on our screens for only a short moment, but their service to the Housewives franchise will never be forgotten.
The men:
On RHONY, Tomas, a French Johnny Depp look-alike pirate, became the Main Character of the cast's season-six trip to St. Bart's. He went home with Luann, who was in a long-term relationship at the time. (Oh, the scandal!) After an Oscar-worthy performance in which Luann insisted she had been partying with her "Italian friends," a hot-mic moment betrayed her. And even if she didn't sleep with Tomas, Sonja Morgan almost definitely did the following night. Two seasons later, RHONY introduced us to Rey, an inebriated and heartbroken charity head who was besotted with Luann. After a mischievous Ramona and Sonja probed Rey for details of his short-lived romance with Luann, which included a trip to Ibiza that she may or may not have paid for with a one-night stand, a very intoxicated Rey ended up derailing a charity event hosted by Dorinda and John. Instead of leaving when asked, he made a full scene. (Seriously, if you can't still hear Rey bellowing, "HOW DID YOU KNOW, YOU BITCH!" you're not a real fan.)
The Nightmare Ex
There is a saying that goes something like, "You never really know a man until you divorce him." On Real Housewives, divorces are even more common than vow renewals — and they often get very ugly. Men can be on our screens one minute, then sending "cease and desist" letters via fancy attorney in the next.
The men:
Acrimonious divorces are part of the DNA of the Housewives franchise, from RHOC's Tamra Judge and Simon Barney and David and Shannon Beador, to RHOBH's Camille and Kelsey Grammer and RHOA's Kenya Moore and Marc Daly. But these pale in comparison to Bethenny Frankel's divorce from Jason Hoppy, which lasted eight years in total — that's over three times as long as the couple were married. On season nine of RHONY, Jason was accused of sending Bethenny nasty emails and referring to her as "Bernadette" (the name of her mother, whom she is estranged from). He was charged with stalking and harassment in 2017 after confronting Bethenny outside their daughter's school, and in 2019 she said in court that he "tortured" her psychologically. Bethenny also accused Jason of locking her dog in a storage closet "for hours," refusing to flush the toilet, and leaving negative media articles about her around his apartment. Housewives has seen many divorces over the years, but this one was on a whole other level.
The Regulation Hottie
Bravo's Househusbands aren't just there to be their wives' partners in drama, therapists, or occasional bodyguards. Sometimes they're eye candy too, with bulging biceps, boyish good looks, and even Hollywood heartthrobs.
The men: 
Harry Hamlin — husband of recently exited RHOBH Housewife Lisa Rinna— can boast that he was once named People magazine's Sexiest Man Alive. Not too shabby, but he's still got some tough competition from everyone's favorite permanently stoned real-estate tycoon, Mauricio Umansky, husband of Kyle Richards. RHOP's Juan Dixon is so undeniably fine that even Michael Darby (allegedly) agrees, while Evan Goldschneider is undisputedly the hottest husband on RHONJ. Although he and RHONY's Carole Radziwill eventually stopped "shacking up," we can't forget about seven-foot-tall plant-based Insta chef Adam Kenworthy. And sorry, Kim Richards, but let's not talk about the husbands for a sec: An honorary mention goes out to Frank Jr., the annoyingly hot and jacked son of RHONJ's Dolores and Frank Catania.
The Con Man
There's bad guys — and then there's these bad guys. When it comes to villainy on Real Housewives, men have a habit of taking it to a whole new level. From notorious scammers to grifters and soon-to-be jailbirds, we've truly seen it all. And whether it's through sheer desperation or being blinded by love, it takes some Housewives a little while to catch on.
The men: 
Few villains can match Brooks Ayers, who dated RHOC's Vicki Gunvalson on and off between 2010 and 2015. During his time on the show, Ayers was accused of faking cancer and drawing the rest of the cast into a "cancer scam." At a tense reunion, he even admitted to advising Brian, husband of Vicki's daughter Briana, to start hitting his wife. Briana also accused Brooks of coming on to her while she was pregnant. Vicki's next guy, Steve Lodge, used her social-media platform to help launch his doomed campaign for California governor before allegedly cheating on her, ending their engagement, and popping the question to someone else. (Vicki supposedly paid for her own ring … Maybe she should let her so-called "love tank" be empty for a while?) Elsewhere, Joe Giudice famously committed multimillion-dollar tax fraud and landed himself and his wife with jail sentences of 41 and 15 months, respectively. To make matters worse, he was eventually deported to Italy by ICE in 2018. More recently, Jen Shah attempted to blame her former assistant, Stuart Smith, for her involvement in a nationwide fraud scheme. After taking a plea deal, Stuart testified against Jen, who was sentenced to six and a half years for her part in running the scam. Stuart is still awaiting sentencing.
The Midlife-Crisis Haver
Life as a Real Househusband is hard, isn't it? One minute, you're just a regular rich guy, and the next your wife is reality TV famous and fans are turning her into reaction memes and lining up to meet her at BravoCon. Suddenly, she's the center of attention and you're in the background careering toward a midlife crisis.
The men:
On RHOC, notorious cheater David Beador ticked most of these boxes. His midlife crisis kicked up a notch after he and Shannon Beador finally called time on their famously unhappy marriage. (He's now getting divorced from his second wife, who is half his age.) On RHONY, Ramona and Mario Singer's 25-year union ended in infidelity too, with Ramona walking in on her estranged husband and his 20-something mistress at their Hamptons home. Ouch. Elsewhere, RHOP's Michael Darby was (literally) caught with his trousers down in a hotel room not long after his wife Ashley gave birth to their first child. But all of these men pale in comparison to the final boss of midlife crises: Lenny Hochstein, who is in the midst of a very messy divorce from RHOM's Lisa Hochstein. Lenny — an unpleasant plastic surgeon known as "the boob god" — credits his post-divorce weight-loss cliché with an even bigger one: the apparent "stress" of "having a wife and a girlfriend." And the girlfriend in question? She's a 26-year-old model, because of course she is.
The Drama King
Not to be confused with Limelight Hoggers or Housewife Chasers who love the spotlight and will do anything to get camera time, the "Drama King" is someone who just finds themselves in the middle of drama. With these men, it's unclear whether it's an accident or an out-of-control compulsion, nor is it obvious whether they're enjoying it.
The men: 
Drama follows Chris Bassett, husband of RHOP's Candiace Dillard-Bassett, everywhere he goes. This season has focused on rumors about alleged DM slides and flirting, but in previous seasons we've seen him restraining his wife after she threw a butter knife at one of her co-stars. Ken Todd was always stepping in to defend his wife, Lisa Vanderpump, on the many, many occasions she was called out by her co-stars. He saved the best for last when he kicked Kyle Richards and her ugly felt hat out of Villa Rosa, screaming, "GOOD-BYE, KYLE!" And finally, one of the most drama-prone men in Housewives history: John Mahdessian. Dorinda Medley's notoriously handsy and "sweaty and misshapen" (Carole Radziwill's words, not mine!) boyfriend of seven years knew everything about dry cleaning, but nothing about how to steer clear of conflict. On RHONY, his biggest fights were with Medley herself, but also her co-stars Ramona Singer and Bethenny Frankel. (Let's just say he won't be taking a shot at B again anytime soon.)
The Messy Gay
Thanks to Erika Jayne's Pretty Mess Krewe, Gay Glam Squads have become the hottest Housewives accessory. But what about when the gays create mess that's not so pretty? Sometimes, Bravo's favorite gay accomplices overstep their role and — either by coincidence or concerted effort — become a central part of the drama.
The men:
Lisa Vanderpump's gay sidekicks caused her no shortage of bother on RHOBH. First, there was her hunky "houseguest" Cedric, who went from bestie to mortal enemy. Then there was Vanderpump Dogs employee John Blizzard — or "John BizzaAAAHHHd," as her husband Ken Todd kept calling him — who played an integral part of "puppy-gate" and LVP's exit from the show. In the early seasons of RHOA, it seemed like Nene Leakes's sidekick turned nemesis Dwight Eubanks deserved his own peach. (He once threw a funeral for his nose after years of botched surgeries. Camp!) RHOA also gave us Lawrence Washington, a.k.a. "Miss Lawrence," who rose to fame as the confidante and hairstylist for Shereé Whitfield but eventually went on to become a successful actor. Circling back to RHOBH, we also have Dwight: He used to be Taylor Armstrong's accomplice, attending Kyle Richards's white party with her way back in season three. Then he became friends with LVP — a friendship that presumably ended when he pushed Ken into a dangerously shallow pool on his 70th-birthday party. And now? Last season, we saw him rocking up as Kathy Hilton's plus-one to Dorit's Homeless Not Toothless charity event. He really gets around!
The Fan Favorite
It's a rare occurrence on reality TV: people who fans all seem to like? One of the benefits of being a Househusband is that while drama might find you sometimes, for the most part, you don't have to be in the center of it. There are plenty of men on Real Housewives who the fans love and use their time on the show to be (for the most part!) fun and lovable.
The men: 
The late Bobby Zarin, husband of RHONY's eternally thirsty yenta Jill Zarin, will always have a special place in our hearts. RHONJ's Frank Catania might be a self-confessed cheater, but as the ex turned confidante who Dolores really can't seem to shake, fans can't help but love him. RHOP's resident Supportive King Eddie Osefo was greeted with huge cheers at BravoCon, and Mr. Grande Dame Ray Huger must be protected at all costs. And RHOBH's Mauricio Umansky was recently relegated from this category after laughing at the terrible debacle in which a drunken Erika Jayne swore at Garcelle Beauvais's teenage son Jax. But he'll probably be making a return very soon.