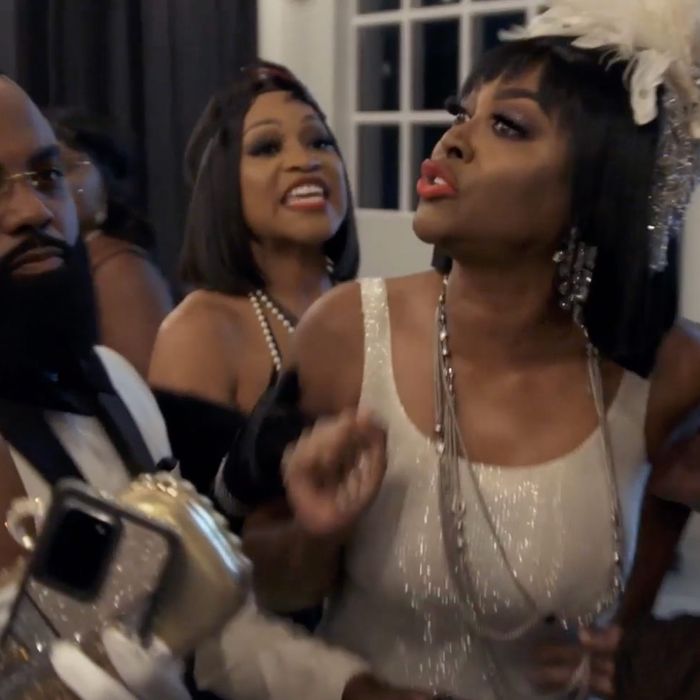 Bravo's Georgia Peaches are back with a revamp and drama that kicks off without missing a beat. But before we get into that, congratulations are in order. Let's welcome Drew Sidora into the elite club of Housewives who have shed the dead weight of their shitty husbands before our eyes. She's in good company among wives like Yolanda Hadid, Shannon Beador, and Porsha Williams. Whether Ralph pulled the trigger first with his statement or Drew beat him to the courthouse (watching Housewives Twitter follow along as they raced to file induced an amazing rush of serotonin), the couple is officially divorcing after nine years of marriage and two seasons of subjecting viewers to their toxicity. Ironically enough, Drew is loudly absent from the premiere, inadvertently speaking volumes about their relationship.
At Sanya's Harlem Nights–themed party for Ross's 40th birthday, Ralph is very present, while Drew is conspicuously gone from the first filmed group event of the season. He tells the women that she is unable to attend because of a "family crisis," but it is important for him to "come and show love." Like Kenya says, "He forgot he was married to the crisis. You gotta be there, Ralph, that's your family too." But he couldn't miss out on the birthday extravaganza at his wife's expense. On the heels of her dry beef-patty party from last season, Sanya put an exorbitant amount of money and energy into the bash, which costs $100,000, over two times the original budget. It serves as the perfect first-episode event — the ladies get glam, the husbands are invited, and friends-of are buzzing around, eager for camera time. The glitz and glamour match the revamp of the show; we don't have taglines or an intro yet, but the graphics are fresh and modern, and the cast photo looks fabulous, hopefully ushering in a new era for the show.
Before the party, the groundwork of Kandi's explosive headbutting declaration is laid as Shereé introduces us to her friend, Courtney, whom she knows through her children's school. In the process of Cortney coming onto the show, apparently, Kandi asked mutual friends about Courtney and said that Courtney was embellishing the nature of her relationship with Shereé, claiming to be friends when they weren't. Although this is the crux of the situation that ultimately activates Ms. Burruss leading to the threat of a headbutt, I suspect the real issue is with Shereé, who is doing the same thing she did last season by bringing someone else in to do her dirty work. Instead of Fatum attacking Drew, it's Courtney attacking Kandi as retaliation for the IG skits and Kandi's accusing Shereé's new man of being an opportunist. Between seasons, Kandi has made skits spoofing Atlanta Housewives scenes and other pop-culture moments on her IG account. Shereé was less than impressed with the videos of Kandi impersonating her, which added fuel to the fire after Kandi did an interview claiming that Shereé's boyfriend Martell Holt was using their relationship as a publicity stunt.
Martell is from Love & Marriage Huntsville, a show I've never seen personally, but according to the streets, he's a mess. There are domestic-abuse allegations and accusations of homophobia, and the demise of his marriage culminated in him getting his longtime mistress pregnant with his fifth child. The mistress, Arionne Curry, claims that directly after filming for Ross's party, Martell pulled up on her uninvited, dipped out on plans to spend time with his child, and is still trying to be with her. And I found a petition with 2,200 signatures that details his treacherous behavior with a call to action to get him off the show. On top of all of this, Kenya comes out of left field and tells Kandi and Monyetta that Martell slid in her DMs. Kenya ignored his message request, which he ended up deleting like the fuckboy he is, saying in her confessional that if he even looks at a woman, she gets pregnant. None of this matters to Shereé, though she briefly alludes to his controversial onscreen antics; she is head over heels, clearly more attracted to him than she has been to the lovers we've seen in the past. And he's not in jail.
Shereé and Martell have a cooking date where they discuss Kandi's comments about his intentions. Martell denies being an opportunist, instead calling the couple short and saying that Todd is the real opportunist. Todd has been fighting for his place in Kandi's world since we met him, constantly being questioned about the significant imbalance in their bank accounts and clout. Interestingly, after watching season after season of Todd trying to make a name for himself outside of Kandi (though most of his business ventures hinge heavily on his wife's name and reputation), now there's contention in their relationship because she isn't helping him enough. He has his sights set on writing a movie, but Kandi hasn't been able to be present in the way he wishes, and he isn't accommodating to her schedule. It's the same work-life balance shit, different season, but thankfully Courtney, Shereé, and eventually Marlo are here to bring out red-hair Kandi this year.
Once at the party, Shereé has Martell as her date, marking his RHOA debut as her man as everyone looks on, perplexed by her decision to date yet another messy, loserish man. Kenya notes that Shereé's love life is playing out like a TV show called Watch Me Date These Dumb Dudes, while Monyetta and Kandi reveal that they know Martell is hanging out with other women in Atlanta. Kenya pulls Shereé aside so that Monyetta can warn Shereé, but again, Shereé is unfazed, saying that if he's cheating, he's downgrading, as she's a Ferrari. Shereé could win a gold medal for ignoring red flags. Kenya uses this as an opportunity to tell Shereé about the DM, and Shereé immediately calls Martell over to defend himself.
In another corner of the party, Courtney is rehashing her issues with Kandi to Marlo and then confronts Kandi about it to her face. Kandi tries to tell her side, but Courtney is hell-bent on twisting it into something shadier than it seems, and Courtney's energy perturbs Kandi. They keep going in circles about how well they do or don't know each other, and Sanya tries to mediate. Still, Courtney's attitude continues to rise as Kandi's face starts contorting, a telltale sign that she's getting upset, and she finally snaps when Courtney claims that Kandi called her a clout chaser. Yelling ensues after Courtney tells Kandi to "calm the fuck down." You can practically see all five feet of Kandi's body rising in temperature before she yells, "I'm about to headbutt this bitch."
With Kandi puffing out her chest at the new girl, Shereé yelling at Kenya, and Kenya yelling at Martell, the episode ends with a "To Be Continued …", which is the first time in a while an episode of RHOA has deserved such a cliffhanger, so hopefully next week delivers. By the looks of the trailer, we're in for a fun ride this season.
Peach Tea To-Go
• We also need to congratulate Kandi for being one step closer to an EGOT! I joked about it last season, but I really do want her goal to come to fruition.
• Drew's absence from tonight's episode was surprising. It's strange for a Housewife to be missing for the entire premiere, but knowing what we know now, watching it back feels eerily like this season of Vanderpump Rules, almost like the writing was on the walls before we knew what would happen. Also, it might be recency bias, but the whole "family crisis" thing reminded me of Sandoval and Ariana when her grandma died.
• Confessional looks are always fun to see for the first time. Did anyone else jump a little bit when they first saw Marlo's big-ass earrings? Kandi's oversized Afro was definitely a choice, but I'm not sure if I'm mad at it yet; I love a good 'fro, I think it just made me laugh because it makes her look especially short after Martell's comment. I'm tired of that damn Mugler bodysuit that we've seen everyone and their mama in, but other than that, Sanya looks great. Shereé's redeeming herself from that ponytail (y'all know what I'm talking about), and Kenya has a glow about her; the brown-dress look with the side-parted hair is my favorite out of everyone.
• I'm not sure if it's damage control from abandoning her nephews last season or she's genuinely working on herself, but it's nice to see Marlo working with a "life coach" that I hope is at least trained and licensed in something if she's not an actual therapist. I'll always be rooting for her and the boys.
• Sanya's sister getting a confessional is exciting because that means something significant enough had to have happened for her to get it. I've always thought that Sanya's family is the most interesting part about her, and having six adults and three children in a Jamaican household has to bring drama.
• It was great to see Carmon. She was always my favorite member of the Kandi Coated Clique, and her scene with Mama Joyce at Kandi's wedding-dress shopping is one of the best moments of season six.