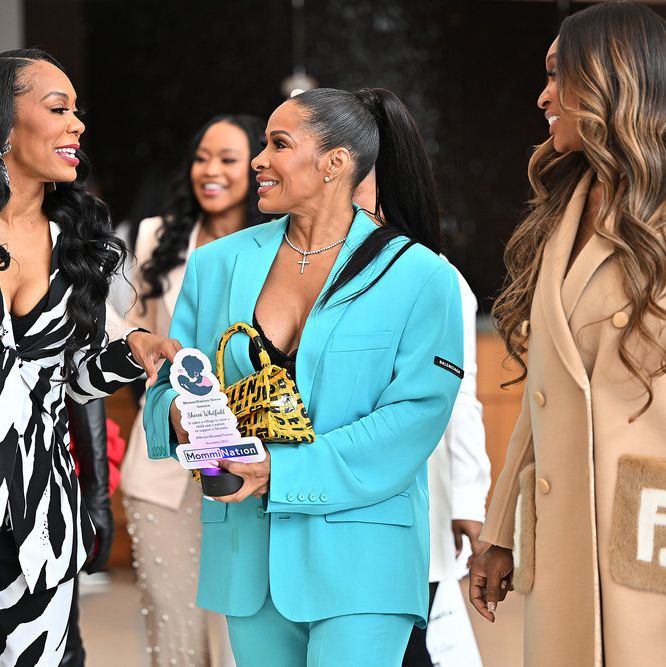 Photo: Bravo/Derek White/Bravo
As the Real Housewives franchise nears its 20th anniversary (which is strange even to say out loud), the premise of the show is constantly adjusting to the way the progression of the internet has impacted how story lines play out. We know the major drama before the season rolls out, like the shooting at Blaze or Shereé's relationship with Martell, but we still watch eagerly, hoping for more. And RHOA has always had a dynamic with the blogging world that's uniquely distinct from the other cities. A great drinking game to play when rewatching the show is to take a sip every time someone says "the blogs." Social media and the internet have only given us more access to the drama in real time, whether filming is happening or not, making the fourth wall essentially a concept we're all going along with out of habit, like Santa Claus.
For the most part, we loosely pretend there aren't any cameras, and these get-togethers and trips happen naturally, not because of their signed contracts with Andy Cohen. It's why viewers get upset when things become too formulaic; it ruins the magic, especially when the drama is stale. RHOA has fallen into this trap, particularly last year, losing some of the freshness of the earlier seasons. However, tonight's episode took a different route than our traditional relationship with the fourth wall, finally giving us some intriguing drama. The juiciest bits of this episode happened when the cameras weren't set up and ready to film a staged "moment," which, ironically, gave us glimpses of what used to make the series so compelling.
First, the ladies had to address the events of Bravocon, which occurred during the filming of the season. Bravocon itself is another example of how the evolution of Housewives has closed the distance between reality and the world of the show, giving fans even more access to the ladies. It's also a perfect time to dredge up drama between the cast. So, naturally, Mama Joyce, who very obviously loves the attention, used the opportunity to get some digs in about Todd. When asked to say three nice things about her son-in-law, she said he's "still short." Then, when Kandi was asked whom she would trust more to control her money, Don Juan or Mama Joyce, Kandi goes with Don Juan because she doesn't believe that her mother would treat Todd fairly.
Making matters worse, to retaliate for Kandi choosing Don Juan, Mama Joyce said on a panel that she would've chosen a partner for Kandi who "had a job," and Kandi hasn't spoken to her since. Kandi does what she usually does with her mom, which is nothing. Todd's daughter, Kaela, let him know about Mama Joyce's insults, not Kandi. Don Juan and Monyetta urge Kandi to tell Mama Joyce how these statements make her feel (as if she doesn't already know), and Kandi declares that she doesn't care what her mom thinks about her husband. Like the work-life balance conversations, it's the same regurgitated story line we've watched for years.
What's more interesting than the perpetual Todd–versus–Mama Joyce saga are the things Kandi is less willing to talk about on-camera and how badly it irritates Marlo. Marlo, who has some personal vendetta against Kandi, has been vocal about her opinion that Kandi chooses what she will and will not talk about, which Marlo does herself as well. Marlo is especially upset regarding the conversations surrounding the shooting at Blaze. After Drew's lackluster performance with RHOP's Candiace (the word performance is a stretch), the women sit down to rehash their drama. It starts as an orchestrated scene for the show, everyone going back and forth airing their grievances and squashing beef, when Drew brings up what she refers to as the "incident" at Blaze. Marlo sarcastically plays dumb, prodding Drew to use the word shooting to describe the event. Kandi says that it was a private matter. Fully disposing of the fourth wall, Marlo looks off away from the frame, directly addressing the cameramen and the producers, saying, "I'm going to go home, you guys, cause like I say, Kandi Burruss can [only] talk about what she wants." Kandi snaps back, asking Marlo to address the time she cut a girl in the face with a knife. I, too, would like to know more about that, but I'm just messy.
In her confessional, Marlo explains that from her perspective, her castmates always bring up her past, like her mug shots or the "alleged" old white men she dated, but when it comes to Kandi, they sweep it under the rug. I don't think this is a fair assessment of the show's dynamic — I personally believe almost everyone on this cast has grown increasingly choosy about what they will show. Shereé is all smoke and mirrors, Marlo was a mystery until recently, Kandi keeps repeating the same story line, and we don't know much about Sanya yet. Drew and Kenya have arguably been the most open regarding spilling the beans about what's going on in their personal lives. I also believe that social media has created a latent fear of being "canceled" or saying the wrong thing on-camera, adding another layer to the carefully curated façade each Housewife puts on when being filmed. On the one hand, we know more about the Housewives than we ever have, but on the other, the women are far more calculated when portraying a specific version of themselves to stay on the good side of fans. They're always trying to stay one step ahead.
For Marlo, this particular instance of on-camera behavior prompted her to say something once the cameras went down. Thirty minutes after production finished shooting for the day, the cameras had to pop back up as things started to heat up between Drew and Marlo. Marlo took issue with Drew calling the situation at Blaze an incident and not a shooting. During the part of the conversation we get to see, Drew denies that the motivation behind bringing up the shooting was to manufacture a moment (which means we can assume that's what Marlo was accusing her of doing). Then Marlo continues to ask why she didn't say "shooting" before she completely unravels. Marlo somehow equates Drew not wanting to say "shooting" on-camera into a contest about who is more sensitive to gun violence. Since we only got to see a portion of the moment, it's unclear if Drew explicitly said that gun violence is why she chose the word incident.
As she explains in her confessional, Marlo lost a nephew to gun violence two years ago. Her nephew worked for Kandi at OLG at one point, and when Marlo told Kandi about the tragedy, Marlo felt that Kandi didn't care. When Marlo brought it up again on-camera the next day, Kandi acted as if she didn't know what Marlo was talking about. In the confessional, Marlo says that no one can make Kandi talk about what she doesn't want to, but this time she's "calling her out." As tragic as the passing of Marlo's nephew is, and regardless of how odd and rude it is that Kandi acted like she didn't know (that was so out of character for Kandi; I would like to hear her version of events), I'm not sure how this directly correlates to Drew's word choice, but clearly, the whole situation was triggering for Marlo. Drew is as confused as I was and attempts to walk away from the conversation, and Marlo repeatedly begins to yell, "My nephew is dead," before storming out, screaming the phrase one last time in Drew's face.
Thanks to a producer whipping out their camera, we got a rare peek at their raw, no-camera conversations, making the last few moments of the episode more reminiscent of earlier seasons, when the ladies were less inclined to hold their tongues. What happened off-camera is what we should've seen on-camera the first time. At one point, Marlo even asks Drew if she's acting or being for real, showing exactly how much Marlo believes the behavior changes once the cameras go up. Drew looks directly at the producer, the fourth wall be damned, and asks what we're all wondering, "What the fuck just happened?"
Peach Tea to Go
• Some on-camera behavior that should've stayed off-camera or never happened in the first place was Kenya's attitude in regard to her team. The way she spoke to her graphic designer was inappropriate. I would hate to work for her.
• Cousin Courtney is a lot for me. I'm happy that Kandi read her about the "hood" comment, because it was tasteless, regardless of whether she was born in the hood. And Courtney, my Capricorn sister, please burn that fedora.
• Ralph comparing himself and Drew to Ike and Tina was absurd. Why would that even cross his mind as an example? Anyway, I cracked up when they showed the clip of a fan at Bravocon asking Ralph to gaslight them.
• Watching Shereé do mental gymnastics to justify the shitty things this man has done on a public platform is fascinating. She said he hadn't displayed any of the "arrogance or cockiness" she's seen on his show, or else she wouldn't be attracted to him. Well, Shereé, why are you attracted to someone who would either fake act like that or truly act like that, just not to you? Then seeing Shereé and Marlo gush over Martell picking Shereé up from the airport … the standard is on the floor.
• The taglines are here! Overall, I'm giving them a solid B — they're giving rough draft. I miss when taglines were more reflective of the content of the current season than a loose rehashing of whatever phrase popped off last season.