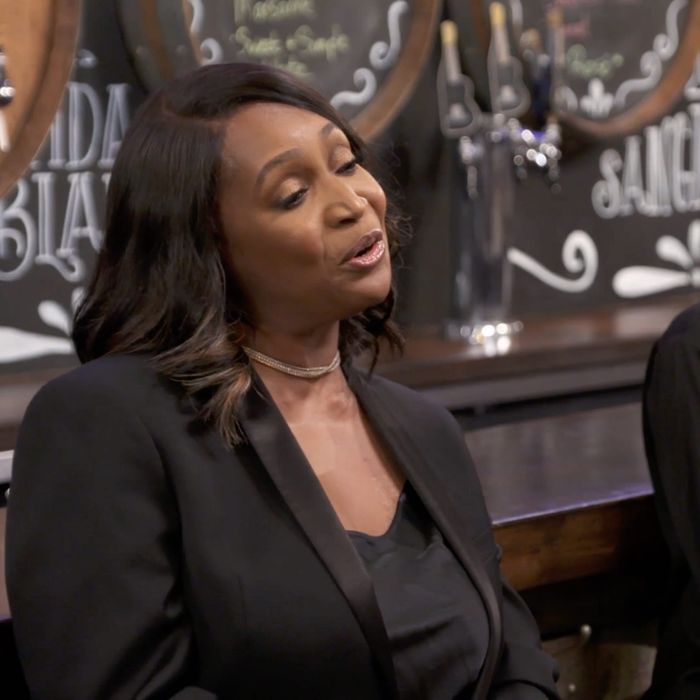 I often argue that RHOA changed the reality television landscape by bridging the gap between two different demographics: the mostly white Bravo audience and Black viewers who wanted their own version of the absurdity that is Housewives. The impact of Nene Leakes alone is something worth studying. RHOA brought the extravagant lifestyles and larger-than-life personalities of the other cities while also showcasing a culture that, at the time of the show's premiere, wasn't often presented in the world of reality television.
So many unequivocally Black things have happened throughout the fifteen seasons of RHOA — white viewers could probably attest to the show being a crash course of a specific corner of Black culture. As a second-generation Bajan, one of my favorite moments was the season 12 Toronto Carnival trip. Tonight's episode lives in that same vein as we watch the women engage in another fun aspect of Black culture. Kenya invites everyone to Birmingham under the guise that they're merely there to experience the Magic City Classic, the country's biggest HBCU (Historically Black College and Universities) football game. The game is played between the two largest HBCUs in Alabama, Alabama A&M University and Alabama State University, and attracts spectators and fans from all over.
Everyone but Kandi, who is being honored on Ebony's Power 100 List, and Drew, who is sick, can attend, but only Monyetta knows about Kenya's surprise half-time performance since she's been lending her dance expertise to make the choreography as on-point as possible. Kenya is ready to vindicate herself after her Bravocon performance which Kenya described as disastrous. Referencing another season 12 moment, Kenya expanded on the opportunity to work with a real HBCU band. She made the concept for her performance a play on the infamous Kenya Moore Haircare chant she sang while crashing Marlo's wig launch. With the help of Monyetta, Kenya plans on serving majorette realness performing beside the dance team for the half-time show, hoping to create the "viral moment" that will take Kenya Moore Haircare "over the edge." (I'm not sure if she meant it as a pun for her edge control, but I loved it).
As Keyoncé and Monyetta practice, Marlo gives us another glimpse of her home life during her Halloween photo shoot with Michael and William. It's a family affair, as her sister Crystal comes along too. While having her Storm wig securely installed, Marlo shares with Crystal that Courtney is helping her get her record expunged so she can regain her right to bear arms. After Marlo was hit in a string of Atlanta celebrity break-ins, she wants to protect herself by having a gun. It's a bit inconsistent with her passion against gun violence, but overlooking my personal disdain for firearms, there's a difference between having a gun as an accessory and having it for self-defense, and everyone deserves to feel safe. Courtney, who is a crisis manager, used her resources to connect Marlo with a lawyer to find a way to either get a full pardon or special permission to apply to carry.
Like most things with Marlo, the conversation turns into how Kandi is a bad friend. She says that if Kandi is so worldwide, why didn't she offer up her connections to get her record expunged? I had no idea that it was Kandi's responsibility to do so, but Marlo typically reaches very far and wide to find something wrong with Kandi. However, in this instance, she really didn't have to reach that far to find a concrete example of mistreatment. She divulges deeper about her nephew, Quentin, a previous OLG employee, who was fatally shot by his roommate, a young man he met at OLG. Kandi's reaction to Quentin's passing has been festering inside Marlo for years now, and she expresses how she wished Kandi had been more supportive or at least sent flowers to the funeral.
I said it last week, and I'll say it again: this reaction feels very out of character for Kandi. We know Kandi's notoriously dry, and I'm sure it's worse over text, but to completely brush off the death of her friend's loved one who was once her employee doesn't seem like the person we've seen on the show for thirteen seasons. Kandi is dry, not callous. Maybe Kandi acted like she didn't know on camera so Marlo could tell the story for the audience, or maybe Kandi thought it was a different nephew and was genuinely confused. It's difficult to fully assess the situation without hearing Kandi's side, as Marlo isn't exactly the voice of reason within the group. It's also strange that Marlo hasn't mentioned this to Kandi on camera over the last two years, not even during their many altercations. But, from Marlo's perspective, Kandi has always been the villain, and apparently, Marlo's whole family thinks so too.
Marlo explains that her blow-up with Drew was because she wanted Kandi to be "held accountable" for what's been going on at her restaurants. She asks aloud, "Why does Kandi keep having shootings? I don't know, but let's find out." Cousin Courtney chimes in, saying perhaps it's the "culture" Kandi creates around her, which is a thinly veiled way of calling Kandi ghetto … again. Both Courtney and Marlo have a strange obsession with Kandi, but Courtney's focus on "culture," while using words like hood and ghetto is coming off as very anti-Black, whether purposefully or not. As a crisis manager, who is helping an ex-con get her record expunged, I would assume she'd be more aware of how those words are extremely coded, but I guess not.
Fortunately for us, we get a break from the Kandi/Marlo song and dance as the ladies embark on their trip to Birmingham via bus — the only thing missing was Porsha Luther King to give us a history lesson about bus boycotts in the South, which might've made Kenya feel bad about exiling Marlo and Courtney to sit in the back with the luggage. The first stop in Birmingham is a dance class to learn how to buck in honor of the Magic City Classic. Like the dance class in Toronto, where the women learned how to whine along with some history about the African diaspora, the Birmingham dance class displays another form of uniquely Black expression. Bucking is a style of dance originated by majorettes in Southern HBCUs and is just one part of the rich subculture found on HBCU campuses. This wonderful Essence article maps out the complex history of majorettes and how they've impacted pop culture, the most iconic example being Beychella, Beyoncé's ode to HBCUs.
At lunch following the dance lesson, Shereé clocks into her job as the bone collector and starts stirring the pot, asking the table about what happened after Candiace's show. Kenya brings up the fight between Drew and Marlo, and Marlo immediately hops on the defense since it's Kenya who is speaking. Kenya relays Drew's recollection of events, saying that Marlo was standing over her being aggressive, which Marlo denies. As we all saw, the truth is somewhere in the middle; Marlo wasn't standing over her, but she was being aggressive.
To end the evening, Kenya brings the ladies with her to a charity event honoring the HBCUs. She presents the event as if it were the inauguration, chastising Monyetta on her aluminum foil-inspired booty shorts, but once they arrive, it's a bit more … pedestrian. People are openly filming the ladies, randoms are asking for hugs, and Monyetta's shorts would've been perfectly fine. In fact, their fabulousness and extraness are so disruptive to the energy that they're asked to leave. The organizers of the event told the producers that there was too much focus on them as opposed to the event — as if inviting Housewives anywhere would lead to anything inconspicuous.
The night ends around 9:30 p.m. after they get kicked out, and Kenya retires to her bedroom. This early bedtime doesn't sit well with Marlo, who is still mad about Kenya being difficult in Blueridge, and Sanya says she feels left out. Shereé suggests going to Kenya's room to talk, but she doesn't open the door. They start to joke around, kicking the door and pretending to run away, until Marlo pounds on the door full volume, poking the proverbial bear. Kenya, who, apart from Martell, has been pretty mild-mannered in the first few episodes, loses her shit, ushering in a brand new Marlo vs. Kenya beef that will be continued next week.
Peach Tea To-Go
• More congratulations are in order for Kandi: she and Todd have joined the production team for a Broadway revival of The Wiz! I'm super excited for them, and I am in awe of all she's doing for Black voices in theater.
• Sanya's family drama with her sister and brother-in-law reeks of having more resentment brewing under the surface than they're showing. It's going to be interesting watching it play out over the season. When Sanya's mom and sister said Sanya is "self-centered" as opposed to "selfish," I laughed because that's one of the traits I believe makes a good Housewife — maybe Sanya's sophomore season will deliver more than her first.
• Aside from exposing all different parts of Black culture, another thing I appreciate about RHOA is how open the women have been about their fibroids. Black women suffer from fibroids two to three times more than women of other races. Hearing Shereé, Kandi, Porsha, and Cynthia be open about their struggle and various treatment options is very important and eye-opening.
• Kenya and Bryce possibly dating is some fun tea! Boy, would I have loved to have been on set during the filming of Trois.