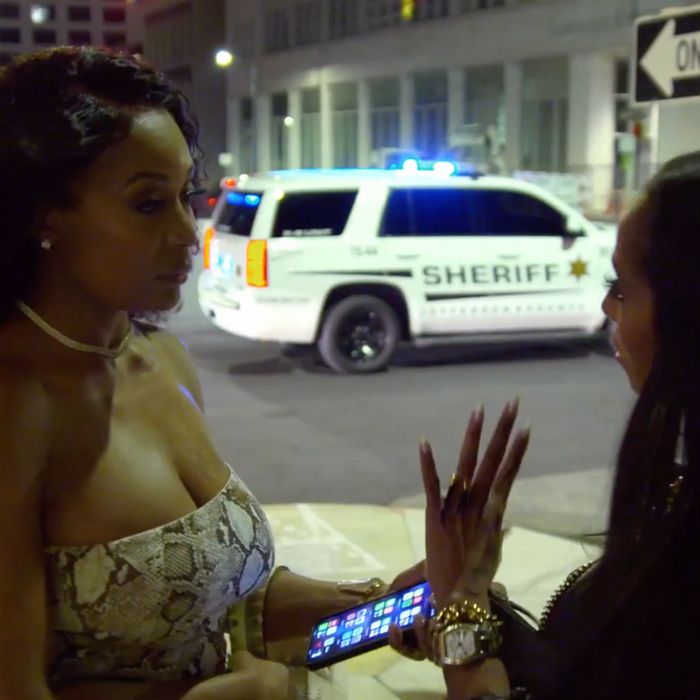 The Real Housewives of Atlanta is in the midst of a crisis. It's beginning to feel as if the visual revamp of the show was the equivalent of Phaedra dressing a corpse up in its Sunday best before being buried six feet beneath the Earth's surface. I hope to eat my words on this because we're only on the fifth episode, but if last season felt lifeless, this season is flatlining. So much so that there are rumors that the cast members are "worried" about a recast amid "dismal" ratings, with an anonymous source claiming "not even Kandi is safe."
The article points out how viewership is rapidly dwindling week by week, and it's rumored that Bravo is considering fully gutting the cast and starting over, with RHONY perhaps setting a new precedent. Regardless, something needs to happen before the greatest franchise of all time (yeah, I'm biased) is officially declared dead.
I'm not convinced a total recast is necessary — fans have been vocal about wanting past cast members like Eva or even Kim Zolciak to return to the show, and it's impossible to ignore the crater-size hole that Porsha and Nene left in their wake. I believe RHOA is missing those larger-than-life personalities that reminded us that scripted television is merely art imitating life. The most talented scriptwriters (who deserve all the coins!) would look at a character like Nene or Porsha and be impressed. The show's current cast no longer has that type of reality-TV star power; Kenya and Kandi are the closest we have to main characters, but neither is enough to revive the show.
Kandi, whose career will always precede her status as a Housewife, works best as part of an ensemble rather than a pack leader. No shade; she's always been my favorite Housewife, but her energy is more Kelly than Beyoncé. On the other hand, Kenya, a natural antagonist, lacks likeability and tends to get bored when she has no one to spar with. As this episode shows, Marlo doesn't count as a compelling adversary because it's genuinely uncomfortable to watch. This woman is dealing with a depth of trauma that should be handled off-camera. Her outburst regarding Kenya's early retirement in Birmingham is one of many instances where she's shown herself to be nasty and vile while still playing the victim. Only a licensed professional is equipped to say whether her actions are a personality flaw or a symptom of her hard life, but either way, we're tired of watching it.
Marlo is so outraged by Kenya ending the night after the charity event that she keeps banging on the door yelling "Summer" (which is Kenya's middle name), until a naked Kenya pops her head through the crack of the door to scream back, calling Marlo a "psycho fucking asshole." Since Brooklyn is in the room, Sanya tries to defuse the situation, but Marlo is long gone and goes on about how broke, old, and inconsiderate Kenya is. Since Kenya refuses to engage, Marlo transfers her frustrations onto the person she views as Kenya's proxy: Monyetta. They go back and forth in the elevator, essentially arguing over nothing, their egos refusing to let the other get in the last word. They exit the elevator more heated than they entered, then Marlo bursts through the door leading to the hotel lobby and slams it in front of Monyetta, who is trailing behind her.
The rest of the night is a haze of yelling and bickering, and over speaker phone from her room, Kenya asks for those who aren't her close friends to return home. Sanya receives the message loud and clear, breaks another record for how fast she sprints to her room for her bags, then leaves. Kenya finally comes clean about the halftime performance, but it's too late by now. Monyetta is threatening to call Pookie and nem to come get Marlo, while Marlo texts Kenya: "You are a rude selfish MF! Seek help. Rude bitch. Xoxo Marlo." After all of the drama, Kenya never even makes it to the halftime show. She wakes up the following day sick, dizzy, and with a numbing pain in her left arm, so ill that she has to call an ambulance before bowing out of her performance. Not that she owes us entertainment when she's not well, but it's no Vicki Gunvalson with a sheet over her head in Iceland, and it's anticlimactic from what we saw in the trailer (no surprise there).
Shereé, whose room is next to Kenya's, hears the commotion and informs the other women that Kenya has to go to the hospital. They band together to say a prayer for Kenya, wishing her well and vowing to put the drama behind them … blah, blah, blah. Honestly, at this point in the episode, I struggled to keep my eyes open. I usually relish enjoying a new episode during my nighttime routine, but it's getting boring. It's as if I'm watching one of those "Secrets Revealed" editions with the extra footage that wasn't interesting enough to make the cut, mixed in with a few explosive confrontations. I won't be surprised if there is some truth to the rumblings of a complete recast.
Back home in Atlanta, Kandi deals with the aftermath of Mama Joyce's Bravocon comments about Todd. She finally puts her foot down and brings up good points about Blaze and Ace growing up to hear what their grandma had to say about their dad, and eventually, Mama Joyce agrees to go to counseling. This is all great, but I'm still anticipating her on-camera reaction to Marlo's comments about the situation with Quentin. Thanks to a commenter last week, I learned that she discussed it on her Speak On It YouTube show, so of course I had to watch it. Here's the gist of it so we're all caught up:
Kandi refers to it as a "story line" Marlo is carrying on with to make herself relevant on the show. Marlo's nephew worked at OLG for a very short period, and they only briefly interacted once.

She produces screenshot receipts of the full-text conversation between her and Marlo showing that she was empathetic and expressed condolences. From that conversation on, they continued their relationship as normal, and to Kandi, Marlo did not seem distraught.

As I hypothesized last week, Kandi's on-camera reaction was because she was confused about who Marlo was even talking about.
In the video, Kandi goes on to push back on how Marlo and Courtney have directly related the violence and shootings to her and discusses the many ways that Marlo has been incessantly attacking her over the last two years. Basically, Kandi says what we've all been thinking about Marlo and how she weaponizes her and her family's trauma. Although at this point in the show's timeline Kandi still has no idea Marlo is running around saying she was inconsiderate about her nephew's death, the end of the episode teases things coming to a head between the two women in a showdown next week. But I won't be fooled by a tantalizing teaser again. I'm hoping for the best, but like Kenya's hotel room in Birmingham and Porsha and Nene's iconic back and forth, the door may be firmly closed on any exciting drama this season.
Peach Tea To-Go
• Can someone explain why Marlo keeps calling Kenya by her middle name? I feel like I'm missing part of the joke, and like Shereé, I'm very confused at this attempt at a read.
• Shereé, fully denying that she took back the She by Shereé clothes she gave the cast at the reunion, is very on brand. I looked up that duffle bag Drew wanted, and it's a hilariously obvious copy of the Louis Vuitton Solar Ray duffle, which is also very on brand for Shereé.
• We all know Marlo slammed that door on Monyetta. Shereé's half-assed story about the door being heavy was so funny because one thing about Shereé is she's going to spin the truth.
• A person I wouldn't mind seeing thrown back into the RHOA mix is Lisa Wu. She's a little kooky, a familiar face, and unafraid to get into the drama. And I'm always down for Porsha to come back!
• I love that Marlo's life coach is urging Marlo to understand that she alone is responsible for her actions. I hate when Marlo says things like, "They have control over me," as if she isn't an adult. Let's get her with an actual therapist, though.