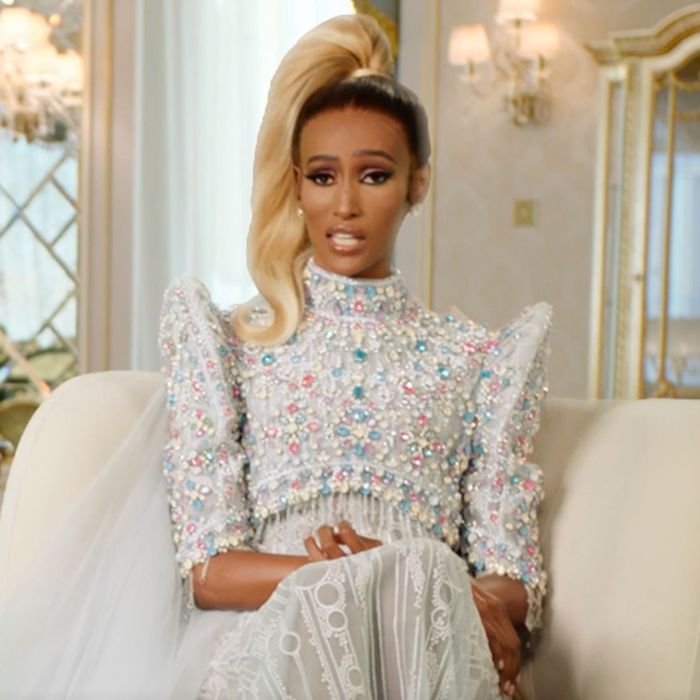 Because of various accumulated family traumas that I'm preserving for my deathbed memoirs, I've never really been the type of girl to sit around and fantasize about my dream wedding. But I imagine that if I were, one of my biggest nightmares would be for my spouse-to-be to spend the entire weekend obsessing over another woman. Imagine throwing caution to the wind and making that leap of faith, sure that even if you find out that there is no safety net at the bottom but just a cement road that will leave you mangled up, you will be making that discovery as a duo … only to realize that your other half is too preoccupied with the comings and goings of someone else to commit to what is supposed to be the happiest time in your lives. Between my anxiety and anger over the blatant disrespect, I would likely find myself bursting into tears on and off throughout the day.
Use that framing while you mentally rescan the first 20 minutes of this episode while turning the volume of the airy backing tracks down. Suddenly this (second) wedding weekend has been revealed for what it really is: a mission to get Ayan to genuflect to the Stanbury hierarchy while Sergio slowly realizes that he will never measure up in competition to the emotional real estate Caroline affords for her friends, much less her enemies. Despondent, he cries on and off while making his way through the wedding ceremony and reception, taking great pains not to smudge his fresh spray tan as Caroline continues to occupy herself with humbling Ayan over committing the grave and utterly unchallenging sin of upstaging her. It is the most bizarre sequence of events: Caroline sends friend after friend over to her castmate's table to reaffirm that they all believed she looked like a bride, which is a ludicrous position to hold, especially when everyone was wearing all white.
At the closing brunch, where Ayan stuns in a fuchsia strapless dress, Stanbury corrals fellow Ladies of London alum Juliet to sneak in some mediocre jabs. It's a bit tough to be a mean fashion girl, however, when your gold sequins leave you looking like a girl attending their first fraternity party in 2007; perhaps it's just a co-ed theme all around because I am certain there are groups on campuses across the country that have made drinking games out of the number of times Sergio tears up in an episode. It's all a bit pathetic and clearly the last gasp at Caroline asserting her position of power within the cast instead of working to create a unique bond within the dynamic, and it ultimately explains why she continues to rub up against Ayan. Regardless of whether you think her personality is genuine or over-the-top, Stanbury recognizes her as a threat in the game of Housewives and wants her neutralized as soon as possible.
All jokes aside, this episode was perhaps the closest we've come to witnessing an authentic dynamic between Caroline and Sergio as a couple, so good for them. I am a bit horrified that Sergio seems to know so little about reproduction and conception for someone so gung ho about having children, but that is not my burden to bear; I refuse to believe that Caroline would put herself at the life-threatening risk of bearing children again. They are both European nationals; if anything, they would return to the U.K. or Spain temporarily and have a surrogate, I would presume. I am sure there are plenty of things for Caroline to influence in London that would help them sustain their lifestyle.
While Sergio and his bride are speculating about planning for a life with their prospective children, Caroline Brooks is still dealing with the fallout of being triggered about how she raises her son. As a cast member, Brooks is a bit of a paradox up until this point because there is everything and nothing going on with her simultaneously. She has a lot of feelings and emotions that allow for dramatic scenes, but the ultimate denouement doesn't provide enough clarity to serve as a justifiable counterbalance to the inciting reactions. I am empathetic that she seems to have gone through a lot in her initial marriage — it is implied that the relationship was abusive and not easy for her to escape — but there's not enough for us to understand how that directly connects to her relationship with her son or her child-rearing as a result. Even though we see her mother, who affirms that something horrific happened, it is just left out there in the ether like a bad omen for us to guess. I am fine with reality stars choosing to have certain secrets, but it makes it harder for the audience to connect beyond the emotional caricatures she has offered.
Furthermore, if there were anyone who may understand some parts of this, it may be Sara, who herself has been in two abusive marriages with Arab men and can offer some connection on that matter. That said, Sara's insistence on being absolved of culpability is jarring for someone who claims to operate in empathy and sensitivity; it would have taken nothing for her to de-escalate the situation once she realized that it meant a lot to Caroline, and her unwillingness to let it go is peculiar and focused on a game of semantics that will not help resolve a conversation about emotions, sober or otherwise. For that reason, I am entirely unsurprised that even with a sober mind, Brooks realizes that she owes Nina an apology for pulling her into conflict at such a sensitive time for her but still is miffed by Sara and doesn't have any interest in reconciling just yet.
By the end of the wedding weekend, by my count, Caroline only had one successful outfit, and I am being quite generous in granting that one because her reception dress would have been more fitting at a teenager's debutante ball, but at least it wasn't insufferably tacky like her other atrocities. But my taste preferences aside, she definitely succeeded in moving her husband to tears — which, granted, can happen when he has an erection for too long — and that is all that matters. (If you let my mom tell it, though, men who make a show of crying at weddings tend to be flagrant cheaters, but you didn't hear that from me).
Next week, the conflict between Caroline, Nina, and Sara reaches a boiling point. See you all then!