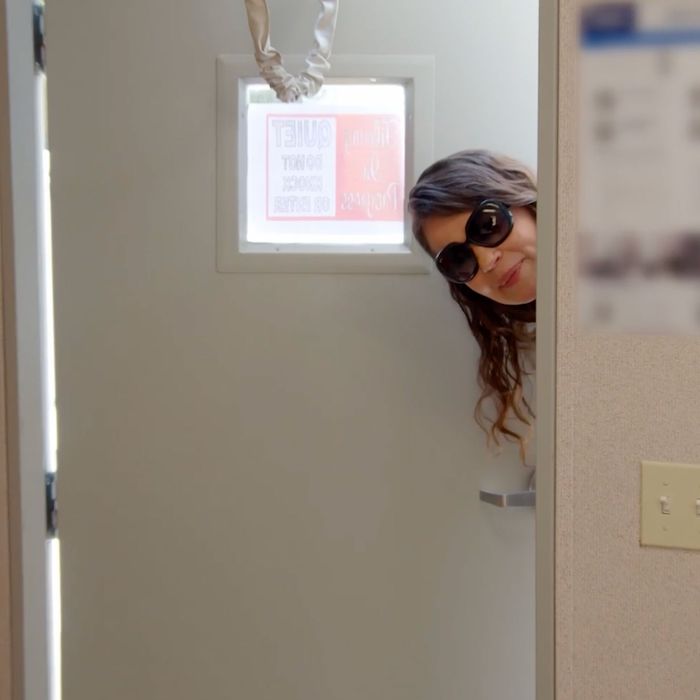 Photo: Vulture; Photo: Bravo
I have a 6-year-old niece who recently "rolled her ankle" getting out of her mother's minivan. When asked about her injury, she said, "I think I'm going to need crutches." No one thought she needed crutches, but she tortured her mother so much that she got them and took them to school for all that sweet, sweet attention. Then, when it was time for recess and she wanted to play with her friends, she handed the crutches to her teacher and said, "I'm healed now." That niece's name is Adriana. Haha. Just kidding. It's not. She behaved better than Adriana in this episode — if you can believe such a thing.
Here is an entire hour about what an unserious person Adriana is. I haven't rewatched the old seasons of RHOM since they aired, but I remember hating Adriana in the same way that I hate a lot of Housewives who have brought a lot to the table but are intolerable. Strangely, in the past season and a half, I hadn't remembered how much I disliked her until now. At the beginning of the episode, I was a little bit sympathetic when she talked to Alexia about how she and Marysol team up against her. That was cut short by Marysol showing up with a bullhorn and Jill Zarin-ing the proceedings.
It quickly goes sour after that. Adriana's trying to explain to Alexia and Marysol that she feels that after "being her bridesmaids" (i.e., being close, because they weren't on the show together), they "lost touch" (i.e., wouldn't talk to her anymore, because she wasn't cool) and that they "wouldn't invite her to things" (i.e., she is a "friend of" and needs to be asked to film and gets paid per day of filming and wants to be on the show more and make more money). As I always say, all fights on the show are about the show.
She explains this, because she wants to prove what a good friend she is to Marysol. Know how good of a friend she is? When Marysol's ex messaged Adriana on a dating app five years ago, she told him that she wouldn't go out with him. I mean, that is the bare minimum. That minimum is so bare that Instagram flagged it for violating its community guidelines. Then she adds, "Know what he told me? He said he never loved you."
What in Lady Gaga's pink Chromatica is this? Why would you ever tell her that? Why would you try to prove that you're a friend by telling them some hurtful gossip that is staler than the air in the Las Vegas–airport smoking room with the slot machines in it? When asked why she didn't tell Marysol — especially while accusing the ladies of not keeping in touch — she says, "Because it would hurt her." And you think it wouldn't hurt her now? And what does Adriana have to combat that? Something about high cholesterol and how she will die of a stroke. Oh please, high cholesterol is like HPV — we all have it, but we don't talk about it in open company, because it is disgusting and boring.
After this, there is a brief interlude in which Larsa and Dr. Nicole make up, which will surely last about as long as a CrossFitter waits in a conversation before telling you about his keto diet. Then everyone is at dinner on the beach, and the whole thing starts all over again. Actually, it started with Julia accusing Alexia of having a "barracuda stare," which is highly accurate — except none of the other women know what that means or what a barracuda is. "It's a fish!" someone shouts, but Lisa has to get on her phone and actually see it. We get a lovely side-by-side comparison, and I just sent every single one of the editors an "I Choo-Choo-Choose You" Valentine's Day card just for this moment.
Things really kick off when the conversation turns to the botánica again — like they did in the last episode. Then Larsa tells everyone how much shit Adriana was talking about Alexia and Marysol at the spa and how she called them a bitch. I don't remember that, but it is so Larsa to twist Adriana being like, "Bitch, no!" into calling someone a bitch. It's like when Marysol and Alexia call each other "bro." They're not male siblings in reality. Duh! Anyway, Larsa and Adriana briefly get into it. Adriana calls her a bitch, throws a drink on her, and Kiki Barth (the savior of the universe) stands up from the table shouting, "Emergency!" but the emergency is that she just has to go pee in the ocean with her skirt hiked up. I mean this both literally and figuratively: Never change, Kiki.
Adriana then goes over to the healer that Nicole ordered to do a "Rage Release Ritual" after dinner. She asks the healer, "What is wrong with me? Why doesn't anyone like me?" Oh, how about because you create a bunch of drama, do things to drive people away, then when they go away, you pretend like you're a victim and you had nothing to do with why people don't like you in the first place? The reason isn't other people. The reason is you.
The healer takes them all to the edge of the surf, lines them up side by side, and tells them to shake their fists and yell at something or someone that makes them angry. The women all do it, Kiki more than others, and if it doesn't clear them of their rage, it at least lends a little bit of levity to the situation. That is until Kiki is trying to carry Guerdy like a baby and falls over into a huddle that contains Lisa, Adriana, Julia, and the poor abused healer who watched season one of The White Lotus and just nodded along, shouting, "Yes! These white people!" at her television.
This is when Adriana hurts her ankle and goes full-on "6-year-old with crutches." She wants Dr. Nicole to examine her. She wants a walking stick and Julia to move to a chair. She needs an EMT to carry her to her room while tripping all over her flowing dress. She needs painkillers, an ACE bandage, and, yes, more attention. The next morning, Julia has to wheel her into the room in a wheelchair. Of course, the person from the previews in the wheelchair was Adriana. Of course it was. She is giving full Victoria Denise Gunvalson Jr. Iceland Trip on a gurney waiting for her casserole realness, and I just wanted to poop in my hand and throw it at her.
The one question I really, really, really, really, really, really, (deep inhale) really, really need to know is whether the wheelchair actually had squeaky wheels. Was that the actual sound it made when Julia wheeled Adriana to the other ladies' room and when she then wheeled her to the boat where they were hanging out, then onto the private island where they landed? If it is, that is amazing. If it was added in later by my valentines, the editors, it is even better and such a perfect masterstroke that they should all get their masters stroked as a reward.
Here's the thing: No one believes that Adriana is that injured. Sure, she might have a sprain and her foot might be swollen, but must she be carried on and off of the boat? That is a stunt so extreme that it will get you cast on RuPaul's Drag Race. The problem is that the demand for attention does not fit the injury. "I almost broke my foot into a million pieces," she tells everyone. Um, no, she didn't. She sprained her ankle. She could just hobble around for a couple of days and be fine, but instead, she decided to play the Last of the Catholic Martyrs — a role that my mother usually plays. If she just sucked it up, everyone would praise her for being a trooper. Instead, she just looks like a chump milking it for attention.
When they're on the beach, the rest of the women go in the water, and Julia sits with Adriana, who says that none of them respect her, because they're in the water and she can't go. OMG. She can totally go in! It's time for her to throw down her crutches and say, "I'm healed!" Instead, she tells everyone she could have lost her foot. Oh my God. Yes, and you could have had a stroke, been in a zombie apocalypse, and been killed by a Chinese spy balloon that was shot out of the sky. Literally anything in the universe could have happened, but it didn't. Almost nothing happened.
The women get out of the ocean, and Alexia puts on Candiace Dillard's Loewe sunglasses and says her problem isn't with Adriana's music, which they all loved on their boat ride to the island, but with something else about Adriana. Alexia hates how she always plays the victim. Please, Adriana, do not make me agree with Alexia, the Latinx Giudice-Ruelas. Alexia doesn't have much pity for her foot, because everyone thinks she's more dramatic than the Nicole Kidman AMC opening. "It's an accident that could have happened to anyone," she tells Adriana.
Adriana responds, "But accidents have consequences — as you know with Frankie." Uh uh. Oh no. Mm-hmm. This is not the way. This is definitely not the way. Adriana is comparing her little accident, when she may have sprained her ankle, to the car accident Alexia's son Frankie was in that left him in a coma for three months and has changed the arc of the family's life ever since? Oh no. That blow is way too low. That blow is below the sand. It is below the waves. It is below the krill and the plankton. It is below the bioluminescent algae that feed the creatures that live so far down that they're translucent and can see in the dark. It is below even the earth's crust, below the magma, below the fire that is somehow heating up this crazy rock that we all cling to. It is below below below that — somewhere down deep where it should just burn into a cinder never be talked about again. Well, at least until next week.