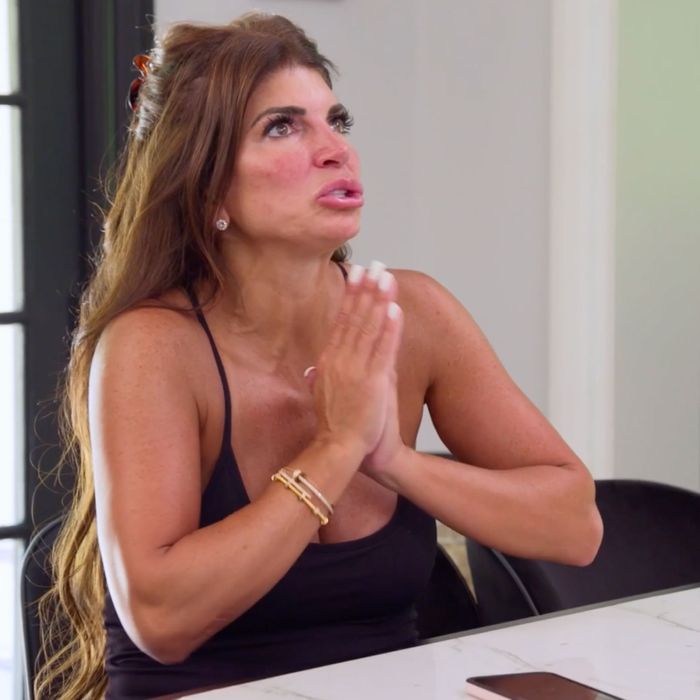 Photo: Vulture; Photo: Bravo
After the first episode of this season, there was an issue that I was hoping would resolve itself. Something small, something inconsequential that was just an easily corrected mistake. Now that we're four episodes deep and it has happened every week, I need to say something because it is clear that the Housewives don't know the difference.
There is no such word as "disingenuine."
Period. That's it. It does not exist. I believe the word they (but usually Margaret or Jennifer) are looking for is disingenuous. But even that is not the opposite of genuine, though the meaning is close enough to get by.
Would you like me to use it in a sentence? Okay. Disingenous. "Jackie was being disingenuous when she told Danielle to get her hands out of her face even though her hands weren't really in her face." Disingenuous. Would you like some more? Okay, I'll do an adverb this time. "After Danielle did a little bit of white girl voguing to show Jackie how she talks with her hands, Jackie asked, disingenuously, if Danielle was threatening her." Done. English lesson over, as long as we don't have to debate the correct way to spell the way Teresa says "dor-turds."
Sadly, once again, this episode is mainly about Teresa and Joe and Melissa and Luis, like some fucked-up Italian incest version of Bob & Carol & Ted & Alice. The scene I'm most interested in is when Teresa calls Joe while she's sitting at home and Joe is showing Melissa around the new house. (Much like Chip Gaines, you know Joe climbed on that roof, drove one nail for the cameras, then climbed back down.) For his part, Luis seems to want to solve the problem between Teresa and Joe. He gets her to call her brother because he has not yet been worn down by decades of this exact same fight with no resolution.
When Teresa initially calls, the two of them are stiffer than a necrophiliac at a wake. Louis writes on paper so that Teresa can read it over the phone, "Do you want to make peace?" Wait, Teresa can read? I thought for sure she went to the Lea Michele Hooked on Phonic Schools for Girl. (That was mean. I'm sorry.) Anyway, I think this is a big step because Teresa usually only resolves things on her own terms, and extending an olive branch (if it is "ingenuine") is a huge step for her. When she asks if Joe wants to come to her housewarming party, he says he doesn't know.
Of course, Joe doesn't end up going to the party. He says that he doesn't want to be made to feel uncomfortable in his own sister's house. Well, you're going to, but being uncomfortable is the only thing that will make this better. What does he think? He's not going to show up for two years and then stroll back in, and it will be just like Christmas 1996? "Hey! Joey's here!" I mean, come on. Teresa is right; he's missing out on family milestones and distancing himself, making her remember only the bad things instead of all the good times they had together and could have in the future.
Teresa and Luis get up on … an outdoor barbecue shelf? I'm not even sure. They make a speech, and Teresa thanks her "chosen family" for all being there. Both Margaret and Melissa, who went stag to the party, think that this is some dig. I can see how it would be interpreted like that, but this is Teresa. She went to Lea Michele's Hooked on Phonic Schools for Girl. She has no idea how that could be construed or why it might upset her brother because, for a second, she'd have to stop thinking about someone other than herself.
Melissa goes off for a quick sob in the bathroom (which all the Tre-huggers on Twitter have already said is as fake as Melissa's long-lost sister who never turned up), and I feel those tears. I don't think she is even that mad at the comment; I think Melissa is like all of us, sick of this going around and around and around so many times that it has essentially turned all of Franklin Lakes into a crop circle. She doesn't want to do it anymore. She wants those aliens to swoop into the crop circle and take her someplace where this argument is over.
Let's talk about some other shit, shall we? How about how Frankie Jr. was within spitting distance of a swimming pool and didn't even strip down to his trunks? Now that was disappointing. There was some talk from Dolores about how she's taken care of her family for so many years that she wants to focus on pleasing Paulie and doesn't care about Frank. All correct and justified. Nothing to say here.
Oh, Jennifer Aydin. Yeah, not a great episode for her. First, there is that horrible dinner between her and Bill, and, well, she doesn't seem to understand that her husband doesn't like her very much. In the last episode, there was that whole conversation about whether Jennifer is self-reflective. Jen is about as reflective as a black hole. When the light (or good sense) is beamed at her, it is just sucked in and will never escape. Of course she's not self-reflective, or else she wouldn't be making the same mistakes with the regularity that Bill gets acid reflux from eating her mücver.
In this episode, Jennifer and Bill go out for a date night at Magianno's Italian Grille and Macaroni Emporium. Bill tells Jennifer that she spoils their kids because she got Justin, the oldest, a party bus for his prom. Jen then gets all mad, saying it's not always her fault. What about Bill? He just bought a new Porsche. Isn't that sending the wrong message? Well, here's the difference. Bill worked hard for that money, and you better treat him right. He should be able to use his cash to buy whatever he wants (within reason up to and including hookers and cocaine). Justin didn't do anything. None of those kids seem to do anything except for Olivia, who mugs for the camera with her perfect, natural nose. The rest of their lives, they're going to think they're one pleading baby face away from a big fat paycheck. If you want to know what is worse than nepo babies, it is this.
Jennifer says she doesn't want to do anything to make her kid sad. This is how you raise monsters. This is how you raise people who will eventually become horrible to their spouses and terrorize their PTA, HOA, OSHA, BPOE, MSNBC, and LGBTQIA+. Maybe they'll all be just like their mother, never satisfied. (Thanks, Prince.) But you have to make your kids upset. That is the point of being a parent. Being upset means they have boundaries; it means that someone loves them enough to show them how their disappointment can lead to growth; it means that someone told them they can't have ice cream for dinner because that will not only make them fat but also rot their teeth, destroy their gut biome, and probably make their natural nose grow a funny shape. Jen loves her kids, but someone in that house needs to put a foot down.
The rest of the discussion is equally fascinating. Jen wants to know why Bill doesn't have her back more often, especially when she's fighting with the ladies. Bill asks if he should be like, "You're right. She's a cunt. Let's leave," when Jennifer is fighting with one of the ladies, which happens with such regularity it must be on Metamucil. Jen says "yes." Now, in theory, I agree with this. As a married couple, my enemies are my husband's enemies and vice versa. The problem is most of us aren't married to Jennifer Aydin. Bill knows better than anyone that the reason he can't be on his wife's side all the time is that she is so often wrong. That's why he's always trying to get her to see someone else's side because she's being loud and unreasonable, and if he just backs her up, he'll look like as much of a tool as she does.
Compare that to when Rachel, one of the new girls, leaves the party after getting into a little tiff with Jennifer, where she calls her an idiot, among other things. Rachel gets her husband, the mustache destroyer John, and tells him it's time to leave. "You sure you want to leave?" he asks her. "You don't want to check her?" If that statement were on an album, it would be on Now That Is What I Call a Husband 34. I see why Jen wants that. Who doesn't want a husband that automatically believes you are right, believes that you would win a fight and would keep the car warm while you rip into her like Rupert Murdoch shredding documents before his Dominion lawsuit?
The fight itself is dumb. It starts with Rachel and Jennifer hitting it off and deciding to have lunch together. At lunch, Rachel says that after the mozzarella party, Jen called to apologize for asking questions about her nose job and then talking shit about Dolores, the woman who ostensibly brought her onto the show. Then Jennifer says after the party, Jen called her to ask for a recommendation for wedding counseling and then started to trash-talk Marge, who brought Jennifer onto the show. Okay, this sounds like a pattern of behavior for her to get the new girls on her side, but why is she going to do it by trying to get them to betray their friends? Like they're really going to switch sides over this?
When everyone brings it up to Jennifer at Teresa's love-bubble party, Jennifer starts shouting so loud that she blows the dancer in a sad bubble floating in Teresa's pool into the neighbor's backyard. Jennifer tells Rachel that she didn't want to get Rachel involved; she just wanted to give her the history. Oh, please. Jennifer is dying to get involved; she needs to stay involved because right now, Jennifer is on an island. The only one who likes her or wants to talk to her is Teresa, and she's so busy with her red-faced lover that there's no way she's going to rep for Jen, no matter how disingenuine everyone is being.