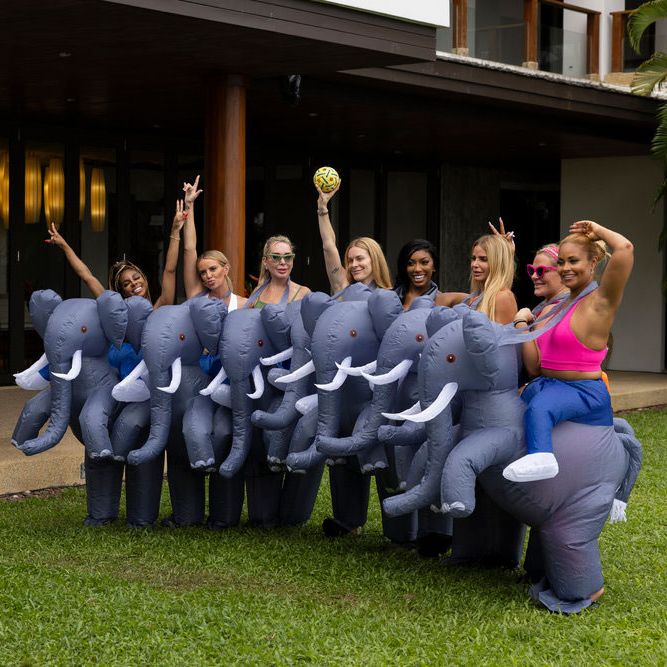 Photo: Lauren DeCicca/Peacock/Lauren DeCicca/Peacock
It's our fourth day in Thailand, and against all odds, Pepsi's spirits are high. The same can't be said for the women, who are already exhausted by the drama they've endured over the past three days. Candiace frames said drama for us beautifully by comparing Housewives to soap operas, prompting a dramatic "Days of our Wives" opening credit sequence courtesy of our editors. "But our lives are real, and we don't get Emmys. We deserve an Emmy," Candiace correctly protests, even though this is Eileen Davidson erasure (she snagged it!).
Because this iteration of Ultimate Girls Trip is so awkwardly attached to the plotlines of the women's actual shows, it should be no surprise that Whitney calls another RHOSLC cast member to debrief this continued Salt Lake drama. Much like a Taco Bell drive-thru worker, we suddenly hear the calming voice of Lisa Barlow. This FaceTime proves to be a bright light in the dark skies of this tired feud and also proves that Lisa is always on her A-game, even in the off-season. Calling into a show that you are not on just to talk shit about your castmate on their other show is truly legendary Housewives behavior.
According to Whitney, this feud all has to do with the fact that she no longer feels indebted to Heather for recommending her for the show and is thus breaking free from that blind loyalty. Whether we realize it or not, this is actually something that is always at play on Housewives: the dynamics of who got who on the show. Though they're rarely allowed to discuss it, those unspoken power dynamics are the driving force of many a feud.
The insight we get by breaking the fourth wall like this, though interesting, isn't interesting enough to make it worth rehashing this drama yet again. In fact, the only thing that comes close to making any of this worth it is watching Porsha try to make sense of Mormonism.
Speaking of Porsha, she's requested yet another order of KFC for breakfast before leading the ladies in a day of activities that she definitely planned herself. First up, a group massage. Because what's more relaxing than all eight of them moaning and groaning together in the yard like they're Meg Ryan in Katz's Deli?
But relaxing is not something Gizelle Bryant knows how to do, not when the cameras are up — the gift of Gizelle is her childlike wonder and sincere curiosity about other people's business. And though very annoying to many, it's a skill that thrives in an Ultimate Girls Trip setting, where she's always ready to dig. Take, for example, when she sits down next to Heather and casually suggests, "Let's check in with Jen."
We already got Lisa Barlow on the line, so sure, why not FaceTime in the entire RHOSLC cast? Even Jen, who Heather says she hasn't spoken to (outside of texts) since she pled guilty. What better time to finally catch up than on Ultimate Girls Trip? It seems crazy, but for a minute, I really did think there was a chance that she would answer the call. But alas, her lawyers must have confiscated her phone because the call (and Gizelle's questions) goes unanswered.
So it's off to lunch we go, and this barbecue turns out to be the perfect place for Candiace to finally bring up the grudge she's apparently had against Porsha this whole trip: the fact that Porsha defended Monique over her on Bravo's Chatroom when discussing their altercation. In true Candiace fashion, as soon as she begins to broach the topic she begins crying, and in even truer Candiace fashion, she begins dabbing her tear ducts with the carefully folded triangular tip of a napkin so massive it looks like she's holding a paper airplane. Either that or it's the list she seemingly keeps of every person who ever took Monique's side in that infamous barn brawl.
When we see the actual clip from Chatroom, it doesn't seem worth the time it took to fold up her tear napkin. Porsha seems to simply be repeating Monique's claims, and in turn, the other co-hosts jump to Candiace's defense — including Gizelle, who doesn't feel appreciated for her loyalty. Basically, this was just a simple point-counterpoint situation on what Marysol dismisses as a fluff opinion show, but that doesn't stop the argument from continuing.
When we get into the weeds of what hearsay is, Candiace touts her journalism degree, which Porsha then trumps by citing her journalism job. You may be wondering what job that might be. But lest we forget Porsha's famous words at the RHOA's season nine reunion, "I work for Dish Nation. I am in the world of journalism." So as the Barbara Walters of Bravo, Porsha naturally stands by her original reporting.
In what appears to be Bravo's (or Peacock's) answer to Battle of the Network Stars, our afternoon of games is dubbed "Fight of the Franchises" and sees the cities (plus Porsha and Leah) face off against each other. This is where we see production's obsession with an itinerary really go too far. Sure, structure and activities are key to maximizing our time with these women, but what happened to the illusion of reality? In what world are we meant to believe these women would take it upon themselves to play a game of volleyball while wearing inflatable elephant costumes? Or force-feed each other plates of food using little plastic hands?
And then, to top it all off, they play truth or dare, but if they don't answer the question they have to eat a scorpion? Sure, why not.
While it initially seems like everyone will just answer their question, Leah is our first scorpion sampler, choosing to chow down rather than say who she thinks shouldn't be asked back for RHONY: Legacy. "I don't wanna be negative," she says, despite that being her only character trait. Whitney also partakes in the scorpion rather than list three lies that Heather has said on camera, an olive branch that goes unappreciated. And lastly, rather than say who gave her the black eye, Heather also opts for the scorpion.
The game ends, and like a foreman at a sweatshop, Gizelle notifies the women that they have only 45 minutes of downtime before their next event. This elicits groans from Alexia and Marysol, who I was half expecting to stand up on the table with a "union" sign like Norma Rae. The toll this luxury vacation is taking on both of them might be the most entertaining part of the season, particularly their horror that housekeeping hasn't attended to the squalor of their room.
Despite these dreadful working conditions, all the women manage to pull themselves together in time for Gizelle's Mardis Gras-themed dinner. Once again, Marysol and Alexia, our Cuban Statler and Waldorf steal the show by complaining in Spanish about Candiace burping at the dinner table. This, of course, is after they had promised to Gizelle that they would never use their bilingualism to talk shit.
Luckily, there are plenty of opportunities to talk shit in English too. As if we haven't played enough games today, here comes Gizelle with these damn paddles that she lugged all the way to Thailand for yet another game of "Reasonable or Shady" — with each question obviously targeting a different woman's indiscretion.
First, Alexia is taking credit for the franchises that came after Miami. But technically, all she said was, "We made history; we did a comeback after eight years. Like what are the chances of another franchise coming [back] after eight years?" This is true, even though it rubs salt in the wound for those of us still waiting for a Kell on Earth revival.
Then we somehow get on the subject of "Bad Mormon" again. Suddenly like a bad acid flashback, we are once again hearing Whitney and Heather argue about who is less Mormon. Ladies, ladies, calm down, there's room in the outer darkness for all of us! After four days of this conversation, all of the other women are completely tired of it. So imagine how tired we are.
The episode ends with even more of this hell, with Whitney sauntering into the confessional room to go after Heather once again. Though she can't take back eating that scorpion, she's apparently changed her mind about exposing three of Heather's lies. "She knows how she got her black eye, she was never friends with Lisa Barlow, and she hasn't left the Mormon Church," Whitney says. And here's a fourth lie: we care about this feud.