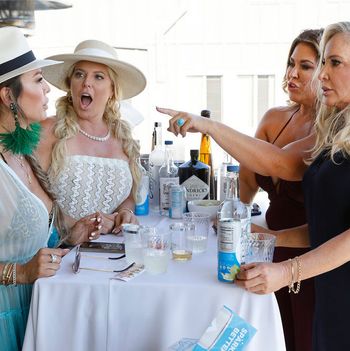 The
Housewives
franchise's original flavor,
Orange County
, may not be built for a post-COVID, post-BLM, postelection reality.
Photo: Courtesy of Bravo
The recent season 12 reunion for The Real Housewives of New York City was a strange affair. After having endured Zoom reunions since March for Bravo shows like Real Housewives of Atlanta, Real Housewives of Beverly Hills, Vanderpump Rules, and Summer House, Andy Cohen finally got the women all together in person. It was a small return to normalcy, even if they had to sit six feet apart with the vast expanses between them covered by enough rugs to keep Empire in the red through the impending economic disaster. But before Tinsley Mortimer could finally eviscerate Dorinda Medley, before Ramona Singer could apologize for everything she's ever done, before Sonja Morgan could repeat, "We all die, and you catch some good dick along the way," first everyone had to spend ten minutes fighting about COVID.
Cohen kicked it off by bringing up newest apple-holder Leah McSweeney's recent Instagram Live criticizing her castmates, "who spent their entire fucking quarantine in Florida living it up … and they come back in New York not taking this shit seriously.… Fuck you guys," a statement clearly directed at Ramona, the only Housewife who had ridden out the worst of the lockdown down South. Dorinda was also upset with Ramona, something that had already played out on social media, when it became apparent she was a guest at a Republican fundraiser in the Hamptons that Donald Trump Jr. and his girlfriend Kimberly Guilfoyle attended just days before Guilfoyle tested positive for the virus. Dorinda said, in a clearly politically tinged turn of phrase, that Ramona was traipsing around Mar-a-Lago and not worried about the virus.
The discussion ended with Leah and Dorinda criticizing Ramona's behavior while she shouted, "I didn't have the virus. I didn't have the virus," or "I don't wear a mask on the ocean. I don't wear a mask on the ocean" in the affected singsong tone of a 5-year-old pretending they didn't just do something horrible. It was the real-life equivalent of watching your aunt and some girl she went to high school with spar on Facebook.
It wasn't the fact that the Housewives were fighting that made this part of the reunion strange and upsetting — we're used to that and welcome it like Kim Zolciak-Biermann welcomes lip fillers. It's that the Housewives weren't fighting about who was assigned which room on a vacation, or whether or not someone deserves an apology. Now, suddenly, they're fighting about real things that matter.
This is a strange time for the Housewives franchise, which will celebrate its 15th anniversary this March. It became a cultural phenomenon because we loved watching awful rich(-ish) people behaving awfully. It was an escape. It was a way for us to feel better about our own lives because, while poorer, they weren't as awful as these women's. Sure, they could be monsters, but they were our monsters. But can our monsters weather this specific cultural moment?
The RHONY-reunion COVID fight reveals two big problems that Housewives, along with much of reality television, is staring down right now. The first is something that was part of the Kardashians' undoing: Reality TV takes so long to get to us, we've already seen the fights play out either in the press or on social media long before they make their way to our TV screens. How can this fight feel fresh when it's already been dissected by the most ardent fans on Twitter, Instagram, and probably Pinterest and Grindr and all other places that the women and gay men who love the Housewives congregate?
The other problem is the fact that our escape is no longer an escape, as the reality of COVID life begins to intrude on the franchise. In this way, the lag time of production has been a blessing: During lockdown we were feeding on episodes filmed in the blissful before-times when no one knew what an R number was. (Are we entirely sure it's not the number of women with the last name Richards on any given episode of RHOBH?) Sure, we were stuck in the house, but at least we had this to soothe us in between our doom-scrolling. That is about to end, and I'm not sure that any of us are ready for it.
The franchise's original, longest-running series, The Real Housewives of Orange County, returns for its 15th season next week, and based on the trailer, its vision of our reality-television future is not a great one. It starts off with the usual Housewives high jinks, but makes clear that the season eventually coincides with the start of lockdown. We see producers telling the women to sit six feet apart, Kelly Dodd wearing a mask with a zipper across it as if she believes masks don't really work, and Shannon Beador both crying because "people won't follow my rules" and breathing into some kind of respiratory device.
Who is going to want to relive the terrible early days of the pandemic, particularly with Shannon Storms Beador, a woman who is so good at personal health she once got an enema stuck up her backside? And these episodes will come just as we're headed into a possible second wave of the pandemic, with uncertain election results looming, and racial-justice demonstrations still happening in the streets. This does not seem like the time for a show that's predicated on (almost entirely white) women behaving badly.
Speaking of: The Housewives franchise was already being criticized for its segregated casting even before the reignition of the Black Lives Matter movement in the wake of George Floyd's murder. Some Bravo shows — like Vanderpump Rules, which fired four cast members for racist speech and behavior, and Below Deck: Mediterranean, which fired a cast member for racist tweets — have had reckonings already, but it seems to have mostly escaped the Real Housewives. RHOC is still a collection of nearly homogenous blonde women. Garcelle Beauvais, the first Black cast member on Real Housewives of Beverly Hills, still hasn't confirmed she'll be returning next season (though said she'd be game if asked), while Ramona "All Lives Matter" Singer claims she has been asked back for the next season of RHONY.
It's especially frustrating to witness the white homogeny of these cities when some of the other cities in the franchise are taking steps, if not giant strides, into the anti-racist conversation. Many of the women of Real Housewives of Atlanta have been vocal supporters of BLM on their social-media accounts, particularly Porsha Williams, whose arrest at a protest in the wake of Breonna Taylor's murder made headlines and then scored her a New York Times profile about her activism. On this season of Real Housewives of Potomac — the hidden gem of the franchise that many fans are still sleeping on — the main drama revolves around a physical altercation between Monique Samuels and Candiace Dillard that's prompted vocal discussion, both on the show and among fans, about the messages physical violence between Black women on television is sending into a hostile culture.
Even the upcoming Real Housewives of Salt Lake City is shockingly more diverse than dinosaurs like RHOC and RHONY. How can a city with a reputation for being the home of the lily-white Mormon faith and Mitt Romney clones have more people of color than New York or L.A.? RHOSLC features Jen Shah, the franchise's first Muslim and first Polynesian Housewife, and Mary Cosby, a Black cast member who also … married her grandmother's second husband after her grandmother died. What did you expect? This is still Housewives, after all.
The Housewives franchise was always going to face hurdles in the post-COVID world — how will they film when restaurants are mostly closed, households are kept separate, and public events are harder to come by than a face-covering at a Trump rally? — but even worse than that, it seems that the mood might have shifted away from the hedonistic escapism that it once offered. Previously I thought it was easy to ignore the political beliefs of the Housewives because they were letting us into their personal lives, and who they might have voted for or whether or not they would comply with public-health measures never seemed to matter much. But considering everything that we've checked off on our 2020 Bingo cards, things are different now. If not for a divisive political landscape, national protests, and a pandemic, our favorite awful women may have been free to continue behaving badly forever. But in a time when more and more fans are holding public figures accountable for things they say and do, both on-camera and in their personal lives, can a class of reality stars weaned on outrageousness find a way to respond — and do we even want them to? The only way to find out is to do what Bravo has been telling us to do for years: watch what happens.
Correction: an earlier version of this article erroneously referred to Jen Shah as Black. It has been updated.