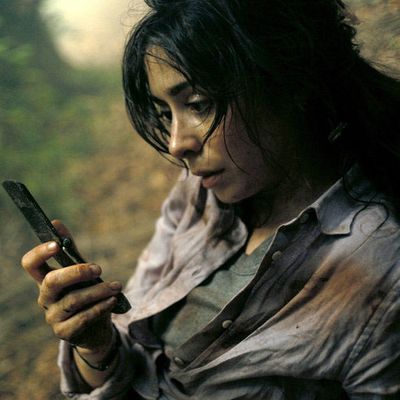 Something sinister is afoot on the Riviera Maya in Peacock's new series, The Resort. At least, that's what we're led to believe in the series premiere, which finds Cristin Milioti crash-landing into an old Motorola Razr and subsequently setting about to figure out what happened to two lost young adults.
Let's circle back to that, though: When The Resort opens, it's with a series of quotations. The first — "The pursuit to recapture your past is a waste of time. The past lives in the past and is therefore non-existence in the present. Time travel has not been invented" — is from someone named Illán Iberra and comes from El Espejo, 1978. The second comes from the same author, 15 years later, and reads, "I made many idiotic and pretentious statements in my youth." (I was unable to find either the quotes or their author online, which could mean my Google sleuthing isn't up to snuff or perhaps they're a clue we'll discover in future episodes.)
Following somewhat odd shots of a Jet Ski accident and a resort van plowing into a planter, we come to meet our story's protagonists, Emma (Milioti) and Noah (William Jackson Harper.) They're an on-edge couple who have come to the Bahia del Paraiso all-inclusive resort to celebrate their 10th anniversary. (Ten years is "the puberty of marriage," according to the hotel greeter. That's "when you will become who you will be.") Quickly, we come to believe that these quotes are about them, in some respect, as it's clear that the romance and charm of their marriage has long since vanished — at least for Emma. Noah still seems to at least pretend to believe that they're on the same path they've always been, but Emma seems, if not outwardly hostile toward Noah, at least extremely underwhelmed and annoyed.
It's worth noting that Emma is not just seemingly unsatisfied with her marriage — as evident in both the BuzzFeed-style "Should I end my marriage" quiz she takes and the copious amounts of booze she subsequently consumes — but with who she's become in it. She uses the hotel's evil magnifying mirrors to look at her skin, which probably isn't what it was 10 years ago. We also get a glimpse at what I assume is a hysterectomy scar or evidence of some other sort of medical procedure, given her line in the golf cart about how "the ship has sailed" in terms of having kids.
The next day, hungover as shit, Emma is barfing on a bus to some ATV excursion, while Noah is chatting up Ted & Ted, a queer couple who has been together for 21 years. Every seven years they go on a vacation and make the choice of whether or not they actively want to stay together. Noah seems both scared and maybe a little intrigued by this relationship-status-deciding tradition, while Emma just seems to want to die.
That might be because of the ATV excursion, which, let's be honest, is the fucking worst idea in the world if you are hungover. The mere idea of wearing a helmet while feeling like that makes me shiver.
While Noah rips through the jungle, Emma follows a bit behind. As she gains confidence despite last night's booze, she starts to speed up, only to skid out and take a nasty tumble down an embankment. Bloody and dazed, she comes upon a busted-to-hell Razr phone, which she pockets as soon as she hears Noah calling for her. Later that night, we find Emma wandering in the nearby town, trying to find an old Razr to buy so she can swap SIM cards and check out what's on this phone. She succeeds, somehow, and dives into the mystery world of this 15-year-old phone. (Jesus Christ, phones have come a long way in 15 years. If you're young enough to have only ever known smartphones, just know that at one point, the Razr was the coolest phone around and now it's a quaint antique.)
Emma discovers that whomever owned the phone got a lot of panicked text messages from their parents on December 26, 2007, and that they were staying at the Oceana Vista resort. The Oceana has since been boarded up tight, as Emma finds after she goes there to check it out (which seems like a stupid idea). Back at her hotel, she learns that, in fact, the Oceana was leveled by a rogue holiday hurricane on December 26, and that several days later, an unrecognizable man's body was found washed up on the beach. Two people were also reported missing: A young woman and — gasp! — the young man who owned the phone.
We flash back to Christmas Eve 2007, where we meet Sam (Skyler Gisondo), his girlfriend, Hannah (Debby Ryan), and his two adorably clueless parents, Carl and Jan Knowlston (the great and married-in-real-life Dylan and Becky Ann Baker). We quickly learn that all is not hunky-dory in Sam and Hannah's relationship, not just because she doesn't get his R. Crumb–style art, but because she's in love with and having a very sexual relationship with her professor. (C'mon, Hannah. Cut Sam loose.) Sam only finds out about this after cruising Hannah's pink Razr as she sleeps, and he doesn't necessarily seem all that surprised or bummed. When they get to the resort, he skates off as she tells the fam she needs to call her professor. (On Christmas Eve? Again, c'mon.)
Back in 2022, we find Noah snooping through Emma's stuff, where he finds the broken Razr. He asks her about it over breakfast, and everything comes spilling out of her. (Everything crime related, at least.) Emma declares that she's going to figure out what happened because she has to get answers — otherwise what is the point? She confesses that she's starting to forget who she is and who they were and asks Noah, "Don't you miss it?"
It's unclear what the "it" is here, in some sense. Were they Scooby-Doo gang crime solvers 10 years ago, or is she just referring to the feeling of being young, vital, and in sync? Probably the latter, but I like to imagine the former.
Noah seems to sense that the train is going to leave the station one way or another and hops on board enthusiastically, telling Emma that while the right thing to do would be to take the phone to the police, what harm is there in waiting to do that until the end of their vacation? It's already been 15 years, after all. What's five more days, or whatever?
Now equal partners in this mystery, Noah and Emma start putting clues together as they walk toward the bus to Tulum. Noah looks into the phone's trash folder, where he finds photos of Sam and the missing girl, Violet, together — photos that no one ever seemingly knew about … and boom! Intrigue! We flash back once more to the Oceana, where we see Violet (Nina Bloomgarden) being supercool and chatting up her very, very nice dad, played by the always great Nick Offerman. He's off to swim with depressed dolphins on Christmas Eve, while she's bound to meet up with a friend in Cancun — at least, that is, until she runs headlong into Sam, skateboarding through the resort. Their eyes meet, and boom! Magic — or if not magic, then at least the beginning of a very beguiling story.
We're just one episode into our stay at The Resort, but the premiere is a great entrée into the show's many-layered intrigue. We're learning fairly quickly that we're not just about to watch a series about a mystery; it's also about the death (or rebirth) of romance and the inexorable march of time. I'm interested to see where all of this goes, and I'm glad you're all checked in too.
Last Resort
• At the very end of the episode, we also get a semi-obtuse glimpse into a designer (?) suite at the hotel. There, we see a housekeeper enjoying a big tumbler of whiskey on the balcony, gazing down at a manager who drags his thumb across his neck at her — the universal sign for death. What could this mean? Who are they? We're going to find out!
• I had to laugh at Noah and Emma's room having two queen beds because of some Amex point kerfuffle, and at Emma's seeming interest in sleeping separately. I would be lying if I said that I too haven't thought, after 10 years of marriage, that sleeping in separate queen beds on a vacation would be kinda nice, in a way. So many pillows to yourself! Sleep right in the middle! The room!