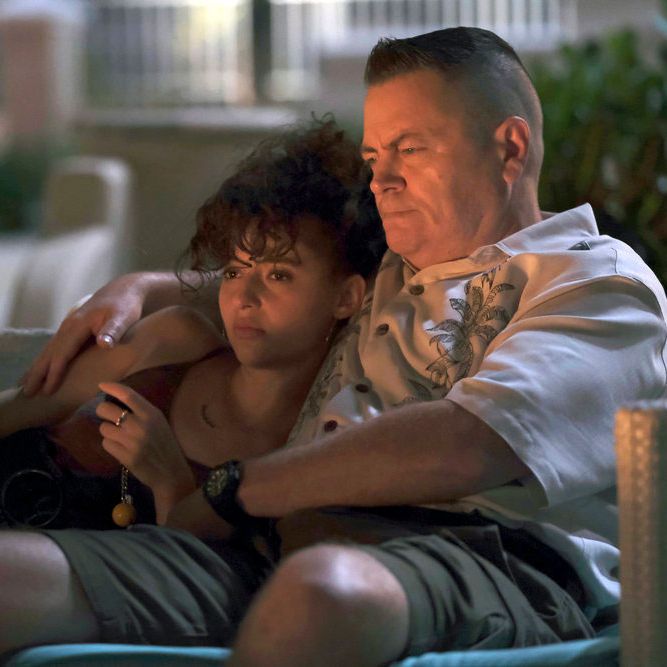 Whereas The Resort's first episode really set the show up to be a slow burn with intriguing twists and turns, its second episode sets things flying at a fever pitch. Or maybe like a yellow snake with four noses? Are they fast? Let's assume they're fast.
We open episode two on a tailor painstakingly crafting what we soon learn is the Frias crest and sewing it into a garment, only to violently attack it with a seam ripper. Something's not right with the Frias clan, it seems. That message will only be reiterated throughout the episode, in ways both intriguing and almost over-the-top ridiculous.
Then, swoosh, we're on a beach in Huntington Beach, California, on Christmas Eve 2007. We still don't know too much about the past of these possible Orange County residents, but we do know they met at a bonfire on the beach where they bonded over not wanting to go skinny-dipping. You see, the water is full of disease and bacteria, they say, and getting naked and exposing your body would only end with you getting a wealth of staph infections. Instead, they agree to share a hot toddy out of a fancy thermos on the beach, only to ditch their friends in favor of finding a pool somewhere. It's as romantic a meet-cute as any, I suppose, and it shows that there was a time when the two had an easy rapport and a shared sense of humor.
Meanwhile, at the same time at the Oceana Vista, Violet is tending to Sam's palm tree–induced head wound, which she tacks together with a little superglue. It's a trick she learned from her dad when she was playing hockey, she says, thus establishing her as a very real badass. She's certainly more badass than Sam, who, bless his heart, does seem like too much of a nice guy for his own good. They exchange numbers — you know, just in case — and set about having a pretty cute exchange.
In the present, 15 years later, Noah and Emma read those texts, which are full of references to "head' and the phrase "it got in my hair." These would-be detectives immediately jump to the conclusion that the actually very mild-mannered duo was, shall we say, Insta-fucking. Sam and Violet were not, of course (at least not yet), and Emma and Noah eventually figure that out, thus realizing that they, in fact, are the ones who jump into things too quickly.
The last text between Violet and Sam on the phone is from Violet: "Don't fuck with the yellow snake. It has four noses." It's as cryptic a phrase as any, and one that Noah and Emma rather unsubtly set about trying to decipher. While pacing around some Mayan ruins, they try to suss it out to no avail. They end up asking their tour-bus driver, who shows them his underwear and explains the whole Frias empire, which he says encompasses everything from politics to apparel. "If you cross the yellow snake," he tells them, "it seeks you out." In other words, be careful. This isn't some Hanes nonsense we're talking about. This company is bad news.
Of course, this means that Emma and Noah quickly decide to visit a Frias boutique, which sells $22,000 dresses off the rack. While browsing, they're treated to an inspirational video describing the four generations of Frias family members who have spread their wings across the Yucatán Peninsula. "Frias is everywhere and everywhere is better for it," the video reminds viewers. Emma, in turn, is reminded that she has seen the Frias logo before, on the gates of the Oceana.
Emma and Noah basically trap a meek salesman into telling them about Balthasar Frias, who lived and worked at the Oceana and didn't want people to know who he was. He was an amazing tailor, the salesman claims, but no one knows where he is now. Look at old photos of the Oceana, he tells the duo. They'll find him.
Turns out they'll also find trouble, since when they leave the Frias store, they're immediately photographed and pursued through the public market by a sprinting man wearing a black suit. They lose him, eventually, but it's never really addressed how, why, or for what reason this man was chasing them. We're left to assume it's Frias related, because it's a big corporation and obviously it must not be trusted, but I'll try to remain open-minded about it now. The yellow snake could be a red herring.
This is where I'll say that the second episode of The Resort didn't do it for me as much as the first. Emma and Noah are supposed to be kind of chaotic, a little bit drunk, and, honestly, pretty bad at working under any sort of radar. When I'm watching at home, though, I just want to yell "BE SAFER" at them over and over. Their drunken silliness grated on me just a bit, because while it seems like a great idea to solve this case for the thrill of it, you're also talking about two missing kids whose families loved them very much and who have seemingly just disappeared from the face of the earth.
There's a dead guy lying on the beach, and while it is very exciting and mysterious, all of this does have real consequences. Wouldn't Sam's family love to have known that they had his phone, if only so they could look at it and remember him at the very least? But instead, Noah and Emma have decided to keep it in some sort of heroic move that they don't even seem to be taking all that seriously. I know that The Resort is a comedy, but still, there's a thin line and the show's tone is just a hair over it. Here's hoping they dial it back a touch, since it's only episode two.
Hot on the trail of Balthasar, Noah and Emma track down the Oceana pics with an uncanny ease that's quickly becoming a hallmark of their investigation and this show as a whole. Wow, there's the woman who drove them to their room! Another coincidence! Noah and Emma have no chill, so they go confront her about working there, and she in turn tells the mysterious Balthasar. They also track down the police detective who worked on the case in an effort to get his files, and he wisely advises them to walk away. "You're on vacation and I suggest you stay there," he says.
Back at the Oceana — identifying timelines in this show is only going to get hinkier, but I'll try my best — we find Violet and her lovely dad chilling by the pool. He gives her his Christmas gift: the keys to her mom's car. "She would have wanted you to have it," he says, and we come to realize that the reason the two are at the resort is to shake their Christmas up a little after the death of Violet's mom the Christmas prior. Judging by the hospital bed in the house, I'm going to guess it was something prolonged and disease related, and Violet is clearly still taking things kind of hard. She finds a book on the shelf her mother seems to have left her — Illán Iberra! I knew it! — in which her mom has marked a passage with the phrase "meet me here." One has to assume that's metaphorical or spiritual, but, hey, what do I know. Maybe the mom just took off for alternative treatments somewhere.
In the present, Noah and Emma are back at the resort where the two make out in the pool, showing a rekindled flame in their relationship. A bit later, though, Emma's tooth just plum falls out. Is it stress? A bad filling? Or something sinister? We'll have to wait and find out.
Last Resort
• It's Noah and Emma's anniversary, and she totally forgot. Turns out that's why Noah wanted to sneak up on her in the shower in the last episode, but she was just in another headspace. It doesn't seem like she wants to commemorate it all that much, even now. There's a weird mania in Emma that can be a little off-putting. I wonder when we'll find out where all of that frustrated energy is coming from.
• Nick Offerman as Violet's dad is bringing some real cool, middle-aged midwestern vibes to the Oceana, and I like it.
• Sam's skateboard is still missing. Did security take it, or was it someone else? Perhaps it was a yellow snake with four noses and a killer ollie.