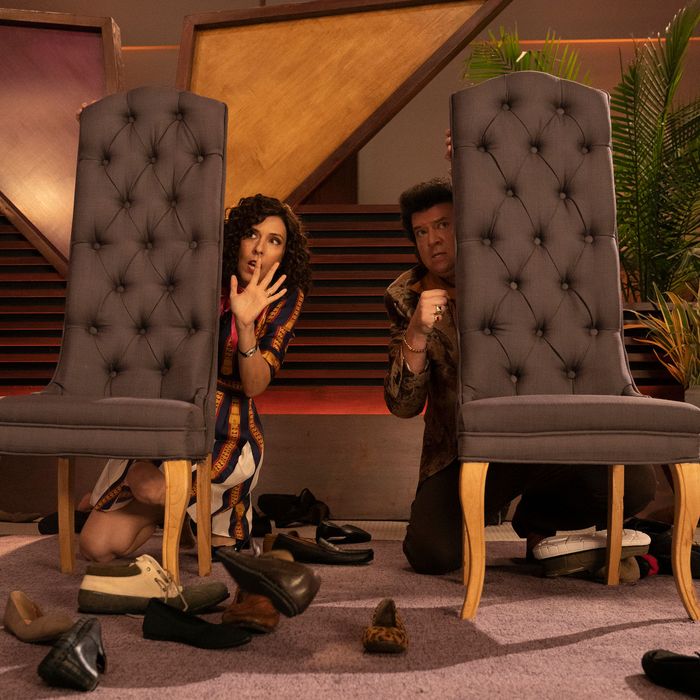 Photo: Jake Giles Netter/HBO
It is likely not important, in terms of narrative impact, that we learn more about Stephen (Stephen Schneider), the dry-humping, finger-stroking tour guitarist who took part in various weird dalliances with Judy Gemstone on her singing tour. Her infidelity to BJ and how it might reshape their marriage is the more ongoing concern, especially given her brothers' disinterest in keeping it a secret. And yet this second episode takes a moment to open with a hilarious bit of domestic portraiture, as Stephen's wife finds out about his termination from the job and blasts him for his immaturity, presuming that he's on cocaine again. The scene swiftly establishes their marital dynamic — he the pathetic man-child with frosted tips, she the responsible mom with "age-appropriate hair" — by offering a funny metaphor for their relationship. He's opened up "the new bread" before finishing the old because he likes his bread "fresh." That's wanderlust for you.
But Stephen's new bread has suddenly turned moldy. The tour is over and so are the road rules that allowed this affair to happen. When Judy arrives at a diner sporting an incognito look so conspicuous she might as well be wearing a fake mustache, Stephen tries to lure her back by playing "their song," Kenny Rogers's "Daytime Friends," through tinny iPhone speakers, but she's not having it. She sympathizes with Stephen's predicament ("I have long known that I can drive men wild with the power of this pussy"), but she's sending him an important message about marital intimacy. "You have a wife," she tells him. "You have kids. Me and you? We don't even shit in front of each other." She pays him off with $10,000 in small bills he can spend on "gas-station snacks" and likely condemns him to another rehab stint and more afternoons learning the chords to Kings of Leon songs.
As Judy, Edi Patterson emerged as the breakout star last season, mostly for how much she leans into the filthiest dialogue the writers can muster. But Patterson brings a little bit of depth to her reading of Judy, too, when it comes to her relationship with BJ, a dim naïf whom she happens to love, despite his ambiguous sexuality and the irresistible urge to cut him down for sport. Judy's guilt has led her to overspend on gifts for him, which has only increased the weird vibes that have troubled their marriage since she got back from tour. She wants to get back to normal, but just by admitting they're not on the "same page," Judy seems more uncertain and out of step with BJ than she is in any other situation. It's easy enough for her to slide a $10,000 payoff across the table, but reconciling with her husband is hard. She seems to hold all the power in their relationship, but she's vulnerable with him in a way that she isn't with any other person in her life. He's not the type she can send out the door with gas-station snack money.
In the larger A-plot, the episode sinks deeper into the intrigue surrounding Eli's sister May-May, who implored him to look for her two grown sons. With his three children and grandson/new driver Gideon tagging along, Eli pays a visit to Camp Wooden Feather, a Christian militia operation where heavily armed men prepare for end-times — or the inevitable ATF assault on their compound. Eli finds his nephews Chuck and Karl (Lukas Haas and Robert Oberst) holed up at the camp with their father, Peter (Steve Zahn), who has his own gift for preaching to a congregation. Peter calls them "the Brothers of Tomorrow's Fire," which adds a paramilitary edge to the sort of sleazy ne'er-do-wells the Gemstones do battle with every season. To his credit, Peter has a good sense of the Gemstone schtick: "These are not people of God," he preaches. "They're entertainers, performers, charlatans." He's learned a thing or two from them.
The chaos that erupts when the ATF invades the camp and, later, when militiamen in two trucks chase after Eli's SUV, are a reminder that The Righteous Gemstones has in Jody Hill (Observe and Report) a director with a more robust sense of style than you usually see on TV. The raid is beautifully choreographed chaos, with the camera clinging to Eli's nephews as they slip through a gauntlet of tackles and headshots on their way to a safe house. The chase sequence zips through a playground and a golf course before screaming through the city streets, but Hill treats the action with a layer of slapstick. As a former Hollywood stuntman, Gideon is more than capable behind the wheel — or he would be, if he didn't have a neck injury preventing him from turning his head. With Grandpa as his eyes, Gideon lures his pursuers to smash into each other and flip off both sides of the road like Dukes of Hazzard villains landing in a creek.
But the threat from Peter's goons surely won't end there, and neither will the pressure facing Jesse, Judy, and Kelvin as they continue struggling to salvage the church. With Eli sidetracked by the car chase, the siblings are left alone to deal with a forum of angry ministers, and they don't handle it well. They don't seem to have any strategy going on, so when Kelvin's attempt at improvised sloganeering ("We! The three! And you!") falls flat, plan B is for Jesse to take off his shoe and whip it at his nearest critic's head, George W. Bush style. It turns out to be a shortsighted strategy: The Gemstones only have six shoes to throw. They don't stand a chance against a roomful of ministers.
Uncut Gemstones
• In their own version of rearranging the deck chairs on the Titanic, Jesse and Kelvin are remodeling the executive offices. Jesse wants his desk and chair on a raised platform. As he explains to the contractor, "What we're going for here is when people come in here to meet, they feel less."
• BJ on his work at the Welcome Center: "I'm helping out at a time when we need it, and becoming a more dope me in the process."
• "Daddy be straight up relaxin'." Poor Eli wants to get some fishing in, but his idiot kids could never let him retire in peace.
• "You're a hell of a wheelman, Gideon." That's Eli complimenting his grandson with a word that's associated with gangsterism and bank heists. The Righteous Gemstones is a mob show.