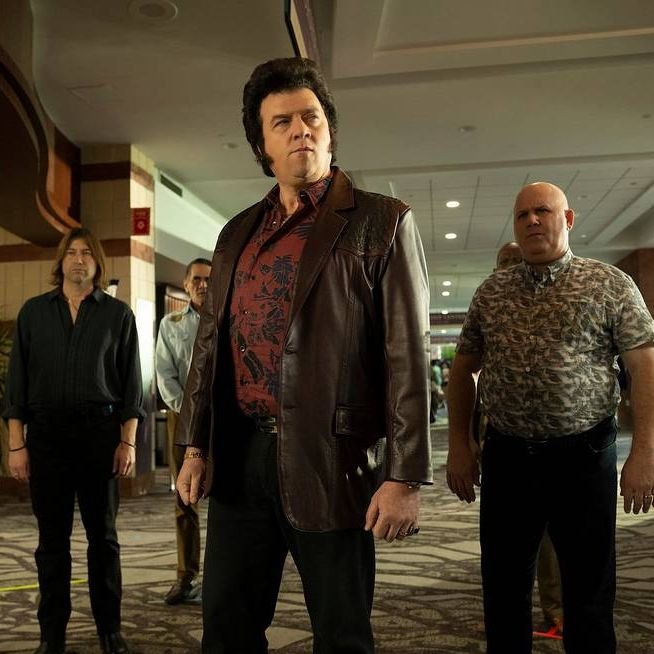 Tonight's The Righteous Gemstones was, in the most literal sense, a true breakthrough for male representation in art. Where have we seen anything like that before? On television, there doesn't seem to be much precedent at all for the fight between BJ and Stephen. On film, other than the Euro-provocations with unsimulated sex that pop up regularly at festivals — hello, Bad Luck Banging or Loony Porn — there are a small handful of other examples. The most obvious is the naked brawl in the bathhouse in David Cronenberg's Eastern Promises when Viggo Mortensen takes out two thugs who try to catch him at his most vulnerable. The other, relevant to this dual, is the scene in Sideways where Paul Giamatti sneaks into the home of a woman his friend slept with in order to retrieve his wallet, interrupts her and her husband having sex, and runs off with this gigantic, naked man chasing after him.
But these are mere throat-clearings for the aria of unsheathed wangdom in this episode, and now the possibilities are wide open. A new beachhead has been established. And it's entirely fitting that a Danny McBride show would be the one to pull it off, given the blunt-force vulgarity that's carried him and his co-conspirators through shows like Eastbound & Down, Vice Principals, and now this. At bottom, the fight really just exploits a long-standing comic rule: Male nudity is funny. Thus, a lot of male nudity is really funny, from the initial shock of a portrait-mode erection sliding into the frame to the brazen spectacle of a bloody beating that spills out into the open. In a fight that's about two men reclaiming their dignity, there's no room for shame.
The theme of dumb, destructive masculinity has been a through-line of McBride's career since the strip-mall martial arts of his 2006 comedy The Foot Fist Way, and now it comes for BJ, a character whose manliness is called into question constantly. Judy's weird dry-humping entanglement with her tour guitarist — "a no-sex affair," as she describes it to her father — has fractured the marital bond between her and her husband, but there's more to it for BJ than betrayal. He has been cuckolded. What's more, the people around him, like Jesse and his posse, are not at all surprised that he's been cuckolded, and he's acutely aware of it. Even when Jesse takes him to some dark corner of the ministry to man up, BJ has to absorb an insult about his "limp" wrist and is told to "Go off, Queen." It's not enough for him to be hurt by his wife's semi-infidelity. He needs to answer it with a force that doesn't come naturally to him at all.
The sucker punch he delivers to Stephen's face recalls the scene in Dazed and Confused when Adam Goldberg, the quintessential ineffectual nerd, decides to stand up for himself and get in a shot at a horrible brute (Nicky Katt) at a keg party, believing that the fight will be broken up before his enemy can retaliate. (He is tragically incorrect in that assumption.) But Stephen has been through humiliation and emasculation of his own, now deepened by Judy's husband answering his booty call, and he's ready to strike back. For the fight to lead into the front yard, in full view of elderly neighbors and two little girls across the street, is funny as hell, particularly when BJ seizes (and squeezes) control of the outcome. But Stephen's shame in acting outside himself and his values undercut his triumph.
For her part, Judy is feeling deep remorse, though the reconciliation process is testing her patience. After BJ refuses her offer to make coffee ("Those Colombian beans make me panic shit, but I'll brew 'em if that's what you're drinking"), she's reached her wit's end. She's been there for his "joke-arounds" and watched food documentaries with him. What more could he want? To make matters worse, she's also facing a nuisance lawsuit from Stephen's wife, who realizes the Gemstones can't afford more bad news but can afford to pay $500,000 for her silence. Judy can't contain her fury over this extortion — even Jesse, of all people, calls her out for her lack of restraint — but she must, in Kelvin's words, "Kiss that smelly B."
The rest of the episode occupies itself with nudging a handful of plot threads forward, setting up more fireworks to come. The Gemstones give a royal send-off to Chuck and Karl, the cousins they're proud to have rehabilitated, not realizing the boys have smuggled a ton of bomb-making materials off the compound. The hilarious dialogue is like an episode of Extreme Makeover where everyone is narrating the incredible life-changing things that have happened. "You guys did such a great job straightening us out that we're ready to tackle life, all by ourselves," Karl announces. "I think it happened when we dressed them up, gave 'em haircuts," says Kelvin proudly. Meanwhile, Jesse tosses them the keys to his monster truck as a parting gift and they peel off to Daddy's militia camp, boasting that they stole it. The rift between the Gemstones and the Montgomeries can't be resolved so easily.
Meanwhile, Kelvin misses having Keefe around, despite a new assistant youth pastor whom the kids don't find weird and disquieting. Kelvin tries to express his sadness when he pays Keefe a visit at a carpentry operation, but the two have trouble saying what they really mean to each other. The exchange gets so sour that Kelvin even scoffs at the notion of Jesus being a carpenter: "It's the miracles and stuff that are notable. Not the carpentry." (Adam DeVine is a rhetorical dead ringer for George W. Bush when Kelvin's feeling petulant.) Keefe's attempts to mend fences by bringing Kelvin a handcrafted rocking chair go unappreciated, too, making it seem likely that he'll fall off the God wagon again soon.
As for poor Eli Gemstone, he's Al Pacino in The Godfather Part III: Just when he thought he was out, his incompetent children pull him back in. Judy detests him for ignoring her pleas to help her out of the Stephen situation. Jesse and Baby Billy, in a desperate attempt to revive the church's fortunes, offer a demo of the giant, holographic Aimee-Leigh that crushes his spirits. Jesse was gambling that his father would appreciate the gesture — a gamble so confident that he's agreed to make Baby Billy's terrible game show — but his misfortune has made him delusional. "I'm sitting here trying to figure out how to exploit my dead momma so people like us again," he tells Amber in the lead-up to the presentation. But even for a greedy, tacky megachurch founder like Eli Gemstone, there's such a thing as too much.
Uncut Gemstones
• Jesse, as his cousins pull away in the Redeemer: "I instantly regret giving it to them. My monster truck was far too giant a gesture."
• Baby Billy playing hardball with Jesse over the hologram negotiations: "Well, if you change your mind, I'll just unplug your mama and sell her to one of those sex shows over in Bangkok. Them boys will hack a program real quick. Make your mama do all kinds of nasty stuff."
• Incredible line from BJ about the affair: "I just don't think I can move through life knowing that a guy named Stephen did this to me."
• Amber's marriage-counseling session leads Judy to a depressing reality about coming back from an affair: "So the cheater has to eat massive big ol' piles of shit until the hurt person decides they're forgiven, just on an arbitrary whim. That's the gist of this, basically?"
• "I hope you like me now." BJ has become a new man. For now.