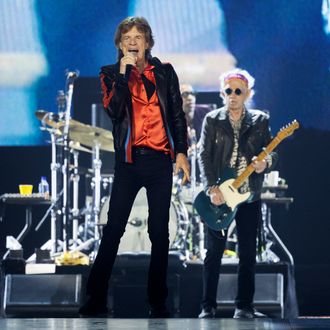 Photo: Nils Petter Nilsson/Getty Images
The Rolling Stones are staying true to their name and are rolling out a brand-new album. Hackney Diamonds, which is an old East London slang for "broken glass," will become the band's 31st album and their first with new music since 2005. And they gave fans a first taste of that new music with the lead single "Angry," a classic Stones strutter — and with help from Euphoria's Sydney Sweeney in the music video. The band revealed more details about the album, out October 20, in an interview with Jimmy Fallon, including that Lady Gaga features on the song "Sweet Sound of Heaven." The album will be the band's first since drummer Charlie Watts died; new drummer Steve Jordan, they revealed, was Watts's own chosen successor.
The band has enjoyed getting into the contemporary promo game, sharing a website that promised a snippet of a new song potentially called "Don't Get Angry With Me," with an extremely slow-loading screen and an error message. They also teased the new album in the local free newspaper, Hackney Gazette, with a number to dial for any glass repairs. "Hackney may be at the heart of Hackney Diamonds, but this is a truly global moment we want to share with fans around the world via YouTube," said the Rolling Stones in a statement shared with Billboard. After almost 20 years without a new album, will fans get any … satisfaction?
This post has been updated.