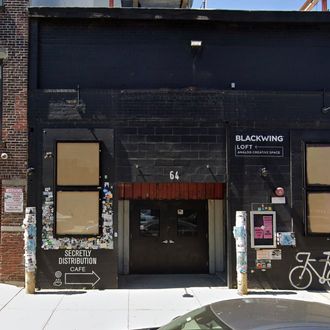 Second City's New York City location, as seen pre-construction in 2021.
Photo: Google Maps
New York City residents, a cohort not lacking for places to see live comedy, are about to get one more option to add to the mix. The Second City, which announced plans to open a new location in the proverbial "first city" back in October 2022, has confirmed the opening date of its new Williamsburg location: November 16. "The nearly 12,000 square-foot entertainment complex at 64 N. 9th Street comprises two cabaret-style live theaters, seven Training Center classrooms, and a full-service restaurant and bar," the theater said in a release.
Along with the opening date, the Second City, which was acquired by a private-equity group in 2021, also announced its opening slate of shows as well as its new New York–based cast. When the theater opens, audiences will have a chance to see comedians E.J. Cameron, Ashley Leisten, Ben Rameaka, Yazmin Ramos, Drew Reilly, and Jacklyn Uweh play in The Second City Presents the First City Revue, Jack Frost Roasting on an Open Fire, and The Second City's Improv Holiday Brunch. Because nothing says "Merry Christmas" like improv and omelets.
"There is no better way to kick off our 65th anniversary celebrations than by opening the doors to the Second City New York in Williamsburg, Brooklyn," said Second City CEO Ed Wells. "Building upon our storied history and decades of success in Chicago and Toronto, we are thrilled to improvise a whole new adventure with the New York City community."
With the UCB also set to reopen in New York during fall 2023, NYC is once again about to be an epicenter of improv comedy. Here's hoping the scene can reestablish itself without the racism and labor controversies it has fostered in the past.