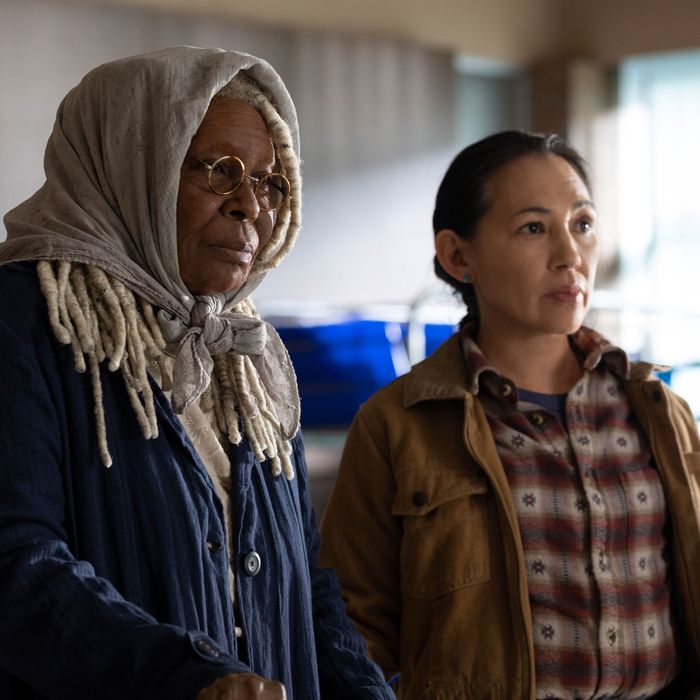 Photo: Robert Falconer/CBS
The structure of The Stand seemed relatively predictable. Other than drop-ins with a few supporting roles necessary to push the plot, the first two episodes centered mostly on a pair of characters, giving back stories for Stu Redman and Harold Lauder in the premiere and Larry Underwood and Lloyd Henreid in the second episode. It could be argued that "Blank Pages" centers Nadine Cross and Nick Andros, but it's the first episode that feels more like a true ensemble affair, branching out into scenes that don't feature either Nadine or Nick, such as a great one between Stu and Glen Bateman (Greg Kinnear). The show is really starting to bring the entire cast into focus, and it's getting easier to see its strengths and weaknesses. Overall, it's another episode that struggles a bit with pacing, but that allows a bit deeper character work for people like Kinnear and Marsden. The scene between them about rebuilding society is rich. Why rebuild something that could break so easily? We certainly wouldn't want to rebuild it the same.
Again, though, this is primarily the story of Nadine and Nick, two souls who will end up in Boulder, although one of them may be a Trojan Horse. That one is Nadine, played by Laura San Giacomo in the original mini-series and portrayed by Amber Heard here. She's re-introduced this week via a flashback that reveals she's one of those King characters who has a special power. She may not be Danny Torrance, but she can communicate with something, as seen when playing a game with a few other kids leads to the young Nadine "writing" her name. Her powers will be revealed bit by bit through this episode until the revelation that she's working with Randall Flagg, who may be the devil himself.
In Boulder, Stu and Larry are walking when a car zips by and a bloodied body falls out. It's Heck Drogan (TJ Kayama), a character who meets a different end in the book. He's made it to Boulder with wounds that make it look like he was crucified, which he was in the book. Most importantly, he has a Vegas keychain, and the message that Randall Flagg is coming for them. It won't be the last message he delivers this episode.
The Stand flashes back again to how Nadine and Joe hooked up with Larry, who has been following Harold's signs across the country. How this trio made it from outside New York to Boulder is pretty thinly sketched, other than a scene in which they discover the silent, scared Joe knows how to play guitar.
The episode actually spends more time on Stu, Frannie, and Harold's journey than it does Nadine, Larry, and Joe. When they pick up Harold and Frannie again, they're outside Pennsylvania, and they run into Stu for the first time. He had followed them, perhaps hoping to hook up with them, but Harold isn't having any of that. The writers here really lean into Harold's incel jealousy more instantly, including having him call Stu a "happy asshole with fucking dimples." Yes, Harold sucks, but the writers are playing the jealous idiot card with a little too much force. Harold and Frannie are off to Atlanta; Stu is headed West.
Time for a Nick Andros back story! In Arkansas, five months earlier, the young man bumped a guy at a bar, forcing him to spill his beer. It led to a violent assault on Nick, putting him in the hospital, where he had a vision of Flagg, who told him he could fix him. Nick doesn't think he needs fixing. Flagg wants blind worship in exchange for Nick's voice, hearing, and even the eye he doesn't yet know he lost in that bar fight. There's an interesting parallel here in that Flagg offers to change Nick whereas Mother Abagail later offers to really listen to Nick and get the most out of him. The Devil will try to change you; God will bring out the best in you. And the quality of Nick's character is amplified by the scene in which he comforts the dying man who took his eye. It's character development through an unselfish act.
On his way to Boulder, Stu runs into first a dog and then its owner, Glen Bateman. (The dog's name is Kojak, which is straight out of the book.) They talk about how some animals died and how random the immunity seemed to be even with dogs. Later, Stu finds a painting that Glen did of Mother Abagail and realizes that they've been having the same dream. He then notices that Glen did a painting of a pregnant Frannie too, realizing that the girl he left with Harold on their way to Atlanta could be just as essential to the future. Frannie is important.
Back in Boulder there are arguments between the brain trust of Glen, Larry, Nick, Frannie, and Stu over what to do with Heck when the traveler awakens. He tells Mother Abagail of the dream he had of her and speaks of a bad man with lots of names. There were slaves and crucifixions. And he has been sent as a message. And then the man has a violent seizure as his wounds grow bloodier and crows crash into the window. (It seems like a rough way to send a message). His eyes go black and his head twists all Exorcist-style before Flagg literally speaks through him, ending with "I'm gonna blow your house down!"
Finally, the episode swings back to Nadine, who pulls out the planchette that the young version of her used to communicate with the other side. She puts her hands on it and is transported to Flagg's world. She's in Boulder to be Flagg's eyes. She wants him to come now, but he needs her to do something first: Kill the witch and the five puppets she's put in charge. All Nadine has to do is "pull his trigger." Whose trigger? Harold Lauder, of course.
Random Survivors
• Did the painting of pregnant Frannie remind anyone of Andrew Wyeth's "Christina's World"? That painting happens to be Jake's favorite painting in The Dark Tower VII: The Dark Tower, which connects to the world of The Stand. Maybe I'm going too far down a rabbit hole here…
• Notice who got co-writing credit this episode? Owen King, the youngest son of Stephen and Tabitha.
• "White Rabbit" playing to end the episode was clever enough in that it captures the mood of a surreal episode and feels like a needle drop that fits the King universe well.
• Nick Andros waking up in a hospital bed that he's been in while the world fell apart had echoes of 28 Days Later, a movie that influenced more post-apocalyptic television and film than it often gets credit for doing.
• MVPs so far? It's a little hard to tell, right? No one has gotten a lot of screen time other than Marsden, so he's probably the default winner. Adepo seems to be playing Larry very low-key, and the same could be said of Zaga's take on Andros. Kinnear only has a few scenes so far but he's promising. But it's probably Alexander Skarsgård, right? He sure is having the most fun. Maybe it's Hamish Linklater.
• Notice there are no women in the item above? Let's hope Heard, Goldberg, and Young get more to work with in future episodes. They've felt like devices so far. But we're really just getting started.