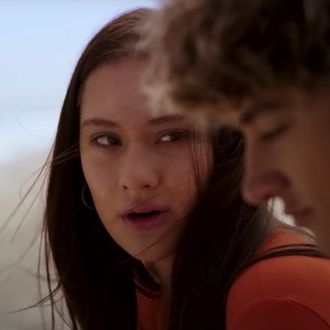 Jenny Han is carrying the teen soap-opera business on her back. The author of Netflix's hit franchise To All the Boys I've Loved Before, based on the book of the same name, is back for another season of melodrama. This time, it's the second season of The Summer I Turned Pretty, the Prime Video show adapted from her novel. The latest entry follows Belly (Lola Tung) as she faces the imminent death of a loved one from a terminal illness while stuck in a love triangle with her childhood friends — two brothers whose relationship is on shaky ground. "Belly used to count down the days until she could return to Cousins Beach, but with Conrad and Jeremiah fighting over her heart and the return of Susannah's cancer, she's not sure summer will ever be the same," reads the official synopsis, per Deadline. "When an unexpected visitor threatens the future of Susannah's beloved house, Belly has to rally the gang to come together — and to decide once and for all where her heart lies." Most of Belly's heartache is soundtracked by the voice of teen love herself, Taylor Swift. Han returns as showrunner along with Sarah Kucserka.
Cousins Beach is predictably messy in the new trailer.
When it rains in Cousins Beach, it pours. "I knew I'd lose Susannah eventually. I just didn't know I'd end up losing all of them," Belly says in a voice-over. That summer, Susannah appears to succumb to cancer, while Belly must face the brothers she hooked up with. A different storm is brewing as well — the house might go up for sale, which means losing their beach retreat for good.
Hold up, they got Taylor Swift onboard again?
Taylor Swift sure has a penchant for debuting songs in The Summer I Turned Pretty trailers. This time, she unveiled "Back to December (Taylor's Version)" in the show's latest sneak peek ahead of the rerelease of Speak Now. The first season-two teaser featured a new version of "August." Last year, she let the show's season-one trailer premiere "This Love (Taylor's Version),"
New year, new me cast.
This one is for our fellow teen-drama stans: An Eighth Grade and The Edge of Seventeen crossover episode is on. The Summer I Turned Pretty, Prime Video's coming-of-age romantic drama about a girl caught between two brothers, enlists teen-drama veterans Elsie Fisher and Kyra Sedgwick for its season-two cast. The two actresses join the multigenerational series in recurring roles, though no additional details were offered about their characters, just a cute Instagram video. "Excited for elsie fisher and kyra sedgwick to join #thesummeriturnedpretty for season 2 🎉," reads the caption. Fisher is fresh off a supporting role in the Emmy-nominated series Barry, while Sedgwick recently starred in the ABC sitcom Call Your Mother. Jackie Chung, Rachel Blanchard, Sean Kaufman, Alfredo Narciso, and Minnie Mills return. Colin Ferguson and Tom Everett Scott also star.
When can we see the drama unfold?
The Summer I Turned Pretty season 2 premieres July 14 on Prime Video. Teen soap awaits.