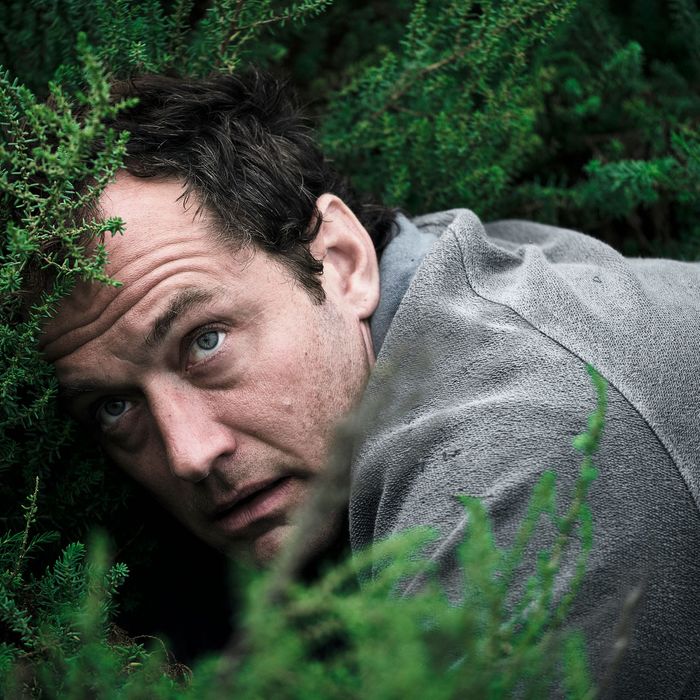 Photo: Robert Ludovic/HBO/
The Third Day doesn't star Jude Law so much as Jude Law's face. Expressive, careworn, and, in the words of The Young Pope, "incredibly handsome," Jude Law's face weaves in and out of focus as he makes a frantic phone call to his wife while in a panic over a burglary at his office (which winds up costing him 40,000 pounds meant to bribe an official). Jude Law's face peers through the windshield of his car, mouth slightly agape with concentration as he wends his way across a twisty, waterlogged causeway. Jude Law's face is swollen with the tears of uncontrolled grief. Jude Law's face stares with narrowed, disgusted eyes at the carcass of a brightly colored cricket stuffed with dozens if not hundreds of tiny black beetles. Jude Law's face beams with boozy delight as he and his fellow pub patrons, thrown together by circumstance, party the night away. Jude Law's face stares at itself in the mirror, all the fun of the evening drained out of it as he realizes just how lost he is emotionally, let alone physically. Using a script by series co-creator (with Felix Barrett) Dennis Kelly, director Marc Munden knows what an incredible instrument his leading actor has, and he composes the whole episode around it like a symphony.
To the good fortune of we fans of Jude Law's face, this hour of television surrounding it is one of the most paranoiacally gripping episodes in recent memory. It's not just that the actor grounds the show's complicated-sounding structure (the first three episodes are subtitled "Summer," and the final three, which will feature Naomie Harris as the lead instead of Law, are subtitled "Winter," with an internet-only live event called "Fall" sandwiched in between). From the opening moments, with their anxiety-inducing shifts in focus and nearly psychedelic lens-flare effects, to the ambiguous conclusion, in which we learn that Law's character has been in possession of the money he was frantically searching for all along, "Friday — The Father" is a slow-burning, unnerving small-town thriller with a heaping helping of British folk-horror thrown into the mix for good measure. It's scarier than a lot of the more outright horror TV series ever get.
The story of The Third Day begins with Law's character, Sam, out in the middle of nowhere, frantic about his potentially stolen cash but intent on conducting a private ritual of grief, in which he places a child's shirt into a creek to be washed away. Whatever the backstory is — we learn later that he lost one of his children and had to make a televised plea for the country not to take revenge for the death out on its immigrant population — it gives way to a moment when he hears a child sobbing, and he arrives at a clearing just in time to watch a teenage girl hang herself from a tree with the help of a young male accomplice. Sam rescues the girl, named Epona (Jessie Ross), who, all things considered, doesn't seem that upset to have had her suicide attempt interrupted.
Epona lives on the remote island of Osea, which is connected to the mainland by a causeway that's drivable only during low tide. As Sam drives her home, he picks up some information: Epona seems scared of her father, Jason (Mark Lewis Jones), but also seems to be excited for the island's big pagan festival, Esus and the Sea, which the locals are converting into an outsider-friendly music festival in addition to running around wearing creepy costumes from ancient times and whatnot.
Epona asks to be dropped off at a pub run by the Martins, a childless couple we later learn have endured seven miscarriages and who seem to care for Epona as one of their own, in their way. But their way is pretty weird. Mrs. Martin (Emily Watson (!)) is given to ferociously berating her husband when not uncomfortably grilling Sam about his tragic past. Mr. Martin (Paddy Considine) is a perpetually grinning sort whose almost manically easygoing nature speaks to a certain comfort level with abuse, both received and, if the secretive sign of the cross he flashes at a belligerent local is any indication, given as well.
When circumstances prevent Sam from making it to the causeway before it re-floods, and when his attempts to get a consistent signal or a working landline all fail, he joins a fellow outsider, an American woman named Jess (Katherine Waterston) whose hotel room Mr. Martin accidentally (?) assigns to him, in getting good and shit-faced. And why not? By now, he has blown things with Ade, the official he was attempting to bribe; he's unable to tell his wife where the hell he is; his wanderings around the island nearly led him right into the path of Jason and his goonish friends (Jason memorably takes a piss just a few feet from the overgrowth where Sam is hiding from him); and the solicitous Mr. Martin has assured him he'll wake him up in plenty of time to catch the first low tide out of town.
But he'll have to endure a troubling vision first. Drunkenly returning to the wilderness, he spies the boy who helped Epona hang herself; the boy, it's increasingly clear, is a vision of his own dead son. Perhaps inspired by the ritualistically slain and posed carcass of a squirrel he'd spotted earlier in the day, he imagines chasing the boy down into an abandoned structure festooned with the crimson viscera of what turn out to be butchered children. Screaming, Sam wakes up behind the wheel of his car, whereupon he finds the money in his trunk. Has his performance of panic all been a ruse intended to cover up his theft of his own bribe money? Did someone stash the money in his car without his knowledge? Did he simply … forget where he put it, deranged as he was by grief?
I dunno about you, but I have no idea and that's how I like it. "Most people are scared of pain," Mrs. Martin tells Sam in one of the episode's most memorable exchanges. "They don't know how warm it can be." Now that's a hell of a statement. Like Epona, Sam seems to have gone out of his way to experience sorrow on this strange day, and the events that follow are a reward of sorts: a whole community of strange people, each of whom reflects Sam's isolation, criminality (Mr. Martin coaches him through an attempt to pin the blame for the burglary on the bribed official), and grief back at him in their own unique way. In many great horror stories, individual foibles are nothing more or less than steps along the journey to some dark, terrible, and retrospectively inevitable destination. Here's hoping Sam is headed somewhere I wouldn't want to go myself.