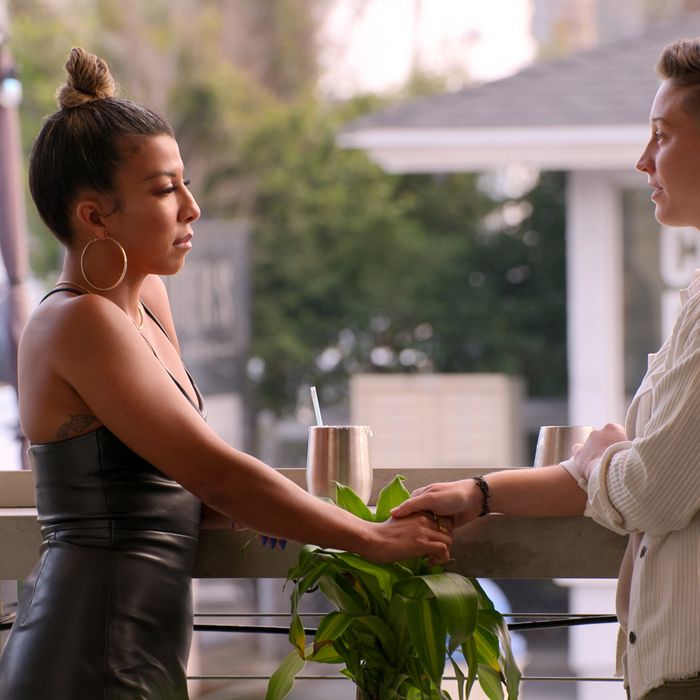 Photo: COURTESY OF NETFLIX
You know that moment in Jurassic Park where John Hammond says he wanted to show people something that wasn't an illusion, and then Dr. Sattler is like, you never had control; that's the illusion? That's exactly how I felt when shit started to go down between Mildred and Tiff at the reunion. Like, oh, we all thought we were watching this fun little reality dating show. Still, these are real people who were thrown into an irresponsibly designed situation (much like a dinosaur park!). Now, we're watching them talk about their abusive behavior, and the situation is no longer fun. And I love JoAnna Garcia Swisher a weird amount purely based on vibes, but she doesn't have the credentials to handle this situation. To carry the metaphor further, she is the Bryce Dallas Howard, and this reunion needed a Robert Muldoon. (If Bryce Dallas Howard gets awesome at handling dinosaurs in the movies after Jurassic World, then ignore that.)
Back to our queer reality dating show. If you can believe it, after the emotional whiplash of the final two episodes, we left episode eight with Mal proposing to Yoly in a gazebo, apparently with the sun directly in Mal's eyes for some reason. Look, I really like Yoly as she's presented on this show, but her back-and-forth with Xander and Mal is exhausting. I'm not saying I would handle it any better, but I did not sign up for reality television. Mal proposes, and Yoly gives one of the most noncommittal yeses I've ever seen. Mal tells her, "I see you," and, wow, it's like our very own episode of Cherry Grove.
We go through everyone's proposals, and I very much appreciate the ones where the person talks about what they love about the other person instead of just "I really love you." But then, I'm a words-of-affirmation gal, so what do I know? Mildred and Tiff have a really lovely proposal, which is now utterly tainted in retrospect because, holy shit, those two. Tiff proposes on a windswept cliff and talks about how this experience allowed Tiff to put their soul and feelings on the line. It's so nice! (But it's not now! Because of the reunion!) Mildred says she loves Tiff unconditionally, and Tiff says they love how complex Mildred is. Tiff proposes, and they're going to move in together. It seems so nice! (And yet!)
Aussie and Sam, I really didn't know about. Aussie seems to just agree to things to avoid conflict or does the famous Aussie move (where you leave without saying anything). Sam meets Aussie in a garden, and Aussie fakes her out by talking about penguins who give their partner a special rock, and then Aussie presents Sam with a heart-shaped piece of labradorite. AUSSIE. That is very funny when looking back on it, but at the time, OMG. If I were Sam, I would shout, "SERIOUSLY?" If you're looking for a fact-check on the penguin story, by the way, I got you. Sam is much more patient than I am, and Aussie does in fact propose with an actual ring. Sam says "Yes"! I am surprised all around! Aussie asks if Sam would've been happy if Sam only had the labradorite, and Sam says, "No!" I love Sam. Sam is my favorite.
Okay, you Xander and Yoly fans. It's time for the Xander and Vanessa ultimatum. Vanessa is really thrown because she was given the ultimatum, and now the choice is actually up to Xander. Vanessa says when she realized Xan was connecting with someone, it "flipped a switch" in her, and she realized she wanted Xan to be "all mine." C'mon, man, that's not cool. Remember early on in the show when Vanessa was telling Xan to fuck off at the dinner table, and the other participants had to be like, hey, that's really rude and makes us uncomfortable?
But let's talk real quick about Vanessa. My wife is finally watching this show and going off about how much she hates Vanessa and how forced she is, and okay, that's true. I went on the exact same emotional arc. But do you know how many forced, fake, chaotic people there are in this world? Yeah, they need to deal with their shit, but they don't deserve fandom-level hate. Fandoms are brutal, and while I know it would be fun for me to dump all over Vanessa and her time on this show, I can't do it because she's definitely getting enough of that already. She looked defeated on the reunion because she's seen the show and she knows how she comes off. That being said, Vanessa definitely does not come off well during the proposal. Or lack of proposal, rather. Xan essentially says they're not on the same page and that Xan wants to work on herself. Vanessa tells Xan they had the best relationship (did you??). It's a very tear-filled lesbian breakup.
Then we have this whole damn thing with Xan and Yoly, and frankly, I'm kind of annoyed with it. Xan and Yoly meet up, and after some dithering, Yoly tells Xan she said yes to Mal's proposal. Yoly is a Supreme Waffler. You never know what she's going to decide! Is it Mal? Is it Xan? Is it no one? Unclear! Who knows whither Yoly's feelings will take her today?! Even after Xander starts leaving, Yoly does a damn fake-out by shouting Xan's name and then just saying bye again. Good lord.
Okay, our last proposal scene is Lexi and Rae, and maybe it's because I am that kid from Mean Girls who just wants to bake a cake filled with rainbows and smiles but doesn't even go here, but this scene is also now marred for me because of the reunion. And not even the reunion: a ten-second title card we see after the reunion. My emotions. The actual proposal is really sweet, though, with Rae proposing in a greenhouse while Lexi looks SO PRETTY (as does Rae), and I black out for 30 seconds because of Lexi's boobs. "Something, something, Rae," she says. Lexi accepts Rae's proposal, and then LEXI proposes, and I love a gay double proposal. And again, Rae tells Lexi all the things she loves about her, and I am like, wow, lock Rae down (P.S. Rae is very charming on TikTok). Lexi calls Rae her Scoopy. I am a fan. But let's talk about the reunion.
It's one year later, and we have the ultimatum givers on one side of the room and the ultimatum receivers on the other. The beloved-by-me JoAnna Garcia Swisher is moderating and doing a great impersonation of Princess Giselle. JoAnna asks the only question we care about: Who is still together?
In brief: Rae and Lexi are together (FOR NOW), Yoly and Mal broke up, Xan and Vanessa are still broken up, Aussie and Sam are together (hurray!), and Tiff and Mildred not only broke up but they broke up acrimoniously. Their part is horrible. We learn that not only are they not speaking to each other outside of the show, but Mildred says Tiff is not allowed in her life anymore. There were arguments about Mildred's son; something about financial difficulties (which sounded like maybe Tiff was struggling?); and then Mildred says she was arrested, and it's very, whoa, what? We learn she threw a picture frame and a pet gate at Tiff. A PET. GATE. Tiff called the police on Mildred, and Mildred was arrested. Mildred then says Tiff called her a trash mom, and that there was a lot of shouting and wall punching. This is a bad, abusive relationship, and I'm extremely glad they're both out of it.
This whole segment is deeply uncomfortable, and it culminates in Mildred accusing Tiff of something they vehemently deny, and then Tiff walks off the set, very upset. Sam follows them because Sam is the best. She hugs Tiff and tells Tiff they don't have to prove anything to Mildred anymore and that Tiff is done now. Yeah! Good points, Sam! Look, I don't think anyone can even guess what the truth is in that situation, and the main thing is it's great that they're out of each other's lives. Tiff leaves in a van, and we don't see them again.
Speaking of "you can't know the inside of a relationship," Mal is not feeling great toward Yoly it seems. Mal says they are happily broken up and makes a comment about how we can see on the show that Yoly doesn't have a history of being honest. Damn, Mal! Yoly's side is that she was worried that once the cameras were off, Mal would return to her old behavior, and Yoly says that is exactly what happened. After watching the episodes, Mal feels seriously disrespected by Yoly's behavior, especially at the party when she went and held hands with Xander, and Yoly agrees that that was not great of her. JoAnna asks if Xander and Yoly gave it a try, and the information given is hazy but seems to boil down to, "We kind of tried, and it didn't work."
Sam and Aussie aren't married yet, and Sam hasn't met Aussie's family, but there is a plan for that to happen. Aussie has been on a journey of self-discovery over the past year. Aussie and Sam have figured out a compromise about allowing space that Aussie needs, but Aussie is working to shorten the time needed.
When asked about regrets, Vanessa regrets making a bad impression on the other participants. Everyone else seems pretty onboard with what happened, but no one wants to experience another ultimatum ever.
Everything seems like it's going to be nice and wrapped up, and we're closing out, when — what?? What???? We get a postscript that says shortly after filming, Lexi and Rae decided to end their relationship. WHAT IS LIFE if the queer women in their 20s who I like don't get married? OMG, this was a real kick in the gut to end the series. Someone really nice, please go out there and marry Rae ASAP.
So overall, this show was kind of okay! Seemingly irresponsible in the way it dealt with people's mental health, and definitely weird to put Tiff and Mildred in a room together if Mildred had been physically abusive, but I guess I'm glad we finally had a dating show with queer women in it? Now I just require a gay season of Bachelorette and all will be well.