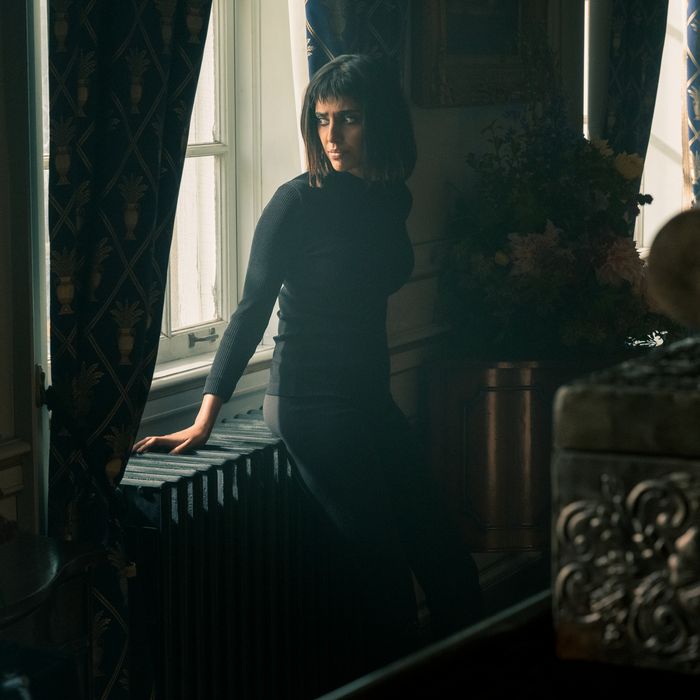 Photo: CHRISTOS KALOHORIDIS/NETFLIX/CHRISTOS KALOHORIDIS/NETFLIX
If you binge-watched season two of Netflix's The Umbrella Academy over the past week, you didn't need to wait long to meet the show's brightest new star. After previous guest roles in fandom-friendly shows like Sherlock and Doctor Who, Ritu Arya delivers a true breakout performance in The Umbrella Academy as Lila Pitts, season two's most mysterious new character. Introduced in the fellow episode as one of Diego's fellow asylum patients, Lila is soon revealed to be a secret agent working for the Commission under the watchful eye of the Handler. [Warning: spoilers ahead.]
But just when fans thought they had a handle on Lila, an even-bigger twist comes in the finale, when it's revealed that she also has superpowers. Though her season-two arc ends when she time travels to an unknown destination, it is clear that there are big things in store for her in The Umbrella Academy's third season. (The next season has not yet been formally announced, but — come on — Netflix isn't going to leave that big cliffhanger dangling forever).
On the heels of her debut in The Umbrella Academy, Arya dropped a new music video alongside her bandmates in the indie-pop outfit KIN. Today, as we're talking, she's in self-quarantine. When it ends, she'll be off to finish filming her role — playing an Interpol agent who is responsible for tracking the world's greatest art thief — in the upcoming action-comedy Red Notice, where she'll star alongside Dwayne Johnson, Ryan Reynolds, and Gal Gadot.
So there are some big things on the horizon. But, for now, she says she's mostly enjoying eating and sleeping and breathing — Ritu Arya is ready to break down her breakout role in The Umbrella Academy season 2:
It has been a week since The Umbrella Academy's second season premiered on Netflix. Have you been following the reactions from fans?
I have — a bit. It's been amazing. I mean … I'm trying not to follow it too much because I don't want to read anything that would be upsetting. But I'm hearing that people are liking Lila. Am I right? Tell me I'm right.
You're right.
That's good to know. Thank you. I'm getting some nice messages, but I'm not digging in any deeper than that. You know what? I was actually a bit worried. I thought people might hate me! Sometimes, if you really, really love a cast and someone new comes along, you're like, "Get off the screen! This is time I could be seeing that person's face!"
There's a big twist about Lila at the end of episode three and another (even bigger) one in episode ten. How much of that did you know from the beginning?
Not too much. When I was auditioning, I thought Lila was just in one episode. She was this very interesting character who was very mischievous, playful, and kind of in her own world. It was fun to make her my own and think, "How do I want to play this?"
But it wasn't until I was on the phone with [showrunner] Steve Blackman that I found out she had a journey … her love story with Diego, and her being the Handler's daughter. And it wasn't until even later that he told me about her powers. He didn't even tell the other actors! That was really fun when they found out. It was like … "Are you fucking kidding me?"
Lila spends most of the season lying to people — but she's also being lied to and dealing with some pretty intense childhood trauma on the side. As an actress, how do you bring all those dimensions into your performance?
One thing that was tricky was getting right in my mind: What is the truth Lila knows? What is the truth the audience knows? What is the actual truth? Getting right what Lila is meant to know (and not know) is one thing. But then I have to lace that with the truth: Is she lying? If so, is she a good enough liar? And then playing the truth of that. And I'm using my own personal experience, which is what I do with everything. I mean, that's acting. Isn't it? But it's tricky. I'm sort of … putting my soul on the line.
Lila's biggest relationship in The Umbrella Academy is with Diego, and their love story really ends up anchoring both characters throughout season two. How did you and David Castañeda develop that bond?
He was really up for rehearsing. He brings so much to the table when we're working together. We did a lot of exercises before we even filmed our first scene — just to get to know each other. Asking each other questions in character was really useful. But we also spent time together [not in character] — just to kind of become friends before being on set together. We were always playing. It felt so special.
Can you tell me about the physical work required for the role? You've posted some pretty intense videos from your martial-arts training on Instagram.
I had a lot of training even before I came to Toronto to film. And when we started [filming], I was training at least three times a week with Tommy Chang, who is an amazing martial-arts trainer. He trains Olympic-standard athletes, and he pushed me so much. There were days when I wanted to punch him in the face. I was like, "I. Can't. Do. Any. More. High. Kicks."
But I absolutely loved him for it. I can't believe how far I came in such a small amount of time, and it's because I had a trainer who pushed me. It wasn't just for aesthetics. A lot of it was for my own mindset — to feel like, "I am strong, I am capable, I am powerful." As powerful as the character that I'm meant to be. It's very crucial for me to be in the correct physicality for my character. And when you're given the time and space to do that, it only adds to the performance.
Lila has a bunch of fight scenes, but her duel with Five at the end of episode five is definitely a standout. What was that like to film? There's the age difference, the size difference …
I did feel like, "Aw, little poppet! I hope he's okay!" Oh no, that's really patronizing. [Laughs.] Often, I'd be fighting against his stuntman, and he'd be fighting against my stuntman. But [Aidan Gallagher] is so lovely to work with, generally — very considerate, professional, and focused. I loved working with him. Not just the fights, but acting generally. He's so talented.
So many of the fights in The Umbrella Academy are scored to pop songs. Is that something you actually have to think about on set — how the rhythms of the choreography will sync up with the rhythms of the songs?
Some of the songs they had in the script and some were new additions. But I didn't think about the songs. It wasn't really necessary for me. It was more about making the choreography we were doing as truthful as possible.
I'm assuming I already know the answer to this question, but for the record: Can you tell me anything about season three?
Lila's gone to Hawaii! She's just gone surfing. No — I have no idea. I don't think anyone does. But it's exciting to end on that moment with her.
This interview has been edited and condensed.