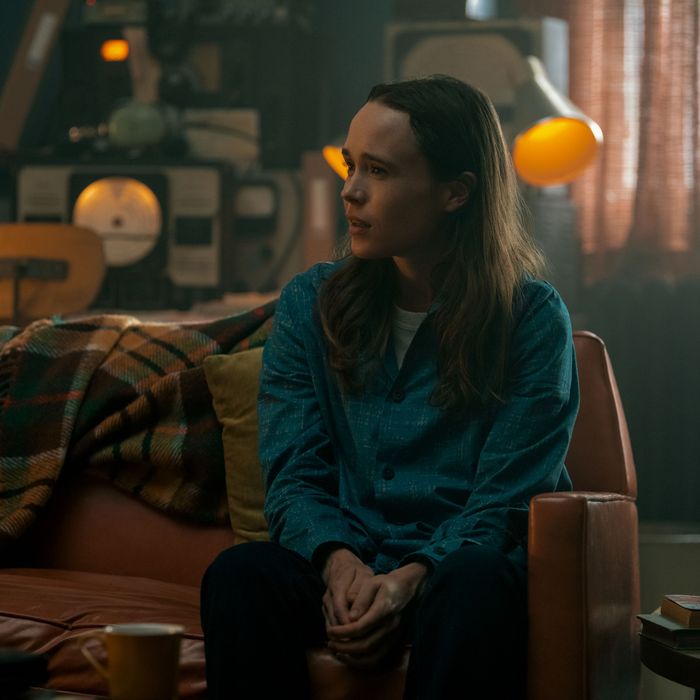 Photo: Netflix/CHRISTOS KALOHORIDIS/NETFLIX
How difficult is it to resist Reginald Hargreeves? Difficult enough that — despite suffering enough lifelong dysfunction to warrant a whole team of psychiatrists — all seven of his adopted children, including the dead one, end up accepting his polite invitation to a light supper. The centerpiece of "A Light Supper" is a Hargreeves family reunion. It's the second in as many episodes. Since this one was organized by Reginald himself, it's also a kind of "Avengers Assemble!" for the Umbrella Academy, who are (with varying degrees of commitment) trying to figure out how to cancel the apocalypse.
But Philip Larkin had it right: No matter how old you get, and no matter what else is going on, you're never free from what your parents did to you — and especially not as you're staring your domineering dad right in the face. Before Reginald actually arrives to dinner (late, of course), Diego encourages his siblings to band together as "Team Zero," rejecting the ranked numbers assigned by Reginald that defined their senses of self-worth as children. At dinner, when Reginald demands to see their superpowers, Luther insists they're not performing animals. And literally just seconds later, Diego shows off his knife trick, Five teleports, Vanya makes some fruit explode, and Allison uses the power she's normally so reluctant to use like it's a party trick.
After that impressive display — which climaxes, perhaps inevitably, with Luther ripping his shirt off — Reginald is … unimpressed. More than anything, what seems to get Reginald's attention is when Five quotes Homer's Odyssey back to him in the original Greek — a clear signal that Reginald, at any age, will be most engaged with his own personal obsessions. He more or less shrugs off the children's feelings, and their dire warnings about his own possible role in the end of the world, because he finds them irritating. (Except for Five, who he invites for a private post-dinner cocktail, and actually delivers some decent fatherly advice for once.)
What I ended up getting stuck on here is the paradox of it all. We don't really know how time travel works in Umbrella Academy. Conveniently, the impending apocalypse has enabled the series to sidestep questions about how the Hargreeves children's actions in Dallas could be mucking with the timeline. Unless season two ends with yet another deck-clearing time jump, there must be some kind of consequence on the horizon, right?
The most obvious possible deviation is the one that Diego remains fixated on: Saving John F. Kennedy from being assassinated. But there are subtler shades that could change things, too. Reginald Hargreeves may be a cold-blooded asshole (or at least pretend to be one), but I have a hard time accepting that he could spend time with his sad, damaged adult children without deciding to do things a little differently when he gets the chance. And will Grace's encounters with Diego change how she feels about Reginald (and by extension, the role of her robotic doppelgänger as the children's mother)?
When you start to unpack the possible far-reaching consequences of what's happening in Dallas if the Hargreeves children do prevent the end of the world, it can get a little head-spinning. There's still plenty of tension between Allison and Ray. But in the midst of a brief display of her superpower — which they use for a shopping spree at a store that normally refuses to let Black customers try on clothes, and then to get revenge on the sneering waiter at the whites-only diner — Ray correctly notes that her ability to influence anyone into doing anything could have major implications for the entire civil rights movement. (And as reluctant as Allison is to use her powers for anything, it feels like there's a legitimate moral case to be made for that!)
There are smaller differences too. Klaus, in trying to get David not to enlist in the military, ends up convincing him to enlist faster, which may change or even erase the date of his death in Vietnam. Vanya convinces Sissy to run away with her, which presumably has massive implications for her family (though Carl, watching them kiss from afar, will surely try to stop their happy elopement before they can even get started). And Elliot — whose life was probably very different in the timeline where he didn't witness the Hargreeves kids teleporting into an alleyway — pays the ultimate price when the remaining Swedish assassins show up and kill him.
Wouldn't the death of anyone stand the risk of some kind of butterfly effect-style impact on the timeline? We're about to find out. Once Five reluctantly agrees to kill the bigwigs in the Commission as part of an attempted coup by the Handler, she gives him the location and address for their top-secret meeting. If Five doesn't somehow bungle yet another time jump, he's bound for the Lonely Lodger Inn in Oshkosh, Wisconsin, circa 1982. And if he actually succeeds in killing off the shadowy figures who govern the timeline … well, then maybe we'll really see how wild the timeline can get.
Raindrops:
• Barring some time-travel shenanigans, that's a wrap on Kevin Rankin (Elliot), who you might have recognized from Justified, Breaking Bad, or Claws. Elliot was never Umbrella Academy's deepest or best-developed character, but I'm going to miss his bug-eyed conspiracy theorizing.
• If you're curious about how the design for Luther's bare gorilla chest came together, here's a behind-the-scenes feature I wrote after season one, including interviews with showrunner Steve Blackman, costume designer Chris Hargadon, and star Tom Hopper.
• The Handler's survival is objectively ridiculous, but I don't really mind because I love the weird energy Kate Walsh is bringing to the role (which was, apparently, originally intended for "a Jon Hamm type").
• After the blink-and-you'll-miss-it tease during the Klaus cult montage at the start of "The Swedish Job," this episode confirms that Ben has a thing for Jill, a young woman who gave up a scholarship at Berkeley to follow Klaus around. Here's hoping, one way or another, that Ben gains corporeal form long enough to tell her how he feels before the season comes to an end.
• Klaus' "wisdom" seems to be culled almost entirely from songs that haven't been released yet. Apart from his regular invocation of the chorus of TLC's "Waterfalls," one follower repeats another "Klaus" mantra: "As I long as I know how to love, I know I'll stay alive."
• I don't know Swedish, but I'm pretty sure the bloody message "öga for öga" means "an eye for an eye."
• Maybe I just had the comics in my brain, where the answer is very different — but I think it's kind of lame that the long-awaited answer for how Allison got her vocal cords back was just… waiting for them to heal.
• Ray, after Allison reveals she's a time-traveling superhero from the future: "So … there was a Black president?"
• Vanya's suggestion that only the person holding the conch shell can speak is straight out of Lord of the Flies.
• There are a lot of strong performers in The Umbrella Academy, but I'm consistently blown away by how 16-year-old Aidan Gallagher manages to be entirely credible as an uber-competent 58-year-old assassin trapped in the body of a teenager. There's a remarkable complexity and texture to Five's private meeting with Reginald Hargreeves — an old man in a young body sharing a drink with his father, who is currently younger than he is.
• Here's David's favorite song: "The Man Who Shot Liberty Valance." Seems about right!
• It's low-hanging fruit, but come on, I'm not above laughing at a fart-in-an-elevator gag.