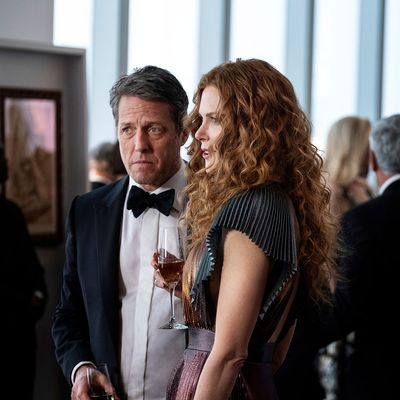 In the Coen brothers film Miller's Crossing, Gabriel Byrne's character is talking business when he declares, almost as a deadpan throwaway line, "Nobody knows anybody. Not that well." Byrne's Tom, an Irish mob consigliere, is alluding to the limits of professional criminal behavior — with your back against the wall, can you really speak to what another person would do in the same situation? — but that same sentiment applies to any kind of relationship, really. Between parents and children. Between romantic partners. Between friends. Most people like to think they're an open book, living their truth, or displaying their authentic selves. But, come on. How often are we really honest with ourselves, let alone with other people?
These questions have been David E. Kelley's playground for a long, storied television career, most recently with HBO's megahit Big Little Lies, and Kelley returns to the network for the limited series The Undoing. The same-named premiere episode really hit all those Big Little Lies beats, didn't it? Nicole Kidman is here again, serving up those voluminous auburn waves we've missed since the days of her marriage to Tom Cruise. Once again we are entering into the hallowed halls of absurd wealth, with all its accompanying backstabbing and artificial posturing. (I felt very uncultured recognizing only, like, two of the artists name-dropped as being part of the Spensers' extensive collection in their palatial penthouse!) And, of course, there is a murder to be solved, an investigation that brushes up against the toned shoulders of all the privileged women in this exclusive New York City circle: Who killed the buxom, unsettling Elena Alves (Matilda De Angelis)?
(Ahem: This is where I would make some sort of tawdry "Investigate me, Edgar Ramírez!" comment, but I will not, because I am a professional!)
Before "The Undoing" ends on a cliffhanger that suggests a connection between Grace Fraser's (Kidman) confusion about where her husband Jonathan (Hugh Grant) is, and Elena's bloody body laying on the floor of her studio in Harlem, Kelley and director Susanne Bier (who will helm all six episodes of the miniseries) introduce us to the myriad bougie players. Therapist Grace and pediatric oncologist Jonathan have all the wealthy NYC signifiers — a gorgeous brownstone, an exposed-brick wall in their kitchen, an array of cast iron pans, although I am not sure either of them seems like the type to cook — and seem to truly adore each other. Jonathan is very much a Hugh Grant character: droll and snarky; the Fun Dad to their violin-playing middle schooler son Henry (Noah Jupe); flirtatious and roguish with his wife ("Would you like to be washed?"). His work helping kids fight cancer is more important than anything else in his life, and he has little time for the silly rituals of the upper class, although he is firmly one of them.
Grace, meanwhile, has a fair amount in common with Celeste Wright, Kidman's character on Big Little Lies: She has a thriving professional career as a therapist specializing in couples' counseling, and also takes on the brunt of household management and helping out at Henry's school. The same words come up over and over again when people talk to Grace. She's nice. She's kind. All those things you say when you don't really know someone, or maybe when they don't really want you to know them. Is it possible that Grace isn't being entirely honest with herself about who she is, or what she cares about, or what makes her tick, and that hidden inauthenticity is what made Grace's interactions with Elena so bizarre? Because Grace's friend and fellow Reardon parent Sylvia (Lily Rabe) was right: Elena's energy at the fundraiser planning meeting when she unabashedly pulled down her bra to breastfeed in front of a group of women she had just met was strangely hostile. Then her full-on nudity at the gym, and the strangely intimate way Elena asked Grace if she had done something wrong. And finally, their interaction at the fundraiser, with her tears and that kiss in the elevator. Grace doesn't seem to know Elena — but doesn't it seem like Elena knows Grace? Or, I suppose, knew.
The wealthy sure do love their school fundraisers, don't they! And putting my sarcasm aside, that scene works here, as it did in Big Little Lies, because it sets up a number of relationships that will probably be important in episodes to come. Sylvia is Grace's closest ally out of the parental pool, and it's she who both notices Elena watching Grace at the fundraiser and who calls to inform Grace the next morning that Elena was found murdered. Donald Sutherland's Franklin, Grace's father, is clearly a big shot — notice how he and Jonathan greet each other almost stiffly, and recall the Gilmore Girls-style reveal that Franklin pays for Henry to attend Reardon at the price of $50,000 per year. Nearly immediately after Elena arrives at the fundraiser — without her husband — she is swarmed by other men; did any of them have something to do with her murder? "We were talking about art, we were talking about money. It was just vulgar," Grace had said to Jonathan after returning from the ladies' tea, but Grace's allyship only goes so far. Bringing up to Elena that her therapy sessions would be free? Making it clear that she has no interest in talking to Elena just as a friend? Yikes.
Still, one awkward party interaction and one unexpected same-sex kiss do not make one suspect. Yet when Detectives Paul O'Rourke (Michael Devine) and Joe Mendoza (Ramírez) show up at Grace's house to question her about what she might know about Elena, they already have a portrait painted of who Grace is. O'Rourke peeks at papers on their kitchen table when Grace starts making a snack for Henry. (A peanut butter sandwich with nothing else on it? Blergh!) They know how much tuition at Reardon costs. They know what Jonathan does, and ask to speak to him too. But Jonathan is nowhere to be found: He told Grace he was going to a medical conference in Cleveland, but his cellphone being shoved in the back of a cluttered drawer is, frankly, suspicious. The fact that she can't find him at any of the hotels in the city even more so. And it's a bad sign when the potential of your husband cheating on you might be the best-case option, isn't it? Where is Jonathan? Who killed Elena? Those two questions will certainly guide The Undoing forward, and if each episode ends on a dramatic cliffhanger, I will not complain!
Money Works Best
• I am about 90 percent through reading the book on which The Undoing is based, Jean Hanff Korelitz's You Should Have Known, and I admit some of the changes to the miniseries do not thrill me. Namely: In the book, Grace and Jonathan Sachs are non-practicing Jews who are decidedly not rich like all the other parents at Reardon (spelled Rearden in the book), and that difference adds some interesting class friction. I know that David E. Kelley productions now live firmly in the world of the one percent, but I do think something is missing here without that detail, and a few others that I won't mention in case they come up in future episodes.
• Both Grace and Sylvia wear diamond rings on their pinky fingers. Must be nice!
• Interesting how David describes his father as both "joyless" and "stressed," and how Grace notes, "You hate everyone. I don't." Is Jonathan curmudgeonly because that's who Grant is as an actor, or are these character details we should be filing away?
• "It's always the fucking husband!" Sylvia says. Hmm.
• Why did the detectives have to question Miguel at the police precinct? The kid found his mom dead. That seems unnecessarily formal, and possibly illegal, for a minor, no?
• Yes, that is Kidman herself, with an assist from husband Keith Urban, covering "Dream a Little Dream" for the opening credits.
• I am relishing the Paddington-villains pairing of Kidman and Grant, and his mimicking of her American accent — that very broad "You're actually projecting that sentiment!" — was an episode highlight.
• But the unparalleled best moment of the episode was when the fundraiser organizers insist that the parents' thousands upon thousands of dollars in donations will go toward "ensuring that Reardon is always synonymous with diversity!", and Bier pans across a penthouse of nearly universally white faces. Is it too early in these recaps to say … eat the rich?