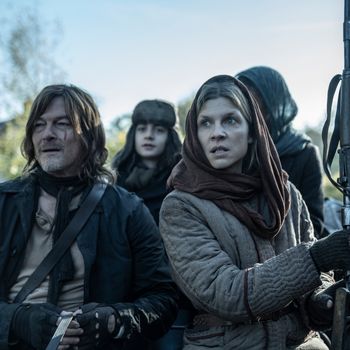 Photo: Emmanuel Guimier/AMC/B) 2023 AMC Film Holdings LLC. All Rights Reserved.
Oh, to gaze at the Eiffel Tower and smoke a cigarette as the world ends. The second episode of The Walking Dead: Daryl Dixon delves into the backstory of Isabelle with some answers and not-too-surprising developments. We now know more about what and whom she's lost and how she came to be with the nuns when Daryl met her. In the present, Daryl masquerades as a Hot Priest, helps out some scrappy kids, and meets a fellow American.
Clémence Poésy gives such a movie-star performance in these wordless opening sequences. We watch as she meanders through a club, bumping New Order's "Blue Monday" in an existential trance that places her somewhere between the party girl she's trying to be and the nun she becomes. She's doing drugs and … stealing watches? Errant screams coming from the dance floor as she leaves hints that the zombie apocalypse has begun in France, but it's not really apparent until she's on the streets of Paris. First, it's a fight in the distance and a car crash. Then, underground, Isabelle watches in horror as a metro car in chaos whizzes by, unable to stop and free the living passengers — one of the coolest shots I've seen on any The Walking Dead series.
By the time she reascends the steps, Paris is a confused and violent mess. Lucky for her, a handsome man in a car comes whirling around a corner to whisk Isabelle away from the zombies and rioters. This is Quinn, an Englishman played by Adam Nagaitis (you might remember him as Cornelius Hickey from The Terror). It's not 100 percent clear what her relationship with this man is, just that they have a history. Is Quinn her boyfriend? Her dealer? Something is up. Nagaitis played Adam Driver's enabling bestie in The Last Duel, so I can't immediately trust him. Quinn takes her back to her apartment, where she retrieves some cash and her sister Lily (Faustine Koziel) before hitting the road.
Back to Daryl. In the present timeline, he and his traveling companions scare off their injured mule and debate the best route to take north when a group of Lost Boy–like ruffians sets upon them. It must be nice to be so badass you can let yourself get captured and worry about escaping later. The teens take them back to their base, a preschool. These are the kids whose parents never picked them up at the beginning of the apocalypse, grown up. My parents were late to pick me up just enough times that I am genuinely shaken and haunted by that little revelation. Daryl and Isabelle learn that their leader, a teacher who stayed with them named Madame Dubois, is sick, and an older girl named Lou (Kim Higelin) is temporarily in charge. Our travelers tell them that they are just nuns and a priest passing through.
At dinner, Lou asks "Father Daryl" to lead them in a prayer. His grace is … something else. He says, "Ummm, Lord, I'm sure you had your reasons for turning the whole world upside down. Maybe we deserve it for being so mean to each other. We probably do deserve it. But not tonight. No, tonight is good. And if this isn't good enough for you, I don't know what is. Amen." Bro. Is that what Daryl has thought all this time? In season 11 of The Walking Dead, Daryl mentions that he used to be religious but now mostly believes in himself. I had no idea his faith in humanity, or lack thereof, was still that bad after everything he's seen.
After dinner, Daryl tells a white lie and agrees to help them get medicine to save their teacher from a hoarder who lives in a castle so that he can get a horse to pull their wagon to Paris. But first, it's television night! The kids have rigged an old television to a bicycle to power it and watch old episodes of Mork and Mindy. That night, Isabelle says she feels sorry for these kids who don't know what the world was once like. But as Daryl says, you can't miss what you never had.
The next day, Daryl and Lou head toward the castle while Laurent bonds with other children. He runs off, in classic TWD child fashion, and finds the dead mule. Isabelle, who had just finished reassuring Sylvie that they'll find a place where she fits in up North, now has to apologize for telling Laurent the mule was "eating apples" and not himself a snack for the dead. (Come on, kid. There were zombies all over the road. You can't be that sheltered.) The abbey survivors have a lot of issues to work through on their journey.
Daryl locks Lou up in a shed, insisting that he confront the man in the castle alone. That starts off as a good idea. First, Daryl finds one of the lost children named Hérisson imprisoned. He tells Daryl his name means "hedgehog" in English, and comedy king Daryl Dixon deadpans, "Let's go, Hedgehog." He leads him to the man in charge, who turns out to be a fellow American named RJ Gaines, played by Irish actor Ned Dennehy. At first, I thought this delusional Texan who still thinks he has a family waiting for him back home after 13 years of a zombie apocalypse would be a great scapegoat for Daryl when those boat people go looking for a Yankee on the run. But RJ doesn't stick around much. I don't know how he survived in a castle for all those years because he's sloppy and easily taken down by zombies the second he crosses the threshold. Lou, Hedgehog, and another one of the kids rescue Daryl from a tight spot, and the crew heads back to the school with the horse and medicine.
Once they're safe at school, Daryl apologizes for lying about the medicine. He also tells Lou that they're going to be fine. She's a great leader, and they can take care of themselves. Lou then does the only true rite of passage children in The Walking Dead universe have: kill someone she loves. She euthanizes Madam Dubois, and before the travelers hit the road again with their new horse, they hold a funeral for her. Instead of "amen," they use a Mork and Mindy catchphrase: nanu nanu.
Back in the past, Isabelle's sister feels sick and asks Quinn to pull over. They stop at a BP service station — which threw me for a second but is accurate, fellow Americans who haven't had the privilege of driving in France — where Lily pukes and reveals to her sister that she's pregnant. Just when I've been enjoying the lights of Paris and the idyllic mists and foliage of the French countryside on this show, they set a pivotal scene on the side of the road at the most mundane location possible. Quinn says they'll need to find some shelter and ditch her, so Isabelle ditches him and drives off with her sister. They take the car to a hospital, where Lily sees zombies for the first time. Isabelle neglected to mention the, uhh, walking dead on their trip, it seems.
The sisters ultimately arrive at the abbey of St. Bernadette, where a few months later, Lily gives birth surrounded by nuns and Pére Jean. This is not an ordinary birth, however. Lily dies and turns before the baby is fully born. In shock, Isabelle takes the miracle child and names him after, you guessed it, Saint Laurent. Also known as Saint Lawrence and not to be confused with designer Yves Saint Laurent, this religious figure was a martyr. Let us hope the little weirdo on The Walking Dead: Daryl Dixon does not suffer a similar fate. I love this kid with no friends who introduces himself to other children by telling them he once walked backward for three months, even upstairs. His naïveté is a problem, but he's adorable.
Isabelle's backstory is classic The Walking Dead in a way that feels familiar but still fresh. She has, in her own French way, led a parallel apocalyptic life to several of the characters we know from the anchor series. She has lost a sibling like Daryl and Maggie. She's caring for a child that's not hers after the child's mother died giving birth, like Rick Grimes. (Laurie died after Judith was born on TWD; however, not before, à la Lily). What sets Isabelle apart is that, as far as we know, she has stayed in one place for the last however many years. Until Daryl Dixon darkened her doorstep, that is.
Un Petit Plus
• This week's episode title, "Alouette," means "lark" and refers to the eponymous children's song. The schoolchildren whistle it as they attack, and Isabelle sings it to her sister as she's giving birth. You may recognize the jaunty tune, but even the most amateur French speakers can tell you that the lyrics take a dark turn. The song teaches the words for different body parts by insinuating that the singer is going to pluck each body part one by one from a nice little bird. It's as if the song "Head, Shoulders, Knees, and Toes" were about amputation.
• Was this episode's unsubtle "only one bed" trope signaling that we should ship Isabelle and Daryl romantically? It's going to take more than that, FYI. My guard is way up regarding Daryl Dixon and love interests. It didn't happen on The Walking Dead with Carol, Beth, Aaron, or Connie. I won't be burned again!
• The apocalypse has been going on for over a decade at this point in The Walking Dead's history. We're meant to believe that the kids living at the preschool were toddlers when the apocalypse started and are now teens/preteens. But there are some that are definitely younger than 10. Have folks just dropped their babies off there over the years?
• At the end of the episode, there's one stray scene where Codron sniffs around the abbey and finds enough clues to figure out who Daryl is and where he's going with Laurent, Sylvie, and Isabelle. Whatever, scary dude! I have a feeling that by the time he finds them, Daryl's going to have a lot of French allies willing to fight by his side.
• Merle Dixon has been invoked a few times already on this show. Will Michael Rooker be a surprise cameo in a flashback or something? I'm suss.
• Did you guys catch Young Sylvie in the background of the abbey? She was the only child there before Laurent. When Isabelle and Lily arrived, the mother superior said that Sylvie thought it might be her parents coming back to her. Sounds like Sylvie has a storybook backstory of her own, like Little Orphan Annie or The Secret Garden and Zombies.