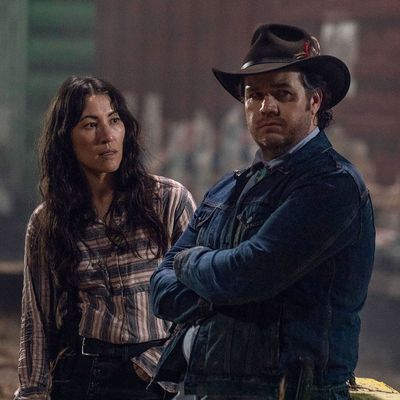 Photo: Jackson Lee Davis/AMC
After a six-month delay that felt more like roughly two years in APT (American Pandemic Time), here, finally, is the entertainment we've needed — escaping from one bleak world of violence, chaos, and large crowds dangerously ignoring social distancing and into another. Watching zombies chow down on fresh entrails again is oddly reassuring, harkening back to the way life used to be. (Perhaps I've spent too much time in my basement?) But despite seeing an old familiar face, some new ones, and the much-needed end of the Whisperers, as finales go, this one fell a bit flat. Perhaps the more fitting Talking Heads song for this episode would have been the one with the lyrics, "Same as it ever was."
Thankfully — and especially given the long break since the previous episode — TWD spares us from a spider's web of complex interwoven storylines. All you really need to remember is that Beta and his Horde have the survivors surrounded and their as-of-yet-unrevealed plan seems to inspire very little confidence. Gabe knows they'll need some help from "others," and if your internet has been shut off for a few months, you may have been surprised to see long-lost Maggie is one of those people Gabe is counting on. Elsewhere, Eugene's posse, including our fave boa-rocking Princess, is in a race to rendezvous with his mysterious girlfriend. And that dude Michonne tussled with on Bloodsworth Island is wandering around, too.
Maybe this episode will hold up better under a binge-watching schedule, but waiting so long for a fairly predictable end to long-dangling story lines felt a bit anticlimactic. Let's note what we've already seen before: Gabe's master plan is to lure the Horde away with loud noise (check). Negan and Lydia bond over their roles as outsiders, leaving their loyalties in doubt (check). Beta talks to himself (check, though his zombie gait now looks especially inspired by "Thriller"). And the only way to get through the zombie mosh pit is to slather oneself in guts (check, check, check). And regarding that camouflage, are the undead losing their olfactory functions? Luke and his girlfriend and most of the others aren't all that filthy. Remember the old days when Rick and Glenn knew how to take a proper gore bath? Friggin' kids these days.
Maybe I've been watching too much TV news in said basement, but one of the episode's highlights involves a gruesome murder. New Yorkers might have felt an odd sense of nostalgia watching Carol and Beatrice, one of the only Oceansiders we know by name, elbow their way through the Horde like a rush-hour subway ride in olden times. Beatrice encounters a Whisperer, and despite a quality kill shot from Carol, that pesky thug still manages to sink a knife into Beatrice's calf. Knowing she has a backpack full of essential Radio Shack parts, Beatrice cries out to Carol, who — in cold-as-ice Carol style — decides to keep moving ahead. Maybe the hard pass is because Carol sees Beatrice get literally torn limb from limb and devoured. Good thing Lydia has lucky timing, her momma's mask, and a strong stomach. (Negan bequeathing Alpha's headpiece to Lydia and their individual acts of heroism were fitting, if not all that surprising.)
The final skirmish of the Whisper War ends with a few memorable moments. It really looked like Gabe was a goner as the skinheads broke through his blockade, so I was (perhaps naïvely) surprised to see Maggie to the rescue, replete with her new fedora, which positively screams survivalist chic. (Could she be busy reviving Vogue for the post-apocalyptic fashionistas?) But infinitely more fascinating is the real hero, her pal Hoodie Ninja, the hockey-masked dude who was seen double-fisting blades and throwing mad Bruce Lee vibes at Aaron in the opening scenes of the episode. While Mags and Gabe embrace, Aaron gives Hoodie Ninja a look that suggests he's rather freaked out.
Beta's demise is also well executed, pun intended. I wonder if it was especially painful for the Artist Formerly Known As Half Moon to hear "Burning Down the House" as the soundtrack that drew his beloved Horde away, rather than one of his country hits. Even worse is seeing Negan, which turns his rage level to 11. Getting some much-deserved revenge for his previous ass-whooping, Daryl saves Negan with a slice to the gut and double knives to the eyeballs. Beta's final moments of cerebral activity provide the opportunity for a lovely sepia-toned look back at his relationship with Alpha: "In darkness, we are free," she murmurs as his brains turn to mush and he's surrounded by the cold embrace of the zombie faithful. Cut to reality as Beta pulls the blades from his skull and the group hug turns into a buffet. Fun to watch Negan's "holy shit" moment as he finally realizes Beta's true identity; also fun to see Daryl not the least bit impressed (he's always struck me as more of a Motorhead fan anyway).
So we've been told repeatedly that people are gonna die — most recently, by Daryl at the start of the episode — but the only good-bye is an Oceansider I couldn't name without a cheat sheet. Lydia leads the Horde to a cliff, gets tagged out by Carol, and then returns to save Carol. (And really, why did either of them think they had to take the plunge just to get the walkers over the edge? Most likely a mutual death wish.) Fitting that they rescued each other, but also, snooze city, save for the fun shots of the Horde plunging into the river below and a final glimpse of ol' Alpha's mask. Even someone who was "supposedly" dead turned out to be, again not surprisingly, alive: Connie emerges from the tunnel collapse and is rescued by Michonne's old frenemy, Virgil. More non-news: Carol's not skipping off to New Mexico, Lydia and Negan are sticking around — aside from the loss of a few randos, it's a fairly tidy end.
All that's left is Eugene's posse, who finally reach the meetup point but find no sign of Stephanie. Credit Princess for the line of the night after Eugene passionately makes a case for never, ever giving up the search for his lady friend: "Damn. You're one really horny dude." Laughs turn to WTFs when the floodlights blast on and the train yard fills with soldiers in white armor. These poor man's stormtroopers have red stripes on their unis, rifles in ready position, and bad attitudes. Eugene seems to lock eyes with one of them—could it be his gal pal?
That's a decent cliffhanger, but we've seen this already, too, with the military types in cahoots with Jadis. Meeting new cohorts isn't a surprise anymore — it's what you'd expect as civilization is rebuilt piece by piece. Maybe the next threat isn't a homicidal cult or psychotic gang — perhaps it's a group of people who believe the only way to survive is under militant, despotic rule. Or maybe there's another Alpha on the horizon, one last Big Bad to love-hate. All I know for sure is that whatever lies ahead for the season ten "bonus" episodes and the supersized final season, I want — nay, demand — more Hoodie Ninja.