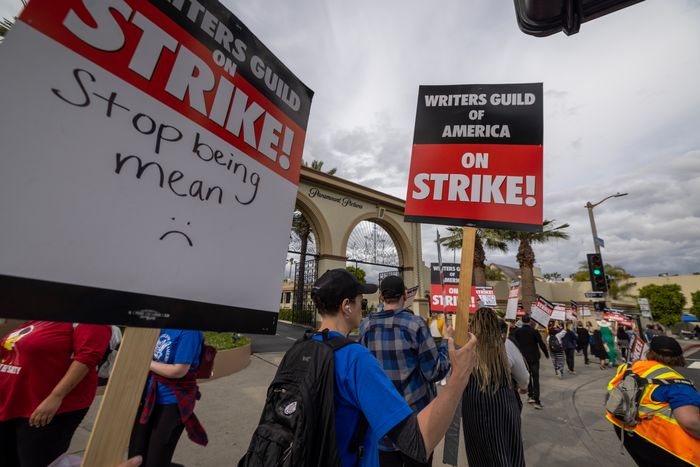 Outside Paramount Pictures in Los Angeles on May 4.
Video: David McNew/Getty Images
We're still in week one of WGA strike of 2023, or what you might call the pilot episode of the reboot of the WGA strike of 2007. But keeping up with all the threads, rumors, main characters, food items, bargaining updates, and press releases is already a Herculean task. That's why we'll regularly be offering recaps — strikecaps, if you will — such as this one to serve as a snapshot of where things stand as of now. What is going on? Who are the villains? What are people buzzing about? Which celebrities brought food? We promise to keep you in the loop on all of it.
The Twitter Thread Everyone's Reading
Writer and journalist Peter Clines put together this truly epic Twitter thread on May 3 about the daily coverage he did for a screenwriting magazine during the 2007 WGA strike. It's a useful tool for those of us who were too busy nursing hangovers as undergrads during that period to remember many details. It's also a neat look at how celebrities used to act before they had to worry about Angry People on Twitter:
The Shows That Got Shut Down
• Hacks (HBO)
• The Venery of Samantha Bird (Starz)
• Billions (Showtime)
• Unstable (Netflix)
• Abbott Elementary (ABC)
• Yellowjackets (Showtime)
• Cobra Kai (Netflix)
Who Brought Food?
One very easy way for glamorous and wealthy celebrities to show solidarity with writers is to bring them food offerings during their long days on the picket line. So far, we've seen Jay Leno bring doughnuts, Pete Davidson deliver pizzas, Twitch streamer Hasan Piker deliver more pizzas, and Avatar: The Way of Water co-writer Shane Salerno hire a whole-ass coffee truck!
Spotted: Dogs
The Strike Main Character Award (Good)
Adam Conover, famous for being the titular Adam from Adam Ruins Everything, has indeed been ruining everything for the CEOs of Hollywood this week. He's accomplished this simply by going on TV and pointing out the extremely large wealth gap between the one, single man Warner Bros. Discovery CEO David Zaslav and the 10,000 writers he employs who actually make the content his other employees actually sell.
The Strike Main Character Award (Bad)
Wednesday star Jenna Ortega is no closer to living down the comments she made about allegedly rewriting some of the Wednesday scripts herself. Writers have been roasting her both on picket signs and in tweets, but don't worry, Jenna: A new villain is sure to arise any minute now!
Is There Any Weird Nazi Thing We Have to Deal With?
Oh, always! The #WGA hashtag was muted on Instagram, allegedly owing to its having some kind of far-right alternative meaning; no one needs to dig any further than that. The hashtag to use instead is #WGAStrike.
Everyone's Currently Mad About
Exhibit A:
Exhibit B:
Exhibit C:
Exhibit D:
What's Actually Happening With, Like, the Actual Talks?
Nothing! They have famously broken down, hence the strike! Hopefully the parties will return to the bargaining table soon, but right now the prevailing theory is this strike will go on for quite a while — at least eight weeks, it's theorized, because for one thing, that's how long it needs to go on for the studios to legally be allowed to terminate a bunch of expensive overall deals they don't want to honor anymore. Also, the studios responded to the WGA's statement on where talks stand with a very long-winded version of the Bugs Bunny "no" meme.
Today We Learned
Actor J.P. Manoux went way out of his way to commit to a bit and has ended up with a little bit of egg on his face. Dressing up as a mailman delivering checks for $0 to writers on the picket line for their earnings from a fake AI-written Netflix show called "CHARLESBOT IN CHARGEBOT," some writers felt the joke was directed at them instead of with them. However, Manoux quickly abandoned the bit when he realized it was being misconstrued as anti-union and showed up to picket Disney the traditional way the very next day. Because what do we do when we fall?
Do you have a story tip or interesting bit of writers' strike updates to share? Drop us a line at tips@vulture.com.