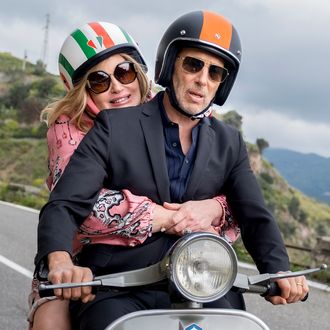 The Lizzie McGuire Movie.
Photo: Fabio Lovino/HBO
It doesn't come as much of a surprise that HBO has renewed The White Lotus for season three. It's a buzzy hit and a critical success, and there's no dragon budget required. Creator Mike White's "courage to explore the uncharted waters of the human psyche, paired with his signature irreverent humor and buoyant directing style, have us all dreaming of more vacation days at the resort we've come to adore," programming executive Francesca Orsi stated. "I feel so lucky to get this opportunity again and am excited to reunite with my amazingly talented collaborators on The White Lotus," White said. Below, find everything we know about our next vacay.
Where are we going?
The White Lotus is booking its ticket for Thailand as we speak, according to Variety. White previously stated that he was interested in exploring "death in Eastern religion and spirituality," making a vacay at one of the Four Seasons in Thailand the perfect backdrop. The Four Seasons, where the show has filmed its previous seasons, has locations in Bangkok, Chiang Mai, Koh Samui and the Golden Triangle, so while we've got a country, we're still not so clear on the specific city. However, since it is set Thailand, we'd like to point out that character actress, whacker supreme, and Drag Race: Thailand judge Pangina Heals might be able to rearrange her schedule. Think about it, Mr. White!
Who's coming with?
Other than Pangina, we shan't engage in too much speculation over who's going to be included in the upcoming season. Especially since our returning guest is already confirmed — Natasha Rothwell, who played the Tanya-victimized Belinda in the first season of the show, will be returning. Rothwell, who earned an Emmy nomination for her first season, confirmed the news on Twitter. And look, this isn't typically a show with "happy endings" but just know that if Mike White screws over Belinda a second time, we will be coming to his house and ******* his **** up.
When are we leaving?
There's no confirmation on when the third season of our favorite anthology-that's-not-an-anthology is returning. There was a year and some change between the first and second seasons, so, if that's anything to go by, you can expect a third season by approximately January 2024, which is sooner than we're getting either Wicked movie, so we'll take it. With that in mind, we're already thinking ahead to season four of the "limited series." While we're sure White already has ideas for future luxury-resort destinations, Vulture has some better ones:
- White Lotus Cruise Lines
- White Lotus Ski Lodge
- White Lotus: Forks, Washington
- White Lotus: Bethany Beach
- White Lotus: Universal Studios
- White Lotus: Jersey Shore
- White Lotus: Myrtle Ave. Burger King
- White Lotus: Scranton
- White Lotus: Vancouver (for the tax credits)
- White Lotus: Dubai (Real Housewives crossover)
- White Lotus: Luxury Train
- White Lotus: Great Wolf Lodge
This is a developing story.