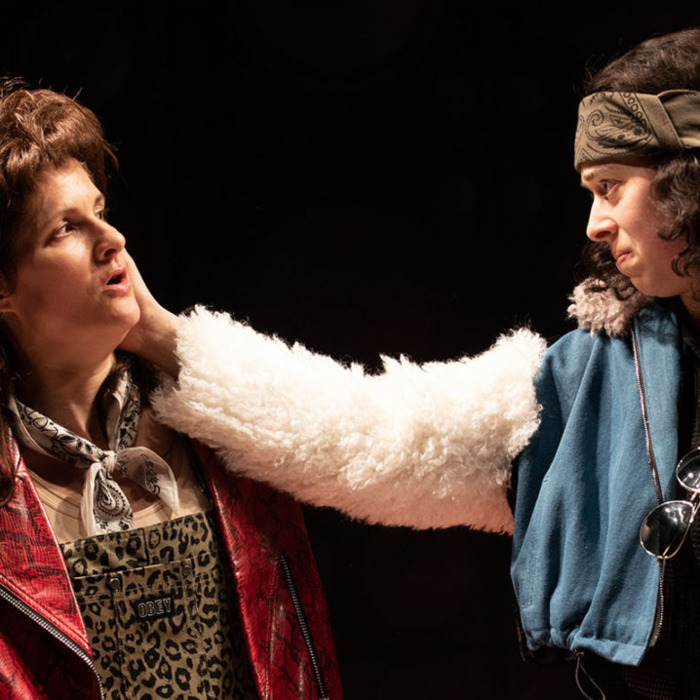 Eddie and Dave.
Photo: Ahron R. Foster/Atlantic Theater Company
Art
1. See Lena Henke: Germanic Artifacts
Visually gripping.
Bortolami is one of the better galleries in the country: Witness the current exhibition of the ever-restless New York–based German sculptor Lena Henke. Her materially intelligent rendition of a boar takes us back to the ancient Germanic Teutoburg Forest. Feel the inner physical thunder. —Jerry Saltz
Bortolami Gallery, 39 Walker Street, through February 16.


Theater
2. See Gatz
The little green light is back on.
Elevator Repair Service brings back its groundbreaking literary behemoth, the eight-hour-long word-for-word radical stage adaptation of F. Scott Fitzgerald's The Great Gatsby, which was last seen in New York in 2012.
Shows like this one resurface seldom: Don't miss it. —Sara Holdren
NYU Skirball Center, January 23 through February 3.
Theater
3. See Eddie and Dave
Runnin' with the devil.
Playwright Amy Staats takes a title role in this gender-bending story of "the rise and fall of Pasadena's most groundbreaking '80s rockers, told through the foggy lens of a lonely, out-of-work MTV VJ." Expect big hubris and bigger hair. —S.H.
Atlantic Theater Company, through February 10.
Pop Music
4. See Stephen Malkmus & the Jicks
Down a shady lane.
Veteran singer-guitarist Stephen Malkmus is revered by indie-rock fans for the genius, Dadaist slacker jams he crafted as front man for Pavement, but he has cooked up even more delightfully weird tunes in the intervening years as the leader of the Jicks. Catch the band live to watch a guitar god hold court. —Craig Jenkins
Brooklyn Steel, January 25.
Opera
5. See Iolanta/Bluebeard's Castle
Solitary confinements.
Women regularly get abused in opera, and the Met's double bill of one-acts is all about kings locking up their female family members. Tchaikovsky's blind princess Iolanta (Sonya Yoncheva) is held in deluxe captivity by her father; Bartók's depraved Bluebeard imprisons his new wife Judith (Angela Denoke) in his castle — along with his three others. —Justin Davidson
Metropolitan Opera, January 24 through February 14.
Classical Music
6. Hear Fire in My Mouth
Labor conditions.
The composer Julia Wolfe won a Pulitzer Prize for Anthracite Fields, her 2014 multimedia homage to Pennsylvania coal miners. Now she celebrates the immigrant seamstresses who toiled and died in the Triangle Shirtwaist Factory fire. Jaap van Zweden conducts the New York Philharmonic in the work's world premiere. —J.D.
David Geffen Hall, January 24 through 26.
Classical Music
7. Hear American Symphony Orchestra
Coming out of the dark.
Musical fashions have not been kind to a generation of intellectually ambitious, inventive, and proudly American composers who dominated the New York music world in the middle of the past century — and then faded away. The conductor Leon Botstein, never one to let good music stay obscure for long, performs works by Vivian Fine, Jacob Druckman, and William Schuman, as well as Robert Mann, better known as the longtime first violinist of the Juilliard String Quartet. —J.D.
Carnegie Hall, January 25.
Art
8. See Sanford Darling: House of 1,000 Paintings
Powerful inner vision.
Behold the beautifully colored, sensually rendered, opaque surfaces of the late Sanford Darling, who adorned his Santa Barbara house in an array of almost mystically transporting paintings. Darling was a foundational artist for me; it's great to see him thrown into the mix. —J.S.
Shrine Gallery, 179 East Broadway, through February 10.
Movies
9. Go to Race, Sex & Cinema: The World of Marlon Riggs
Paying respect.
Before he died of aids-related causes at 37, Marlon Riggs helped set the agenda for discussions of media representations of race and gender, and the series opens with his groundbreaking 1989 cinematic essay Tongues Untied. BAM will also present Riggs's shorts, an evening devoted to James Baldwin, and Rodney Evans's Harlem Renaissance drama Brother to Brother (2004). —David Edelstein
BAM, February 6 through 14.
Movies
10. Go to Justice in Film
Law and order.
The classic film series at the New-York Historical Society pairs provocative movies with provocative literary minds. Zhang Yimou's stunning 1992 drama The Story of Qiu Ju explores the attempt of a rural woman (Gong Li) to get justice for her husband — a theme that will be batted around on February 1 by Linda Greenhouse, Robert Post, and Kenji Yoshino. And don't miss the February 8 event: Super-editor Thelma Schoonmaker presents her late husband Michael Powell's A Matter of Life and Death. —D.E.
New-York Historical Society, Friday nights from February 1 through March 8.
Classical Music
11. Hear David Greilsammer
Inside out.
The intrepid pianist likes to discover unsuspected affinities between composers who lived centuries — and oceans — apart. In a program in which Greilsammer switches between a normal piano and another whose guts he has "prepared" with screws, rubber bands, and strips of paper, the pianist alternates pieces by Domenico Scarlatti and John Cage. —J.D.
National Sawdust, January 26.
Classical Music
12. Hear Jeremy Denk
The borrowers.
With his combination of charisma, technique, and idiosyncratic programming (not to mention lively writing), Denk has acquired a reputation as the thinking person's pianist. Now he performs variations on the theme of variation: works by Beethoven, Mendelssohn, Bizet, Schumann, and John Adams showing how composers all stole from, and embellished, each other's ideas. —J.D.
Carnegie Hall, February 1.
Multimedia
13. Go to A Night of Philosophy and Ideas
Pull a Pythagorean all-nighter.
A free 12-hour (7 p.m. to 7 a.m.) idea-exchange marathon featuring an international lineup of philosopher talks as well as debates, screenings, performances, and readings, among other surprises (last year there were acrobats).
Brooklyn Public Library, February 2 and 3.
Theater
14. See Diana Oh's The Infinite Love Party
BYOB (bring your own blanket).
This production includes but is not limited to: barefoot finger painting, aphrodisiac tea, a dance party, a sleepover, a "swamp" where you can donate unwanted items, and a dope motherf*cker award given each night to a different person or organization who's "made amazing contributions in the realms of sex, queerness, and collective liberation." A celebratory space and event that invites its participants to "leave kinder and more open." —S.H.
The Bushwick Starr, through February 2.
*A version of this article appears in the January 21, 2019, issue of New York Magazine. Subscribe Now!