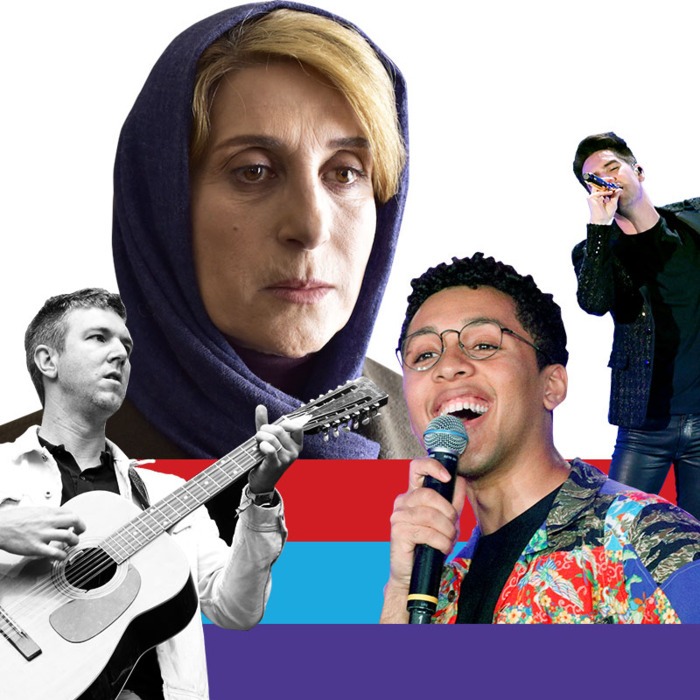 Photo: Getty Images/Iranian Film Festival New York/IFC
Art
1. See Sarah Lucas: Au Naturel
A punch as strong as Duchamp.
If you haven't taken a good long gander at the in-your-face feminism and material intelligence of sculptor par excellence Sarah Lucas, you still have a few more days to do so in this singularly brave, rowdy three-floor retrospective. Some think this much Lucas is "too much." On the contrary: Lucas keeps it coming. —Jerry Saltz
The New Museum, 235 Bowery, through January 20.
Theater
2. See Merrily We Roll Along
If they could turn back time.
Fiasco Theater made waves with its vibrant, stripped-down interpretation of Into the Woods, and now it brings a newly reimagined Sondheim gem to Roundabout. Noah Brody directs the sparkling, wrenching musical that moves backward through the lives of a trio of showbiz friends, charting in reverse the arc of their personal and professional passions and triumphs. —Sara Holdren
Roundabout Theatre Company, in previews January 12.
Classical Music
3. Hear The New York Philharmonic
Mixing poetry and pugilism.
The pianist Yefim Bronfman is known for his ability to clatter through Prokofiev and Rachmaninoff concertos with aplomb. Now he plays Beethoven's Second Piano Concerto, which is a different creature entirely, with all the lightness and charm of a young composer who had sensed his demons but not yet confronted them head on. —Justin Davidson
David Geffen Hall, January 16 through 22.
Cabaret
4. See Hamilton Leithauser
Indie New Year.
The former front man of the Walkmen takes his second turn at the tony Café Carlyle on the heels of his newly released single "Heartstruck (Wild Hunger) feat. Angel Olsen."
Café Carlyle, January 16 through 18.
Pop Music
5. See Panic! at the Disco
Dance yourself clean.
Panic! at the Disco enjoyed its biggest hit since the 2005 smash "I Write Sins Not Tragedies" with this year's peppy, motivational "High Hopes." Catch the Vegas rock act at Barclays to plot singer-songwriter Brendon Urie's transformation from quirky emo upstart to pop-radio sensation. —Craig Jenkins
Barclays Center, January 16.
Theater
6. See Blue Ridge
Anger management.
Taibi Magar directs Abby Rosebrock's new dark comedy about a Southern Appalachian high-school teacher with a rage problem whose retaliation against her terrible boss lands her in a recovery program at a church-sponsored halfway house. —S.H.
Atlantic Theater Company, through January 26.
Art
7. See Walter Robinson: Salad, Candles & Money
A poet of the mind and brush.
Just three paintings make up this statement show that establishes Walter Robinson as a consummate creator of smart, saucy, lusciously beautiful and complicated portraits of modern life. A picture of a salad, spa candles, and a stash of money gives us our obsessions with food, wellness, and wealth — what the artist points out poet Wallace Stevens rightly called "a kind of poetry." —J.S.
Johannes Vogt Gallery, 958 Madison Avenue, through January 26.
Festivals
8. Go to Brooklyn Podcast Festival
The gang's all here.
The podcast fest returns for its second year with NPR heavy-hitters Ask Me Another and Pop Culture Happy Hour, Vulture's Good One with guest Julie Klausner (Difficult People), and more live-taping-friendly shows.
Various locations, January 10 through 13.
Opera
9. See Pelléas et Mélisande
New directions.
Debussy's score, all bog vapors and forest mist, was a specialty of James Levine's, who conducted every Metropolitan Opera performance from 1977 until Simon Rattle made his belated company debut in 2010. Now Levine's successor, Yannick Nézet-Séguin, takes it on, with Paul Appleby and Isabel Leonard in the title roles. —J.D.
Metropolitan Opera, January 15 through 31.
Comedy
10. See Jaboukie Young-White
LOL IRL.
The young Big Mouth staff writer and newly minted correspondent on The Daily Show With Trevor Noah hits the New York stage.
Carolines on Broadway, January 10 through 12.
Movies
11. Go to Iranian Film Festival
A new New Wave.
This debut festival opens with Bahman Farmanara's supremely elegiac Tale of the Sea, in which a reclusive writer (Farmanara) ends up in an asylum after witnessing a murder and ruminates on, among other things, the brilliant, beleaguered generation of post-Revolution artists, many now gone. —David Edelstein
IFC Center, January 10 through 15.
Cabaret
12. See Perle Noire: Meditations for Joséphine
Regarding an icon.
Sexy, brilliant, clear-eyed, political, and fiercely determined, Joséphine Baker was one of black America's most incandescent cultural emissaries. Soprano Julia Bullock tries on her outsize persona in a one-woman show conceived by Peter Sellars, with words by Claudia Rankine and all that sizzling music retooled by composer and pianist Tyshawn Sorey. —J.D.
Metropolitan Museum of Art, January 16 and 17.
Gaming
13. Go to The New York Game Awards
The Oscars of video gaming.
If by late January you're tired of watching Bradley Cooper and Olivia Colman making all the acceptance speeches, check out the eighth annual New York Game Awards, where Red Dead Redemption 2 and God of War will compete for top honors. Hosted by the writers of The Daily Show With Trevor Noah.
SVA Theatre, January 22.
Theater
14. & 15. See Mies Julie and The Dance of Death
Deadly Duets.
CSC presents two Strindberg adaptations in repertory: Victoria Clark directs Conor McPherson's new version of The Dance of Death, a razor-edged exploration of the late days of a marriage made in hell, and Shariffa Ali directs South African playwright Yaël Farber's interpretation of Miss Julie, which resets Strindberg's brutal tale of class, sex, and power in a Karoo farmhouse on the evening of the annual Freedom Day celebration. —S.H.
Lynn F. Angelson Theater, January 15 through March 10.
*A version of this article appears in the January 7, 2019, issue of New York Magazine. Subscribe Now!