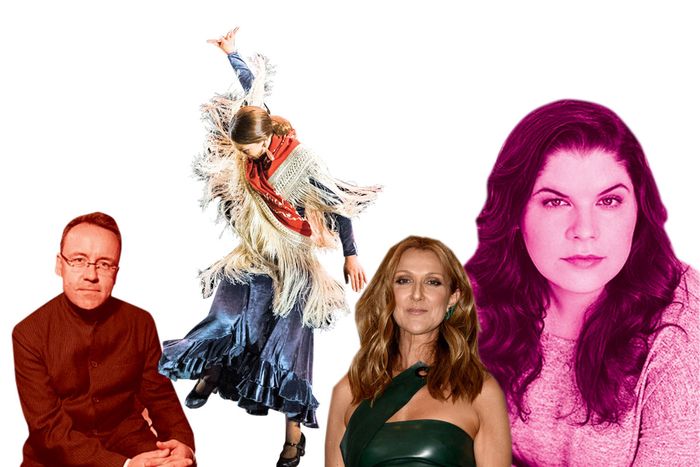 Photo: St. John Divine/DanceTabs/Flickr/Patrick McMullan/Elana Seibert
Pop Music
1. See Céline Dion
A Canadian treasure.
Canadian pop icon Céline Dion is still touring her 2019 comeback album, Courage, her first new batch of songs since she lost her husband, René Angélil, to cancer in 2014. Head to Brooklyn to watch a legend run through her formidable repertoire of hits; expect big ones like "My Heart Will Go On" and arresting covers like "All by Myself." —Craig Jenkins
Barclays Center, March 5.
Art
2. See Karla Knight
Geometric and symbolic.
Karla Knight is the too-little-known contemporary American visionary behind some of the most fragrant abstract drawings and paintings anywhere. Signs, insignia, runes, and other enigmatic hieroglyphs, often rendered in vibrant color, give us the artist's fecund mind unfurling in accumulating tapestries. —Jerry Saltz
Andrew Edlin Gallery, 212 Bowery, through April 11.
Classical Music
3. Hear Ars Longa de la Habana
Baroque music from Cuba.
This Havana-based early-music ensemble performs works by the 18th-century Cuban Esteban Salas and other Latin American composers. —Justin Davidson
Baryshnikov Arts Center, March 18.
Talks
4. See Krystian Lupa
Get in pole position.
In January, The Trial, the Polish superstar director Krystian Lupa's stage adaptation of Franz Kafka's novel about a man persecuted by a state that never divulges his crime, was abruptly canceled, but what you can go to see, however, is a talk where Lupa himself will discuss the Kafkaesque censorship situation in an increasingly right-wing Poland and preside over a marathon reading of the novel, which now reads like a guidebook for our bizarre global situation. —Helen Shaw
NYU Skirball Center, March 8.
Movies
5. See Epicentro
A Sundance winner.
Opening the Museum of the Moving Image's First Look festival, Austrian director Hubert Sauper's portrait of modern-day Cuba unfolds as a mixture of historical-poetic analysis and a ground-level journey among the denizens of Havana— schoolkids, teachers, parents, artists, sex workers, tourists, and others. The director's remarkable eye for lived-in detail and spectacular imagery will mesmerize you even if you don't agree with his theories about the state of the world and where Cuba fits within it. —Bilge Ebiri
Museum of the Moving Image, March 11.
Classical Music
6. Hear David Briggs
The Great Organ.
Until the development of the symphony orchestra, no musical machine or ensemble could match the church organ's all-enveloping sound, kaleidoscopic colors, thundering drama, and contrapuntal complexity. So when David Briggs performs Brahms's Symphony No. 1 as an organ solo, he doesn't compress the score so much as blow it out to cathedral-size proportions. —J.D.
Cathedral Church of Saint John the Divine, March 10.
Readings
7. See Kate Elizabeth Russell
Stephen King calls it "a well-constructed package of dynamite."
In Kate Elizabeth Russell's lyrical and propulsive debut novel, a woman in her 30s learns that the English teacher with whom she had a sexual relationship when she was 15 has been accused of sexual assault by another former student. That may sound like a familiar premise in the Me Too era, writes Vulture's Lila Shapiro, but the story quickly veers into bold and unexpected territory. Catch Russell in conversation with Shapiro at Greenlight Bookstore for the launch.
Greenlight Bookstore, 686 Fulton Street, Fort Greene, March 10.
Movies
8. See Gravity
From the "depressed in space alone" genre.
The "See It Big!" series presents a wonderful opportunity to revisit recent and classic epics on the Museum of the Moving Image's splendidly large screen. Alfonso Cuarón's breathtaking, Oscar-winning space thriller, featuring Sandra Bullock as an astronaut attempting to make her way back home after a catastrophic accident in orbit, is the perfect example of a film that will lose almost all its spectacular impact on a TV or, God forbid, a smartphone. —B.E.
Museum of the Moving Image, March 8.
Art
9. See Gladys Nilsson
A museum survey is way overdue.
Here, 50 years of work by Gladys Nilsson, the great Chicago-based artist. Her wild imaginings — arrays of crazy, partially clad, cartoonish figures and narratives of sex and violence and making art and getting by — create teeming compositional blankets that bathe the eye in detail, wit, feminism, bad behavior, and laughter. —J.S.
Matthew Marks Gallery, 523 West 24th Street, through April 18.
Dance
10. See Proceso Eterno
The body is a drum.
Great flamenco has all the cathartic power of a Greek tragedy and the sympathetic endorphin production of watching Olympic diving — the rhythm, speed, sound, intensity, and ecstasy communicate themselves directly to your root brain. Patricia Guerrero, one of Spain's young innovators in the field, presents her solo piece with guitarist-composer Dani de Morón, singer Sergio Gómez "El Colorao," and percussionist Agustín Diassera. —H.S.
Baryshnikov Arts Center, March 13 and 14.
TV
11. Preview The Plot Against America
If you're missing The Man in the High Castle.
Philip Roth's alternate-history novel, about the rise of fascism in America as Charles Lindbergh becomes president, is given the HBO limited-series treatment, with David Simon and Ed Burns writing and Winona Ryder and John Turturro among its stars. Catch the first hour of the six-part show at a 92nd Street Y screening and conversation before its release on March 16. —J.C.
92nd Street Y, March 6.
Movies/Classical Music
12. See and Hear Metropolis
Performed by Metropolis Ensemble.
Fritz Lang's 1927 silent movie came with a score by Gottfried Huppertz that captures the Wagnerian overtones but not the futuristic vision of urban dystopia. Now Ricardo Romaneiro has composed a new soundtrack, merging electronics with electroacoustic jazz. The film and score fuse into an immersive high-tech installation. —J.D.
National Sawdust, March 10.
Art
13. See Jean-Jacques Lequeu
Fantastical drawings.
At the turn of the 19th century, when France was reforming, colonizing, and collapsing again in war, a failed architect and mid-level functionary went home every night and designed an entire new world. His surreal drawings of imaginary cities, monuments, cenotaphs, and the humans who would animate them sat mostly ignored in the archives of France's national library for nearly two centuries after his death. This is the first time they've been shown in New York. —J.D.
Morgan Library & Museum, through May 10.
*A version of this article appears in the March 2, 2020, issue of New York Magazine. Subscribe Now!