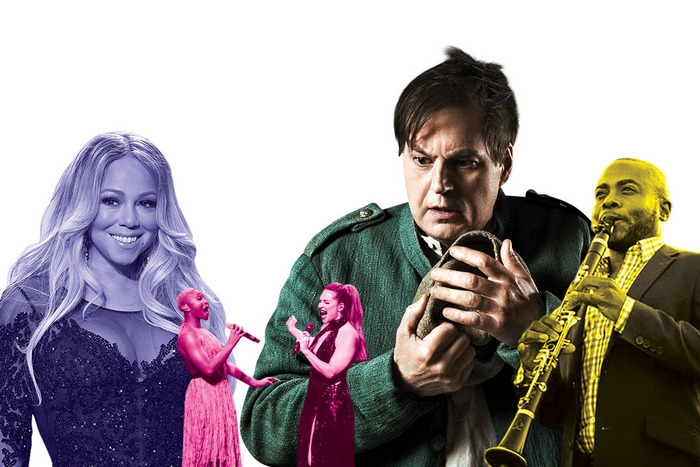 Photo: Patrick McMullan/Playbill/Paola Kudacki /Met Opera/Courtesy of Anthony McGill
Art
1. See One Hundred Drawings
New work from Jasper Johns.
Matthew Marks curates exhibitions as well or better than most museums.
Witness the dazzling, harmonic optical convergence of 100 drawings spanning three centuries, starting with a Degas from 1859-60 and a late-19th-century ink-and-gouache drawing of a tiger hunt with elephants from northern India. Pros will be astounded at unearthed treasures; art lovers are guaranteed to be transported, surprised, enraptured, and enriched. —Jerry Saltz
Matthew Marks Gallery, 523 West 24th Street, through January 18.
Pop Music
2. See Mariah Carey
It's inevitable.
Christmas queen Mariah Carey is celebrating the 25th anniversary of her beloved 1994 holiday album, Merry Christmas, and its indelible hit "All I Want for Christmas Is You" with a new deluxe edition, performances at Caesars Palace in Las Vegas, and a five-city tour. Make your wish come true this December and drop by the Garden for powerful renditions of yuletide classics and seasonal originals as well as a handful of memorable Mariah hits from yesteryear. —Craig Jenkins
Madison Square Garden, December 15.
Dance
3. See New Work for Goldberg Variations
Moving to Bach.
In 2007, pianist Simone Dinnerstein gained notoriety for her serious, questing interpretations of Bach's "Goldberg Variations." A decade later, Dinnerstein revisted the work again, this time with choreographer Pam Tanowitz. Their collaboration, an evening-length piece for piano and seven dancers, premiered in 2017, but you can see it anew at the Joyce Theater with Dinnerstein at the keys.
The Joyce Theater, through December 15.
Theater
4. See Get on Your Knees
Don't blow it.
Jacqueline Novak's hilarious and oddly philosophical one-woman show about fellatio seems like it would … peter out after 30 minutes. Yet Novak bestrides the stage as a comedy colossus, her microphone cord slung over one shoulder like a bandolier, and tells us about her long quest to perform the perfect blow job. In meditating on schlongs and their moods, she shares a great deal about herself and feminism, as well as the vocabularies used to shield men from their vulnerability. It's raunchy and thoughtful. —Helen Shaw
Lucille Lortel Theatre, December 14 to January 26.
Opera
5. See Der Rosenkavalier
A revival.
Strauss's intoxicating concoction of viennoiserie never gets stale, and Robert Carsen's 2017 production scrapes away some of the whipped-cream décor and focuses attention where it belongs: on the characters. Simon Rattle conducts a cast that includes Camilla Nylund as the "aging" (i.e., 32-year-old) Marschallin and Magdalena Kozená as her boy lover Octavian. —Justin Davidson
Metropolitan Opera, opens December 13.
Classical Music
6. Hear Winterreise
Natürlich.
Schubert's song cycle of snow drifts, cracking ice, and fond memories of spring keeps challenging singers to great feats of sensitivity. Along with pianist Jeremy Denk, Eric Owens, a veteran of blockbuster opera productions (Wagner's Ring and, more recently, Gershwin's Porgy and Bess), keeps it small, simple, and sublime. —J.D.
92nd Street Y, December 13.
Theater
7. See Fiddler on the Roof
Or A Fidler Afn Dakh.
The city's unlikeliest hit — a transfer from the Museum of Jewish Heritage — is hora-ing its way to January 5; after that, the fiddler comes off the roof. A lot has been written about Joel Grey's wonderful direction; the superb Tevye, Steven Skybell; and the musical's sturdy old vinestock, which blossoms in Shraga Friedman's adaptation. But also notice the way the production teaches you as you watch it. I didn't speak a word of Yiddish going in; coming out, it felt as though I'd been hearing it all my life. After so many tried to stamp the language out, it's moving to hear how quickly and beautifully it comes dancing back into the world. —H.S.
Stage 42, through January 5. Buy tickets here.
Movies
8. See Scorsese Non-Fiction
Support your local auteur.
Film Forum presents 45 years of Martin Scorsese's work in the real world — i.e., his documentary and concert films. Here are his family portraits (Italianamerican), his paeans to world cinema (My Voyage to Italy), and his unabashed groupiedom for real superheroes (The Last Waltz, Shine a Light, No Direction Home: Bob Dylan). —David Edelstein
Film Forum, through December 17.
Art
9. See Nathalie Djurberg and Hans Berg
A trip to the underworld.
Enter Nathalie Djurberg and Hans Berg's darkened garden of sensual and fantasy delights prepared to behold sculptures of birds inserting their beaks into beautiful open flowers as well as a handful of animated videos of all manner of sexual dreams, fears, and imagining. In short, colorfully fecund films, cavorting Claymation-style figures and puppets fight, seduce, trample, and abuse one another. The viewer is enrapt, coaxed in, and left hungering for more without ever gleaning any moral to it all. Let this boundaryless world beckon to you. —J.S.
Tanya Bonakdar Gallery, 521 West 21st Street, through December 20.
Theater
10. See Exhibition: In the Company of Harold Prince
A prince with no heir.
Losing Hal Prince this year meant the end of an era. No other producer-director will ever again have Prince's string of stupendous hits; no one man will ever again become so closely identified with Broadway stagecraft. He worked on everything, from West Side Story to The Phantom of the Opera, from Cabaret to Sweeney Todd, and if not everything he touched turned to gold — nonetheless, he did have the golden touch. This exhibition at the NYPL is a dragon's hoard of scripts, photographs, set models, and even re-creations of his paperwork. Study it closely and you might become the next great theatrical mind … if not a Prince, then possibly a really talented duchess. —H.S.
New York Public Library for the Performing Arts, through March 31.
Classical Music
11. Hear The Orchestra Now
Led by a Grammy and Oscar winner.
The composer-conductor Tan Dun, who combines the roles of Chinese folk shaman and internet pioneer, leads a nimble ensemble in a program that includes his own new violin concerto along with music by Debussy and Bartók. —J.D.
Rose Theater, December 15.
Theater
12. See Cynthia Erivo and Shoshana Bean
Showstoppers.
Two of the most talented women in musical theater performing holiday classics on the same stage? A Christmas miracle indeed. Joined by a 13-piece orchestra, these two powerhouse voices will shake some yuletide spirit into even the grumpiest Grinches.
Apollo Theater, December 16.
Classical Music
13. Hear McGill/McHale Trio
Family affair.
The superstar of the clarinet, Anthony McGill (whose main gig is principal clarinetist for the New York Philharmonic) teams up with his flutist brother Demarre and pianist Michael McHale for a concert of shorts including a new piece, For Anton Vishio, by Tyshawn Sorey. —J.D.
92nd Street Y, December 19.
Comedy
14. See Fred Armisen
Come on in.
As a follow-up to his 2018 Netflix special, Standup for Drummers, Fred Armisen combined his two passions into the Comedy for Musicians But Everyone Is Welcome live show. The tour wrapped in May, but you can catch an encore performance.
Asbury Lanes, New Jersey, December 15.
*A version of this article appears in the December 9, 2019, issue of New York Magazine. Subscribe Now!