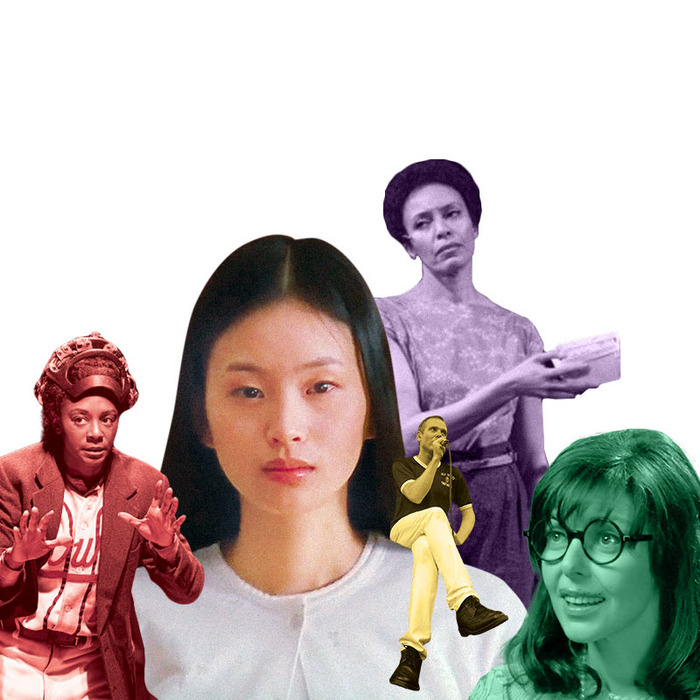 Photo: tyshawnsorey/wikimedia (Sorey); Joan Marcus (What the Constitution Means to Me)
Pop Music
1. See Belle and Sebastian
At their best.
The Scottish indie-pop vets make plush, smart songs about fascinating people falling in and out of love. Their 1996 If You're Feeling Sinister is a cult classic, and they've gotten looser and stranger since. Last year's Human Problems harks back to the group's fruitful early years in form but not so much in style, incorporating aspects of funk, soul, psych, and house music. Enjoy a band at ease with a wispy folk tune, a glathe m-rock stomper, synth pop, and more. —Craig Jenkins
Brooklyn Steel, July 10; Matador.
Theater
2. See The Secret Life of Bees
The hive keeps producing.
Pulitzer-winning playwright Lynn Nottage (Sweat) teams with Tony- and Grammy-­winning composer Duncan Sheik(Spring Awakening), lyricist Susan Birkenhead, and director Sam Gold to adapt the best-selling 2001 novel, about a 14-year-old runaway's adventures with three beekeeping sisters in a small South Carolina town, into a world-premiere musical. —Sara Holdren
Atlantic Theater Company at Linda Gross Theater, through July 14.
Opera
3. See Stonewall
Honoring the historic rebellion in Pride Month.
With its history of costume swapping, sexually ambiguous roles, over-the-top theatrics, and themes of liberty vs. oppression, opera seems like the perfect vehicle for the story of gay civil rights. Here it is: Stonewall, the opera, with music by Iain Bell and a libretto by Mark Campbell, produced by New York City Opera. The closing performance, on the 50th anniversary of the uprising, will be hosted by Bob the Drag Queen, who made the top ten of New York's drag power list. —Justin Davidson
Lincoln Center's Rose Theater, through June 28.
Art
4. See Greg Smith: Garage Politburo
Quite a complex machine.
A true lord of chaos, materiality, and shamanist alchemy, a postapocalyptic mechanic, and an anarchist computer programmer, with his refusal of physical finish and the way he embodies all current systems as being too big not to fail, Greg Smith is the insidiously brilliant aesthetic spawn of Jason Rhoades, Thomas Hirschhorn, and Rube Goldberg. He has been under the art-world radar far too long. This optically radioactive show goes for the throat. —Jerry Saltz
Susan Inglett, 522 West 24th Street, through July 26.
Opera
5. See Opera Italiana Is in the Air
Young oeuvre.
A chokingly narrow pipeline carries new talent to New York's operatic stage, but this display of greatest hits uses a free concert in Central Park to introduce tenor Antonio Poli and soprano Maria Mudryak. The two young singers, led by conductor Alvise Casellati, perform a program of lyric chestnuts by Rossini, Verdi, and Puccini. They're joined by an even younger composer, 11-year-old Paloma Dineli Chesky, performing her own work. —J.D.
Naumburg Bandshell, July 1.
Movies
6. & 7. See A New Leaf and Mikey and Nicky
For the love of May.
The lovefest for Elaine May — whose Tony-winning turn as a woman with dementia in Kenneth Lonergan's The Waverly Gallery was uncanny — continues with two May-directed revivals: the barely released Mikey and Nicky, with John Cassavetes and Peter Falk as garrulous hoods (May shot more footage than was shot for Gone With the Wind), and the mild but very agreeable comedy A New Leaf, in which she plays a dotty heiress opposite Walter Matthau's feckless playboy. See these and lament that the flop of Ishtar — imperfect as it was — derailed her directing career. —David Edelstein
Film Forum, various dates, July 5 to July 11.
Theater
8. See Toni Stone
Swing away.
Pam MacKinnon directs the powerhouse April Matthis in Lydia Diamond's new play about the first woman ever to go pro in the Negro Leagues, the mid-century baseball whiz Toni Stone. —S.H.
Roundabout Theatre Company, through August 11.
Art
9. See Leonora Carrington: The Story of the Last Egg
One of the best gallery shows of 2019.
Visionary Surrealist painter Leonora Carrington is one of the greatest artists of the early-20th century. In this large gathering of works, her mystic depictions of cosmic orbs and eggs, animalistic women, demons, mythical beasts, and amorphous Boschian figures set in coral-colored dreamscapes and the dark kingdoms of a female mind are visually on fire with imagination, drive, wit, and optical chops and insight. This is your best shot at Carrington for the foreseeable future, as her outstanding Tate retrospective wasn't taken up by any New York museums. —J.S.
Gallery Wendi Norris, 926 Madison Avenue, through June 29.
Theater
10. See Life Sucks.
Sort of an adaptation.
Playwright Aaron Posner got irreverent on The Seagull in Stupid F*cking Bird, and now he takes loving, lacerating aim at the hungry hearts and prickly egos of Chekhov's Uncle Vanya in a contemporary riff starring Austin Pendleton. —S.H.
Theatre Row, through September 1.
Art
11. See Surrealism in Mexico
Magical cadences.
When it comes to great gallery shows, New York really is an embarrassment of riches. Consider the visual immensity of this compact museum-level exhibition. Behold works from top-rank underrated women Surrealists, including Frida Kahlo (her proud unibrow and mustache blazing in the cornucopia that is Me and My Parrots) and Remedios Varo, whose picture of a woman feeding a caged crescent moon glimmers. —J.S.
Di Donna Galleries, 744 Madison Avenue, through June 28. 
Movies
12. See Audition
Twentieth anniversary.
Takashi Miike's grisly Audition is here, and I doubt there will be as many walkouts at the Metrograph revival as there were when I first saw it. It does start deceptively small and sweet with a lonely widower hatching a scheme to meet women by auditioning them for a nonexistent film. He's a genuinely nice man who longs to be a loving husband again, but he misuses his power. —D.E.
Metrograph, July 3 to 9.
Art
13. See Drawing the Curtain
Maurice Sendak, opera fan.
When a failing New York City Opera sold off its sets and costumes in 2013, the company's fans wailed like wild things: They would never again see Sendak's fanciful, creature-filled version of The Cunning Little Vixen. A new exhibition makes it clear that the stage, for him, was a projection of the illustrated page, and that perhaps the only thing he understood better than a child's fears was the music of Mozart, Tchaikovsky, and Janácek. —J.D.
The Morgan Library & Museum, through October 6.
Books
14. Go to Avoid the Day Pop-Up
Who says storefronts are dead?
Rockaways locals Jianna Heuer and her husband, Jason, recently opened their pop-up bookstore-café-bar Avoid the Day just a few blocks from the beach and boardwalk. Now they've decided to extend their stay to start raising money for a permanent bookstore in the Rockaways.
Avoid the Day, 211 Beach 90th Street, Saturdays and Sundays through July 7.
Art
15. See Collaborations With Queer Voices
Neon pride.
This exhibition merges queer and marginalized identities with a collaborative statement of the LGBTQ community's past and future. Original pieces by artists ALOK, Thomas Page McBee, Gabriella Grimes, and more employ the symbiotic relationship of words and neon to create something timely, hopeful, and empowering.
Heller Gallery, 303 Tenth Avenue, June 28 to July 26.
*A version of this article appears in the June 24, 2019, issue of New York Magazine. Subscribe Now!