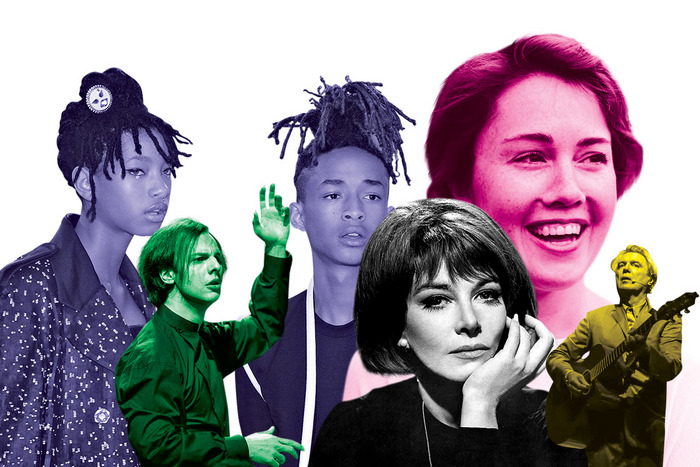 Photo: Patrick McMullan/Anton Zavyalov/Kait Moreno/Matthew Murphy
Theater
1. See American Utopia
How did I get here?
David Byrne and his merry band — a dozen percussionists, guitarists, and vocalists-dancers — perform an explosively joyful concert on Broadway with only a few theatrical trappings (Byrne talks between songs) to distract from its choreographic excellence. There's no narrative here, only Byrne's roving interest in brains, people, the act of observation, and existence. But somehow there's a sense of ecstatic forward movement — and music from both Byrne's Talking Heads era and today keeps your spirits bright. —Helen Shaw
Hudson Theatre, through February 16.
Art
2. See Hope Gangloff
Always excellent.
Painter Hope Gangloff has more than hit her supple, sensual, optical stride. Landscapes in winter nights and still-lifes are all made with brilliantly focused mark-by-mark accumulation and retinal density, tangerine color, and a love of vision itself. This is her best show to date. Gaze, hear the Earth's tones, the hand coaxing you ever inward. —Jerry Saltz
Susan Inglett Gallery, 522 West 24th Street, through November 30.
Books/Talks
3. See Carmen Maria Machado
Chilling.
Carmen Maria Machado follows her dazzling debut story collection, Her Body and Other Parties, with a genre-bending memoir tracing a frightening romantic relationship and the history of queer domestic violence. (Read an excerpt here.) See the author at a Books Are Magic talk in Brooklyn in November.
St. Francis College, 180 Remsen Street, Brooklyn Heights, November 15.
Classical Music
4. Hear Verdi's Requiem
A North American debut.
In a profession known for charismatic control freaks, the Greek conductor Teodor Currentzis may outdo his colleagues in demanding and getting near-fanatical attention to detail in the service of unchained excitement. He founded the orchestra musicAeterna in, of all places, the Siberian city of Perm and used the Perm-a-freeze conditions as a form of discipline: His musicians devote more time to rehearsals and recordings than any western union would allow. The result is hyperspeed tempos, performances that glitter with specificity, and a host of converts to classical music. —Justin Davidson
The Shed, November 19 to 24.
Theater
5. See Say Something Bunny!
A multimedia docuplay.
When Alison S.M. Kobayashi stumbled across a wire recorder with a few 67-year-old wires (an early version of tapes) still inside, she started to puzzle out the crackling, barely audible recordings. This beautifully produced one-woman show, a delicate and kindly object itself, leads us through her research, which took Kobayashi deep into the history of one average family in Queens. The care and thoroughness and love-of-archive will remind you of Serial; the sweetness will remind you of your own grandma. —H.S.
UNDO Project Space, through January 31.
Classical Music
6. Hear American Composers Orchestra
The venerable proving ground.
The program begins with 2018 MacArthur fellow Matthew Aucoin's new work, continues with a new orchestration of Ives songs, performed by the wondrous Jamie Barton, and concludes with a new guitar concerto by Hilary Purrington. —J.D.
Zankel Hall, November 13.
Art
7. See Agnes Denes
Monumentally important.
On the second and fourth floors of that gigantic gray galactic rolling steel quilted handbag called the Shed — that could also be called a Death Star with art and performance in it — you will find the marvelous retrospective of internationally known but underrecognized land artist Agnes Denes, famous for planting a field of wheat on the Battery Park landfill in 1982. Behold this amazing artist arriving at this wild arts center. —J.S.
The Shed, through March 22.
Opera
8. See Tristan und Isolde, Act II
Love in the Middle Ages.
Wagner's love opera is huge enough that even a performance of one-third of it is a major undertaking, but the middle act explores the epic side of intimacy. Essentially a bedroom scene that lasts longer than its real-life counterpart, it places the lovers at the center of an immense musical universe — and when those lovers are sung by Christine Goerke and Stephen Gould, well, orbits bend and gravity is suspended. Gianandrea Noseda conducts the National Symphony Orchestra. —J.D.
David Geffen Hall, November 17.
Theater
9. See Black Exhibition
Everything's material.
Who is @GaryXXXFisher? All we know for sure is that someone by that name is cooking up a wild production at the Starr — and his identity is shrouded in secrecy. The smart money is on a certain transgressive theatermaker, whose interest in the eroticized nude body, black resistance, and pop means that the show should be startling, groovable, and a little raw. —H.S.
The Bushwick Starr, 207 Starr Street, Bushwick, through November 23.
Pop Music
10. See Jaden and Willow Smith
Reintroducing the Smiths.
Smith scions Jaden and Willow make music their parents would be proud of. Willow's futuristic soul jams have grown hazy and arty in just a few years; Jaden's spacy trap bangers have landed him in the orbit of left-of-center new rap figureheads like A$AP Rocky and Tyler, the Creator. Catch the siblings performing cuts from Jaden's Erys album and Willow's self-titled release at Terminal 5. There's no telling who else might make an appearance. —Craig Jenkins
Terminal 5, November 26.
Books/Talks
11. Go to The Beautiful Ones
Inside the "vault."
Originally intended to be his memoir, Prince started writing The Beautiful Ones before his death in 2016. Framed by editor and co-writer Dan Piepenbring, the book combines his unfinished manuscript; lyric sheets for "1999," "Little Red Corvette," and others; previously unpublished photos; and an 11-page handwritten synopsis of the Oscar-winning Purple Rain. Catch the tribute event with his longtime band New Power Generation and occasional collaborator Spike Lee in November.
The Town Hall, 123 West 43rd Street, November 18.
Classical Music
12. Hear Words and Music
Another highlight in Lincoln Center's White Light Festival.
The Pulitzer Prize–winning composer Caroline Shaw joins the Attacca Quartet as a vocalist in her meditatively sensual works from their recent album Orange. Best of all, the concert is free. —J.D.
David Rubenstein Atrium, November 14.
Art
13. See Performa
Live art.
This year, New York's performance-art biennial honors the 100th anniversary of the Bauhaus, the German art school that was first to consider performance and theater as visual art. Performances began earlier this month, but you can still see new works by Yvonne Rainer, Bunny Rogers, and Raymond Pettibon.
Various locations, through November 24.
Movies
14. See Lee Grant
The legend.
A 13-film series salutes the 94-year-old actress-director, an immediate sensation in the play and 1951 film Detective Story who was promptly blacklisted from Hollywood for criticizing a government committee investigating alleged Communist loyalties. She managed to hold on via the theater — and came blazing back in Norman Jewison's In the Heat of the Night, which plays November 17 followed by Grant in conversation with Bruce Goldstein. In December, she'll present two of her docs, Down and Out in America (1986) and Women on Trial (1992) as well as her Oscar-winning hellraiser of a performance in Shampoo.     —David Edelstein
Film Forum, November 17 to February 12.
*A version of this article appears in the November 11, 2019, issue of New York Magazine. Subscribe Now!