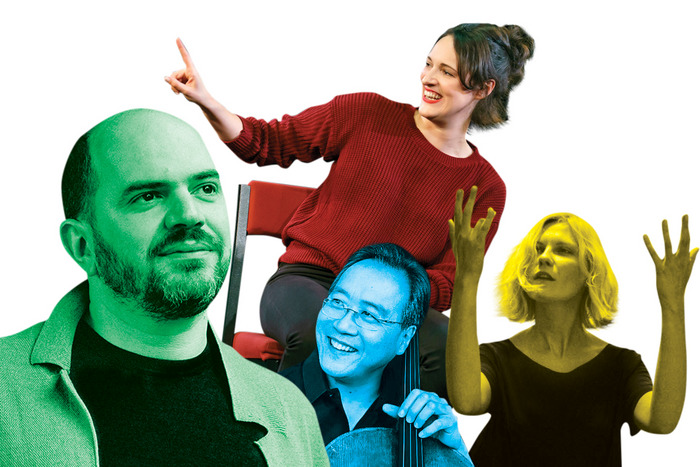 Photo: Joan Marcus/Yoyo_Ma/Twitter/Marco Borggreve/Magnolia Pictures
Art
1. See Souls Grown Diaspora
Leaving the rural South.
Artist Sam Gordon curates a generation of lesser-known visionary African-American artists and heirs to the struggles, joys, and sorrows of the 20th century's Great Migration. A show sprung from love without a false note. —Jerry Saltz
Apexart, 291 Church Street, through March 7.
Classical Music
2. Hear Kirill Gerstein
Keyboard master.
The muscular-fingered pianist, who flings colors and whorls from his instrument like a spray-can virtuoso, performs a program of mostly Hungarian miniatures as well as blockbusters like Liszt's Piano Sonata in B Minor. —Justin Davidson
Zankel Hall, February 20.
Theater
3. See Eraser Mountain
A topflight international work.
You have only two days to catch Toshiki Okada's avant-garde piece about a tsunami-devastated place in eastern Japan that has begun mining its slopes for rock to fortify its position. Is the city more important than the mountain? Than the sea? Okada fuses his characteristic deadpan, the jazz-inflected rhythms of his theater company, and the CGI collage aesthetic of artist Teppei Kaneuji to emphasize the absurdity of our anthropocentric narcissism — particularly the way human-scale thinking may actually topple the world-scale environment around us. —Helen Shaw
NYU Skirball Center, February 28 to 29.
Art
4. See Anne Minich
A partial survey.
Here, the delightful sight of Philadelphia-based Anne Minich's beautifully adorned works dealing with religion, sex, gender, life, and death. See small wall-mounted and freestanding paintings, altars, and strange polyptychs, all loaded with sensuous pleasure, dark visions of Heaven, and things deeply personal. —J.S.
White Columns, 91 Horatio Street, through March 7.
Classical Music
5. Hear Project 19
New York Philharmonic with "America's Diva."
Björk's high, icy voice is so perfectly suited to her tunes that they practically meld in the mind, but the plush-voiced soprano Renée Fleming gives two of them new incarnations as orchestral songs. The program, part of the orchestra's celebration of the 19th Amendment's centenary, includes a world premiere by Ellen Reid. —J.D.
David Geffen Hall, February 20 to 22.
Movies
6. See Melancholia
From the "Climate Crisis Parables."
Lars von Trier's soul-crushing drama is about a depressed bride (Kirsten Dunst) who … perks up when she discovers Earth is headed for a collision with a rogue planet. It's about the world-destroying power of depression and what it means to fight against the dying of the light. For von Trier, the film is somehow the most downbeat he's ever made (which is saying a lot) yet the most exhilarating. —Bilge Ebiri
Metrograph, February 23.
Theater
7. See National Theatre Live
All the world's a movie house.
London's National Theatre Live film series is one of the best outings in town. On March 7, BAM screens a recording of Nicholas Hytner's Bridge Theatre production of A Midsummer Night's Dream with Gwendoline Christie.
Starting February 21, catch eight broadcasts of Fleabag, the one-woman show that rocketed Phoebe Waller-Bridge from the Edinburgh Fringe to global dominance; darker and more cynical than the TV series, it's also paradoxically brighter — a chance to catch her unfiltered charisma. —H.S.
BAM Rose Cinemas, through March 21.
Classical Music
8. Hear Beginner's Ear
Om.
This lunchtime concert series begins with a silent introduction — 15 minutes of guided meditation, a quiet gong, then music. New York Philharmonic principal clarinetist Anthony McGill joins the slate of illustrious musicians. —J.D.
The Greene Space, February 21.
Dance
9. See Platform 2020
A vision board for performance.
MacArthur fellow (and tectonic force) Okwui Okpokwasili joins Judy Hussie-Taylor of Danspace to curate a series of interdisciplinary performances and conversations. Key among the offerings are four performances of a durational, massively cast piece by Okpokwasili and her collaborator Peter Born called Sitting on a Man's Head, which premiered at the Berlin Biennale but is being seen in New York for the first time. —H.S.
Danspace/St. Mark's Church, through March 21.
Classical Music
10. Hear Ax, Kavakos, and Ma
An ode to Isaac Stern.
In the 1980s and '90s, cellist Yo-Yo Ma and pianist Emanuel Ax performed regularly with violinist Isaac Stern, who died in 2001. With Leonidas Kavakos, the recast trio performs all-Beethoven programs in honor of Stern's would-be centennial and the composer's 250th birthday. —J.D.
Carnegie Hall, March 4 and 8.
Pop Music
11. See Drive-By Truckers
A night of blazing truth and reflection.
Drive-By Truckers have been serving up white-hot, blistering roots rock since the late '90s, scoring classics with the withering Southern Rock Opera and The Dirty South and working with talented performers like Bettye LaVette. Their latest, The Unraveling, is one of the most prescient protest albums of the current era. —Craig Jenkins
Webster Hall, February 21.
Opera
12. See Der Fliegende Holländer
The Flying Dutchman.
The phantom vessel in Wagner's opera is doomed to remain offshore.
Bass-baritone Bryn Terfel was to have made his long-delayed Met comeback as the cursed captain in François Girard's new production, but he broke his ankle, disappointing fans but creating an opening for Evgeny Nikitin. Valery Gergiev conducts. —J.D.
Metropolitan Opera, opens March 2.
Classical Music
13. Hear Austin Wulliman & Conrad Tao
Free music, free beer.
JACK Quartet violinist Austin Wulliman and pianist Conrad Tao, both of whom are also composers, perform a handful of world premieres, plus works by Carter and Feldman in an atmosphere that approximates a 19th-century salon. —J.D.
Miller Theatre, February 25.
*A version of this article appears in the February 17, 2020, issue of New York Magazine. Subscribe Now!