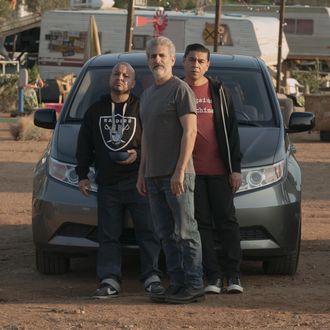 These fools.
Photo: Gilles Mingasson/Hulu
Get ready to bake some cupcakes, huggers, or should we say muggers, when This Fool returns for a second season on Hulu. Fresh off losing his job at Hugs Not Thugs, Julio Lopez (Chris Estrada) finds himself moving in with his cousin, former hugger and current Austin Powers stan Luis (Frankie Quinones). Despite not working together anymore rehabilitating ex–gang members, season two finds Julio and Luis closer to their former boss-mentor, Minister Payne (Michael Imperioli), who takes on a bigger role this season, Chef Percy (Jamar Neighbors), and some sort of fancy kimono?
Where's the trailer?
Minister Payne's trailer? Looks like it's in a desert somewhere with some interesting neighbors and a new work from home job. Oh, you mean for the show. Hulu released the full trailer for the upcoming season, with Julio and Luis living together as roommates (and possibly finding new love interests.) Luis is adjusting to his job as a security guard at a tuxedo store, while Julio is enjoying being unemployed with his new friend, a rooster. However, all three eventually get reunited to open a coffee shop called Mugs Not Thugs, run by ex-felons.
Gimme more!
In three exclusive first-look images, the crew reunites to cause trouble around Los Angeles, sometimes while handling baked goods – peep the "Mugs Not Thugs" merch – and other times while they're handling rifles.
Created by Estrada, Corporate's Pat Bishop, Jake Weisman, and Matt Ingebretson, the series returns with all ten episodes on July 28 on Hulu. Does that make you randy, baby?