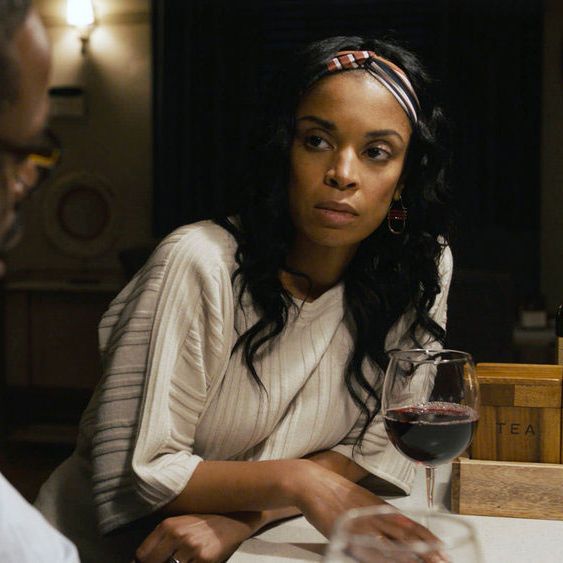 The Little Big Three — who in "Changes" are teenagers in eighth grade, which means the timelines are beginning to close in on themselves, people — get a nice and not-at-all-uncomfortable reminder from their doctor that they're going through puberty. Okay, really, the reminder is for their parents. And it's less of a reminder and more of a warning to prepare themselves. Dealing with an angsty teen being bombarded with hormones is bad enough — can you imagine doing it with three kids all at the same time? Especially when one is Kevin! The horror! The story this timeline tells feels like a glimpse at a mostly uneventful day in the Pearson household, but in true This Is Us fashion, it is very much linked to the Big Three's present-day lives. Let's take this recap one-two-three style, shall we?
When the Big Three are in eighth grade, Kevin finally goes out for the football team. He's pumped. Jack is pumped. It's clear from the beginning that he has talent. Jack decides it's time to introduce Kevin to his garage gym in which he gets very swole for a '90s dad and also deals with his feelings. Some of Kevin's best childhood memories of his dad are probably in this garage. But later, we see Kevin sneaking in there by himself to work out even more. In the present day, Kevin's literally sitting in his garage gym and admitting to being a workout addict. Now we've seen the moment that addiction started.
So why are we listening to Kevin admit to something we've all pretty much known or assumed about the very vain — I say that with love! — and insecurity-riddled actor? He and Madison are finally revealing their deepest, darkest demons after facing the truth that although they might be engaged and about to embark on parenthood together, they don't know each other at all.
Madison sets the whole thing off: What we know that Mr. I'm Playing a Hot Lawyer and Can Only Eat Lean Chicken doesn't is that Madison's struggled with an eating disorder for her entire life. Her pregnancy is bringing up a lot of feelings she thought she had a handle on. There's people remarking on how big she's getting; she has to feign happiness when she gets weighed in at her doctor's and gained a few pounds; she has to keep the ultrasound on her fridge just to remind herself that she needs to eat to keep her babies healthy. Of course, she doesn't want to tell Kevin any of this — this is a woman who wakes up at 5 a.m. to put makeup on before Kevin can see her. She's afraid to let Kevin see who she really is. But as Kevin has mentioned before, he has his broken parts, too. "I'm an alcoholic and workout addict with daddy issues," he tells Madison, summing it up very neatly for all of us. He "got famous for taking [his] shirt off," and since he doesn't drink anymore, he channels all of his issues into working out and looking good on-camera. Kevin's being so honest puts Madison at ease so that she can finally tell him everything she's been going through. It's the first conversation they've had in which they sound like a real couple who could actually make it. I'm still not at all convinced that Madison is the person Kevin is married to in the flash-forwards, but regardless, her character development on this show has been something.
On to No. 2: Eighth-grade Kate is very amped up because the Stewart Alberghini asked to join her desert-biome group project, and although she swore Stewart off after they broke up, she is sure this means he likes her again. Kate is reeling! Her heart is wide open and ready for love! And then Stewart tells her that he joined her group because he really loves deserts. "Stewart is a desert groupie, Mom" Kate explains to Rebecca. Oh, I laughed so hard: It is such an accurate portrayal of the difference between eighth-grade boys and girls. Although Kate is crushed, Rebecca tells her daughter that it's not a bad thing to follow your heart. Sure, sometimes it leads to real heartbreak, but most times it works out in the end.
In the present day, Kate is very clearly following her heart and getting attached to Ellie, the birth mom she and Toby matched with through the adoption agency. The three of them meet to get to know each other better, and Ellie explains her situation. Her husband, with whom she has an 8-year-old daughter, died of cancer several years ago. Her first date after his death resulted in a drunken hookup and a pregnancy. She's thought about it and wants to give the baby girl a home with parents who really, truly want her. Kate, Toby, and Ellie seem to get along really well, bonding over the Steelers and Buffy the Vampire Slayer. When Ellie watches as Kate and Toby bicker about diapers and then resolve that argument, it reminds Ellie of her relationship with her late husband. "I have a strong feeling about you guys," she tells them when they drop her off. So that's great but also a little problematic.
Back at home, Kate is texting with Ellie and obviously excited that things went so well. This will all surely work out, right? Meanwhile, Toby's concerned that Kate's overly excited and not thinking about the fact that Ellie could actually change her mind about giving up her baby at any moment. They're too attached. They need to be more cautious. This tempering of feelings barely lasts two minutes, and I fear for the Pearson-Damons. We know that Kate and Toby end up having a daughter, Hailey, but we don't know if this is her adoption story. When it comes to the Pearsons, one should always be braced for heartbreak at all times.
Someone who knows about that through experience is No. 3. In the present day, Randall has met with a few potential Black therapists, and although he had to wade through some duds, he finds a good match. You know this guy is the right therapist because within one session he can tell Randall is the type of person who enjoys homework and asks him to think about a story from his childhood that Randall would like him to know about and write it down.
Meanwhile, Randall is also dealing with the angsty teenagers in his own home (Annie, of course, remains a true blessing). Being rude at the breakfast table is one thing, but when Tess posts a "dance" video of her and a friend in which Tess is yelling "Screw you" at a teacher who repeatedly touches Black students' hair even after being told to stop, Randall and Beth have some bigger parenting issues to handle. When they confront Tess about it, saying that this isn't the Tess they know, she tells them that this is who she really is. She is no longer the "prissy quiet little girl" from the "straight, white suburbs" who won't speak up. When she sees injustice, she is standing up for what's right. Randall and Beth know they have to punish her for this, the wrong way to go about making change at her school (she calls Randall a fascist, so that's fun), but Randall admits to Beth that he's just a tiny bit proud. When he was young and something bothered him, he would bury it. It's why he's in need of therapy now.
The story Randall decides to write down for his homework assignment — and the Randall story line in the flashback — gives us an example of one of those moments in which he had to bury pain he was feeling: Also in Kate's desert-biome group is her friend Tanya. Tanya spends the afternoon trying to get close to Randall, and once she makes an overt play to kiss him and he rebuffs her, she tells him, "I always wondered what it would be like to kiss someone like you." He runs off to his room and doesn't say a word about it, not to his mom when she asks how his day was and comments on how nice Tanya seems, not to anyone. In fact, he writes that this is the first time he's ever told anyone this story. Instead, we watch eighth-grade Randall bury everything he's feeling about the incident deep down inside him. One incident from what's surely a list of many that he's getting ready to finally deal with head-on.
This Is the Rest:
• This Is Us is playing its usual game of teasing us with information about its biggest mysteries with this whole "Randall's birth mother didn't actually die from an overdose after giving birth" situation. At the end of the two-hour premiere, we saw Laurel gasping for air in front of the EMTs after almost being pronounced dead at the scene. "Changes" is bookended with scenes about a grandfather and his young granddaughter fishing and cooking dinner. He tells her he learned to cook for a woman, and she guesses correctly that it must be the woman in all the pictures he has from when he was younger. The woman in those pictures is Laurel. Since the granddaughter has no idea who Laurel is, we can assume she's not around anymore, but the mystery continues!
• I'm glad the show hasn't forgotten that we're all still waiting for that big, very necessary reckoning between Kevin and Randall. Kevin says, more than once, that he has some major stuff to work out with his brother. Lay it on us, show! I am very ready for any and all Justin Hartley and Sterling K. Brown shared screen time.
• Mandy Moore has to do a lot of dramatic lifting on this series, but she's so enjoyable in the comedic moments: Her whole speech to Jack about Eighth-grade Rebecca not being a meddler and instead being a cool mom who "can monitor the situation but in a cool way" was great.
• Milo Ventimiglia doing a Hans and Franz impression was the balm my soul needed.
• Just eat the pancakes, everyone!