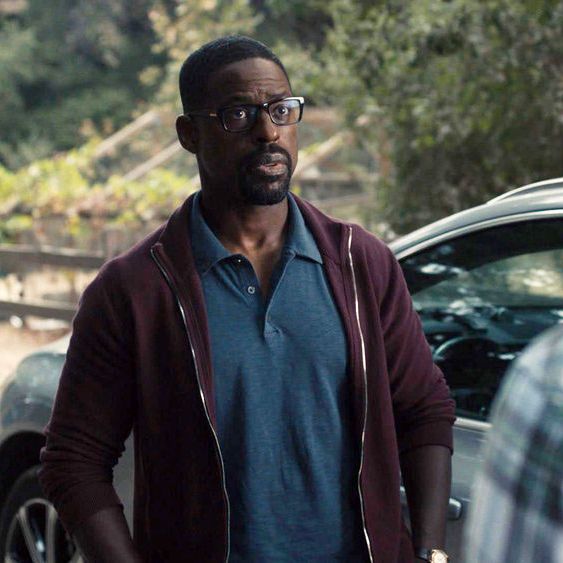 This Is Us
Forty: Part One & Forty: Part Two
Season 5
Episodes 1 and 2
Well, at least This Is Us warned us, right? When the show went back into production for season five, it announced that it wouldn't be shying away from the complete garbage can that is the world right now and instead would be tackling both the COVID-19 pandemic and the racial reckoning our country is going through head-on. On the one hand, that choice seems inevitable since, disregard of space and time when it comes to traveling from one location to another aside, This Is Us takes place in our reality, and it might have been difficult to just ignore it completely. Plus, the show feels equipped to deal with some of the complex issues and emotions we're dealing with today. But on the other hand, you guys, that means the heaviness of the real world is being tossed onto the heaviness of this show. This Is Us, the weepiest show to ever weep. All of this is to say that watching the Pearsons go through normal Pearson problems, on top of watching them go through very real and very raw problems, provided two extremely depressing hours of television. If you were looking for a little escapism, you will not find it here.
The season-five premiere begins where we left things at the end of season four: Kevin, fresh off his completely gutting screaming match with Randall on Kate's front lawn, walks back into the house to process Madison's pregnancy news. It quickly jumps into a montage showing us how the Pearsons adjust to life in a pandemic and then gets right into the George Floyd news breaking. Randall seems to come undone under the weight of it all.
All of this is leading us right back to the sequence of events we glimpsed in the season-four finale, when Rebecca wound up confused and lost while on an errand (we won't knock the show too much for not being able to predict that Rebecca's doomed excursion in August 2020 would have looked a lot different than how it was played in season four) and was escorted back to the cabin by the police on the Big Three's 40th birthday. The show does another cop-out — er, sorry — fake-out here: Rather than Rebecca's condition having deteriorated quickly, as the finale led us to believe, Rebecca's episode occurred because of her new medication reacting badly with an antihistamine she takes for poison ivy. And although the incident gives the Pearsons a frightening look into what the future might look like as Rebecca's disease progresses, this pair of episodes is less concerned with the family matriarch at the moment — the focus is on Randall.
It's been a long time coming, but now more than ever (the man is newly in therapy, on top of everything else going on), Randall is having a personal reckoning with his identity. His 40th birthday is just a reminder that he's not even sure when his actual birthday is, because he knows so very little about the way he came into this world. Processing George Floyd's death and everything the Black community is shouldering not only leaves Randall feeling unbelievably sad and exhausted, but it also pushes him to a moment of realization: As a Black person raised by a white family who did not talk about race, he was left to experience so much of his reality alone and in silence. When Malik tells him about the conversations he and his dad have, Randall remembers when Jonny Gammage was killed by Pittsburgh police in 1995 and how he watched the news coverage of it by himself. "It was a lot" for a kid to be alone with that, he tells Malik. He's never said that out loud before.
Randall is a different person than he used to be and he knows it. We know it once he arrives at the cabin. Randall had initially declined the invitation to spend his birthday with the entire Pearson clan — with the St. Louis clinical trial postponed due to the pandemic, Rebecca and Miguel have decided to ride things out at the cabin, and Kate, Toby, Baby Jack, Kevin, and Madison make the cross-country drive for the big 4-0 — but when Rebecca goes missing, Kate calls him for help.
When Randall arrives, he has very little to say. Once he figures out the problem with Rebecca's meds, he wants to get the hell out of there. Before he can leave, though, he and Kate engage in an intense conversation that may feel familiar to a lot of people: Kate may just be waking up to the pervasiveness of racism in this country, but this is nothing new for Randall. They never talked about it before because Randall was constantly worried he would make them feel bad. He's exhausted and he's done trying to make his family feel comfortable. "If I did that, where does it leave me?" he asks.
That's what we call a breakthrough, people. On the ride home, Randall calls up his therapist, Dr. Leigh, and tells her that he has a lot of work to do and he can't fully be himself with her — he's going to find a Black therapist. Dr. Leigh takes the breakup very well. At home, in an effort to lift her husband up, Beth reminds Randall that he was born out of two great tragedies and still he managed to build a happy, beautiful life from that pain. He is "a beautiful, resilient man" and all that. Didn't you miss Beth and Randall chats?
What are the two tragedies to which Beth is referring, you ask? Well, this is This Is Us, so we just spent two hours watching them play out. That's right: On top of reliving 2020 pain, we just spent the last two hours reliving some of the most traumatic events in the This Is Us timeline. A very cool and fun time, indeed.
The episode starts with Randall questioning his birth story, and the flashbacks send us back to that time, from the perspectives of both Jack and Rebecca and Randall's birth parents, William and Laurel. Let's be real here: We've already watched Jack and Rebecca go through the harrowing loss of a baby during childbirth multiple times now — I do not need to see it again, show! This time around, we follow Jack a little more closely that day and watch him grapple with his anger and exhaustion from constantly having to try to be a good man in the face of all the hardships life has dealt him. I would very much like to never have to return to that hospital of sadness, but admittedly one of my favorite scenes of the entire two hours was Jack's short phone call with his father. Stanley can tell his son is going through something, but their severed relationship prevents him from offering any real comfort, except for him to reassure his son that Jack is the better man. Milo Ventimiglia and Peter Onorati do some top-notch phone acting.
The second tragedy Beth is referring to — and the flashbacks in which we get the most new information — is the fate that befalls William and Laurel. We actually get flashbacks within flashbacks because This Is Us is back, baby! We get to see how happy William and Laurel were upon finding out they were having a baby, and the plans Laurel had for their little family. We see her get clean while pregnant but beg William to get her something to stop the pain after giving birth in their apartment. We watch the moment when William, holding his new son, goes to check on Laurel only to find she has overdosed. The EMTs arrive and try to revive her, and just as they're about to call it, William leaves with the baby and takes that fateful bus ride to the fire station.
Instead of going home after seeing Joe the Firefighter take baby Randall, William remembers a promise he made to Laurel — that he would give their child a family, even if she couldn't be the mother he needed — and heads over to the closest hospital to find his son. He even crosses paths with Jack twice: once in the hallway and then more directly when both men end up in the hospital chapel. Good on This Is Us for not taking it a step further and having the two men talk to each other. I fear I would still be sore from the eye-rolling. William's time at the hospital ends pretty quickly — he heartbreakingly admits aloud that he can't take care of his baby by himself. He still can't bring himself to go home, though, which is a shame because something truly wild is going on there.
Back in 2020, Randall is expressing his hope that this could be a "year without surprises," which honestly is so cute, Randall. Have you met your family?
Of course, just as he's saying this, we cut back to that day in 1980 in William and Laurel's apartment, where William has just run off with baby Randall and the EMTs are ready to quit on Laurel. And then, you guys, AND THEN one of the EMTs feels a pulse and Laurel gasps for air. Randall's birth mother lives, maybe? I want to say there's no way this show is going to do yet another long-lost family member returning … but the episode ends on A LITERAL GASP. Welcome back to This Is Us, friends.
This Is The Rest
• Kevin and Madison are sort of engaged? They started sleeping together again while quarantining. Then, at the cabin, Madison falls on her stomach, and while waiting for reassurance that their babies are okay, Kevin tells Madison that he knows they're going to be just fine and that the two of them will be great parents and they should do it together. Even when Madison gives Kevin permission to take back his proposal, neither of them want to.
• Anyone else aching for Kevin and Randall to really confront each other over what was said during that season-four argument? Currently they're avoiding it, but sooner or later we need to talk about it!
• Kate and Toby learn they have a match at the adoption agency. It feels fast, but also, aren't you grateful we don't have to watch them agonize over feeling like they'll never get a match?
• I guess Baby Jack is in a reboot of Baby's Day Out or something? Where was that child?
• "You don't cancel Rita Moreno!" Miguel taking so enthusiastically to social media — so much so that he informs Toby that he was the one who began the hashtag to save One Day at a Time from cancellation — is one of my favorite runners. Migs remains a precious gift.
• Speaking of the Gift of Miguel, after Rebecca's episode, the husband and wife share a tender moment involving apple seeds and facing the future together. I will offer no further context. As a reminder, I am still here, arms open wide, for the Rebecca-Miguel courtship story. Give us the goods!
• The Philadelphia Pearsons talking about how Tom Hanks getting COVID-19 might make people take it seriously really brought me back to what feels like 357 years ago.