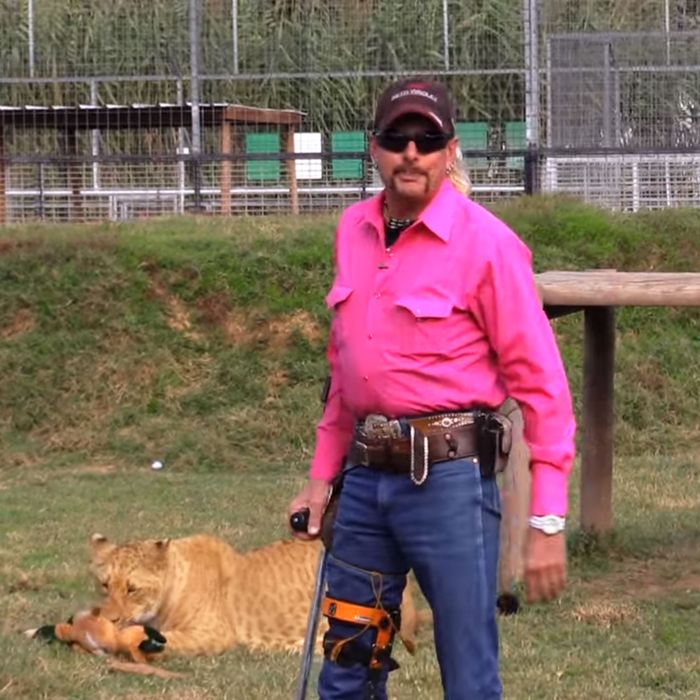 Joe Exotic.
Photo: JoeExoticTV/YouTube
Zoo owner, wannabe reality-TV star, and one-time presidential candidate Joe Exotic has finally won the hearts of millions with the Netflix miniseries Tiger King, a sprawling documentation of the scandalous world of big cat owners. But that's not the only place you can get your Joe Exotic fill.
Though the miniseries by Rebecca Chaiklin and Eric Goode features plenty of stunning original footage that captures the true story of the "gay, gun-carrying redneck with a mullet," the larger saga of the man's public life can be found on his expansive YouTube channel, JoeExoticTV. A series of videos that also functions as a stream-of-consciousness compendium of Joe Exotic's dreams for an audience, JoeExoticTV presents his beloved animals and their lives at his GW Zoo in Wynnewood, Oklahoma, his political diatribes, his hatred of PETA, his lip-synced country-music ballads, his live YouTube shows, and so much more. Some videos are cute, many are born from chaos, and then there are those that feature references to how Carole Baskin of Big Cat Rescue down in Florida might have killed her husband Don Lewis and fed him to her tigers.
For those wanting more of Joe Exotic's beguiling on-camera existence, but don't want to dig through hundreds of hours of his videos, here are the 12 wildest transmissions from JoeExoticTV.
"Joe Exotic Sizzle"
The first sizzle reel attempt at a reality show was released on his YouTube page on January 9, 2020. With a wannabe TV host's peppiness, Exotic claims that he "may have a mullet like Joe Dirt and act like Ace Ventura, but I'm a man of many talents." This video also introduces the world to people who aren't even talked about in Tiger King, like "Joe's No. 1 Husband" Juan and a volunteer named Misty (who is credited in other videos as a promo model). You can get a clear sense of a dysfunctional, family-friendly comedy that clearly wanted to be modeled after Duck Dynasty, plus a moment that involves neutering a tiger and then serving up the testicles to guests. (And yes, there's also a moment in which PETA is forcefully kicked out of the park.)
"Shaq Attack: Tigers"
One of the biggest celebrities to make a guest appearance on JoeExoticTV is NBA superstar Shaquille O'Neal, whose visit to the GW Zoo is briefly mentioned in Tiger King (Jason London of Dazed and Confused, adult-film actress Rachel Starr, and Grizzly Adams also have videos about their visits). In this one-minute video, Shaq meets some of Joe's beloved tiligers (a tiger mixed with a liger), marvels at the size of these big cats, and shows a clear hesitation to get too close to their mouths. Joe says, "They got puppy teeth, it's just sharp. They don't bite hard … it's just sharp."
"Bonedigger the lions playing with his dogs"
The most popular video on Joe Exotic's YouTube page is by far "Bonedigger the lions playing with his dogs," which currently has 22 million views. Joined by other videos like "Lion punked by weenie dog" and "Milo Steals Bonedigger's Lunch," it's another document of Bonedigger's unexpected living relationship with the Dachshunds. Joe Exotic later uses this friendship to make a political point (in "Joe Exotic's Presidential Message - Day 181") about how the government "racially divides us" rather than letting us be more like Bonedigger and the dogs.
"Tiligers by Joe Exotic"
According to Joe Exotic, the GW Zoo featured the world's first tiligers (again, white male tigers mixed with female ligers) and America's first set of liligers (lions mixed with ligers). In the somewhat scientific breakdown given in "Tiligers," Exotic talks about the process and shares his ultimate goal of breeding: of making extra-big cats that recall the sabertooth tiger. It's all part of Joe Exotic's all-American approach to the controversial act of animal breeding, where bigger is better — especially if it will bring in more park visitors.
"Today at the Park G.W. Zoo (Fraternity, Tits and Alligators)"
"Only on JoeExoticTV will you see something like this. Crazy fans? You ain't seen crazy yet!" That's how Joe Exotic introduces this bizarre moment when a backward-cap-wearing frat bro (shown wearing two different "Joe Exotic: Tiger King" T-shirts in the same video) wants a baby alligator to bite his nipple. Joe Exotic is more than willing to oblige, and his amusement is infectious.
"Lions, Camels and Weenier Dogs, OH MY!"
Many have sought the prestige of getting their homemade Doritos commercial to play during the Super Bowl, but it's likely that only Joe Exotic TV submitted one that featured lions and Dachshunds in the same shot. In 2015, the powers at the GW Zoo assembled their all-stars and set them among bags of chips; the cast included tiger cubs, a camel who can't open the bag with his mouth, and Bonedigger the Lion with his Dachshund friends. (It's not the only attempt JoeExoticTV made to break through in the pop-culture world: See their "Harlem Shake" video, which includes the camel being green-screened into the shot, and a very confused real-life tiger in the background.)
"Joe Exotic's Video Message to Trump 36"
Joe Exotic recorded over 50 video messages addressed to Trump (a trend that later expanded to more political message videos in general), but "Joe Exotic's Video Message to Trump 36" is a full Bingo board of his brand of political monologuing and libertarian anarchy. Filmed shortly after a Republican presidential primary debate in 2015, a "wound-the-hell-up" Joe Exotic roasts multiple candidates (John Kasich is a notable enemy due to an animal-rights issue), proclaims that he's "as gay as a three-dollar bill," and makes sure to bring up his theory that Carole Baskin killed Don Lewis — all while tigers leisurely play around him.
"Joe Exotic's Presidential Message - Day 186"
Joe Exotic's own presidential campaign was bolstered by numerous videos on his channel, and they weren't always vitriolic against other candidates or his enemies in the animal-rights group. But as "the only candidate there is that can get the entire planet to get along, using animals," he has a unique way of going about his candidacy. As he did later in his gubernatorial candidate video "Video Message for Governor 'Getting All Walks of Life Together,'" Joe Exotic uses a poop-eating camel, and unsuspecting tourists who kiss its lips, with the intent of make a poignant statement about unity. "If you would like the people of this world to get along," he says in the introduction, "try this."
"Here Kitty Kitty"
As enthusiastically recommended by Bhagavan "Doc" Antle himself, Joe's video for his murder ballad "Here Kitty Kitty" is a must-see given that it portrays how Carole Baskin might have disposed of the remains of her husband Don Lewis — if she had murdered him, of course. It's the type of Joe Exotic gem that is especially funny now that you know the whole story — and for you budding Joe Exotic completists, there's also a behind the scenes video (so you can see a little bit of Joe Exotic the director) and even a gag reel.
"You Can't Believe - Joe Exotic Country Music Artist Tribute to Terry Thompson"
The best Joe Exotic power ballad that didn't get mentioned in Tiger King is "You Can't Believe," which is about Exotic's deep conspiracy theory about the death of animal owner Terry Thompson and the events at Zanesville in 2011, which lead to authorities shooting dozens of Thompson's animals (a fixation in other JoeExoticTV videos as well). "I knew the man, I know the dream," he croons outside an abandoned ranch home, with computer graphics gray clouds behind him. Powerful in a way that's purely Joe Exotic, the music video shows off his desire to be the lip-synced voice of the people (though we now know that he didn't originally sing these videos; a man named Danny Clinton did).
"Tiger Cub Condoms - JoeExotic Tv Short"
Among the many products that Joe Exotic advertised on his YouTube channel (including nuts and candy and skin care), nothing could touch the half-jokey Tiger Cub condoms, which are not to be confused with the different condoms he gave out during his political campaign. The name of these comes from their size, of which Exotic demonstrates using his pinky finger. The segment then goes to a more serious commercial, in which Exotic (in shiny blue animal print) promotes "Tiger King Male Power," a male enhancement product so that you can "stroke yours tiger style." It's all pure, 100 percent Joe Exotic.