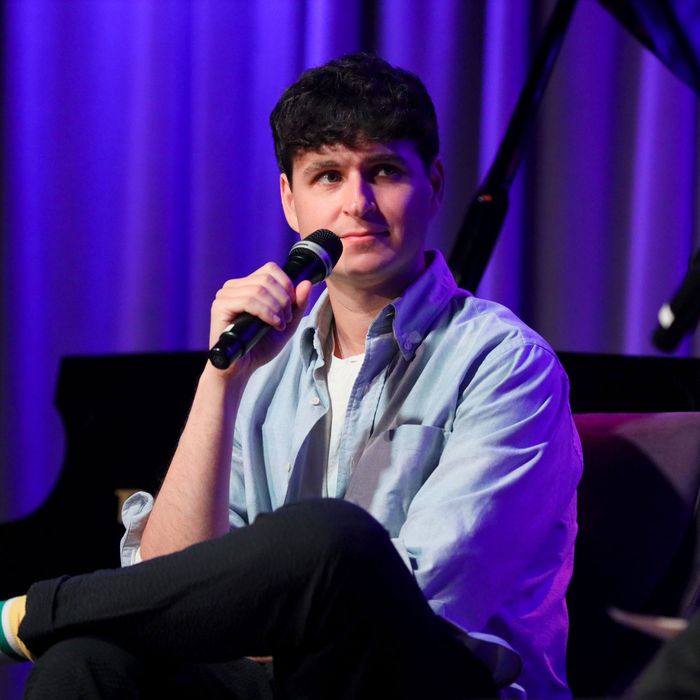 Ezra Koenig.
Photo: Rebecca Sapp/Getty Images
Are you new to comedy podcasts, overwhelmed by the array of options, and wondering where to begin? Then welcome to Start Here, a recurring guide to the best comedy podcasts available — and our recommendations for which episodes are the best entry points to your next auditory obsession.
Let's get one thing straight right off the top: Time Crisis With Ezra Koenig, as its passionate legion of fans will correct you, is not a podcast. It's an Apple Music 1 "internet radio show" available to listen via the Apple Music subscription streaming service. That also makes it technically not a comedy podcast, as its hosts, Ezra Koenig, the front man of Vampire Weekend, and Jake Longstreth, a painter and musician who heads up both the Grateful Dead cover band Richard Pictures and the excellent Eagles-inspired country rock band Mountain Brews, are not comedians. But like any musician worth their salt, labels haven't stopped Koenig and Longstreth from hosting one of the funniest and wholly singular podcasts internet radio shows since its debut in 2015.
While there is no typical episode of Time Crisis, each episode features the duo tightrope-walking between the twin towers of ironic detachment and compassionate sincerity as they discuss the intersecting worlds of music, pop culture, fashion, politics, and corporate food history. Episode 114 began with recurring guest Winter, a man on a decades-long quest to visit every Starbucks in the world, followed by a chat with Seinfeld creator Larry David, who only appeared because he interrupted his daughter Cazzie's interview to tell her to take out the trash. And in episode 88, the hosts taste-tested Ariana Grande's limited-edition Cloud Macchiato and tried to understand pop star Bebe Rexha's partnership with Frito-Lay to create a "music-inspired chip flavor." Whether they're defending musical punching bags like Jim Morrison and Imagine Dragons, theorizing that Jewish rock legend Billy Joel secretly wishes he was Italian, or analyzing the Grateful Dead's recent Nike SB x Ben & Jerry's collaboration, the hosts shine when they analyze ostensibly easy targets with a set of principles where empathy always trumps snark. To understand the show's underlying posi-vibe mantra, episode 84, "Jamflowman," serves as the perfect jumping-off point for a new listener.
Who is the Jamflowman? The Jamflowman is the eponymous character from a 2007 song by Twiddle, a jam band from Burlington, Vermont, the Tevas-friendly home base of Phish, Ben & Jerry's, and Bernie Sanders. As Koenig explains, both the band and the song are heavily mocked in the jam-band community, with memes depicting Twiddle as impious imposters among those who worship at the altars of the almighty Grateful Dead and their only begotten son, Phish. And to be fair, on first listen, the song could be mistaken for a B-side by Bob Odenkirk's Tom Goes to the Mayor character, Wizzard. Starting with the song's opening couplet of "Have you heard of the Jamflowman's jam? / Sickest and the quickest hands in the land," Twiddle front man Mihali Savoulidis sings a seemingly frivolous tale of a spliff-smoking, heavy-drinking troubadour who travels the land and blows audiences away by playing a "fat ol' reggae jam." It's easy to see why an already goofy community might prejudge this band. Close your eyes while listening and you can envision a white man with dreadlocks slipping on empty whippet canisters like a lumberjack losing a logrolling competition.
Koenig and Longstreth, like religious scholars blowing the dust off the wizened texts known as the "Jamflowman" AZLyrics page, use the bulk of the episode to dissect why so many listeners who find no problem grooving out to "Meatstick" detest this song. Starting with Longstreth's admission that he was simultaneously laughing at and with the song at a recent band practice, the hosts give Savoulidis the benefit of the doubt that his song was meant to be funny. Then they put themselves in the shoes of the song's haters: Is it that they hate the song's "dorky earnestness"? Or is it that they can't admit, as Koenig argues, that the Jamflowman might be Jerry Garcia himself? After all, as Savoulidis sings, the Jamflowman started "first with blues, then with jazz," a path that the Grateful Dead first tread with their covers of blues standards, then followed with their journey into jazz rock. Twenty-five years after his unfortunately predictable death, the legend of Jerry Garcia and his ever-touring band continues to grow, turning him into an almost mythic figure among younger Deadheads. Those who never got a chance to see ol' Jer Bear might even view him as a folk hero, which leads Koenig and Longstreth to the next bullet point of their on-the-fly thesis: Is the Jamflowman a modern folk hero in the great American tradition of tall tales?
Positing the Jamflowman as a crunchy compound between Paul Bunyan and "Johnny B. Goode," the two conjure up an image of a 21st-century Johnny Appleseed playing across America to crowds with their bellies full of acid and parking lot burritos. Like John Henry fighting "the Elon Musks of their days" with their mountain-moving steam-powered machines, the Jamflowman battles modern American's need for self-adulation by never laying down his ephemeral jams in a recording studio. It's not too far off from Garcia once telling an interviewer that recording his music was a "necessary evil." The two then continue their defense of this derided song by comparing it to other rock legends. To Koenig, both critically acclaimed songwriters and oft-ridiculed jam bands are operating from the same ethos. Would the classic song "Thunder Road," by Bruce Springsteen — whose pre-fame years in run-down Jersey Shore clubs were very Jamflowman — be ridiculed for its heart-on-its-sleeves lyrics about escaping small-town life if, they argue, Arcade Fire released it today? "Nineteenth-century Americans needed to believe in these big men whacking around hammers and axes," says Koenig, just like Americans suffering from the drudgery of late capitalism needed the mythological rock-star tales told in "Tenth Avenue Freeze-Out" or "Jamflowman" to remind themselves that the end goal in picking up an instrument shouldn't be fame and wealth.
As the front man for Vampire Weekend, Koenig is no stranger to criticism. While all four VW albums were released to glowing reviews, the band faced hostility in its early years for its intentionally preppy Wasp fashion style — despite Koenig being Jewish and former member and songwriting partner Rostam Batmanglij being Iranian — and received animus for its appropriation of both African music and Paul Simon's appropriation of African music. Maybe that's why the hyper-self-aware Koenig has made compassion and understanding the key tenet of Time Crisis. Wrapping up their hour-long examination of "Jamflowman," Koenig professes that, while he gets why many people find "Jamflowman" silly, there's an innate part of his being that wants to understand the motive behind the artist. "When I see people beating up on something, I just want to be like, What's going on here?" says Koenig. "I want to find the positive in it." It's as close to a mission statement you'll find in the 130-plus episodes of Time Crisis.
As often happens on Time Crisis, Koenig and Longstreth talked with the man behind "Jamflowman" just weeks later. In episode 85, Twiddle's Mihali Savoulidis blew the hosts' minds with the revelation that "Jamflowman" was written in his childhood bedroom and that it was simply how his 15-year-old self envisioned a rock star. "To me," Savoulidis explained, "the ultimate guitar player was this dude who could rage and party and smoke and drink and was so sick and the girls loved him and he was just crushing it." While Savoulidis gently disabuses the hosts' overly analytical interpretations in this follow-up episode, he appreciates their somber take on his frequently maligned creation, especially now that he's older, less naïve, and has experienced substance abuse firsthand. It's a stark reminder that while art is the most personal form of self-expression, once released into the wild, it will be scrutinized by those who had no idea what was going on in the artist's head the moment they liked the sound of two specific chords played back-to-back. And in an American era defined by hatred, snark, and everything in between, Time Crisis, as its own artistic entity with a stalwart advocacy of kind vibes, will stand the test of time in this time of crisis.